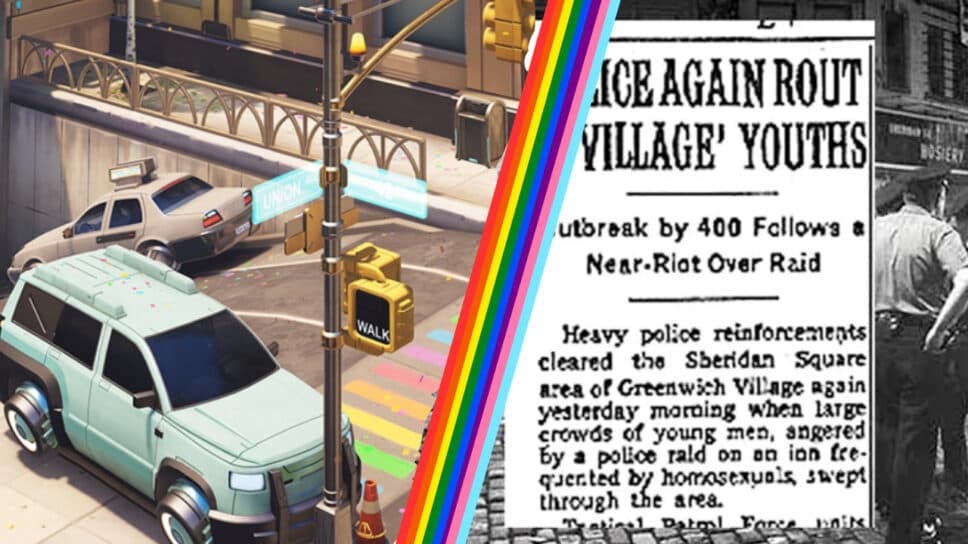 Police and Pride: Why Overwatch 2 removing cop cars from Pride Midtown map is a big deal
The temporary removal of cop cars from an Overwatch 2 map that got Pride Month makeover is bound to spark debate, so let's look at the history of police and pride.
Announced yesterday as part of its LGBTQ+ Pride Month push, Blizzard revealed a number of thematic changes to Overwatch 2. It includes a number of wonderful player icons and cards meant to represent all colors of the rainbow flag. One of the more notable changes is a Pride parade overhaul to the Midtown map, meant as a real-world New York City analog. While most of the changes related to the pride flag's colors are strewn about, there's also one other change. The Overwatch 2 map is, for now, sans cop cars.
There's a lot to say and dissect when it comes to Blizzard's handling of representation in its games. This includes such hits as the Blizzard "diversity chart" that the company revealed as a positive in its future attempts at character design. However, the removal of the cop cars from the Overwatch 2 Midtown map is potentially a hornet's nest of bad faith actors and skeptics.
Let's look at the history of police and queer revolt and why the temporary removal of the blue line is just as important as any in-game pride.
The beginnings of gay rights in the US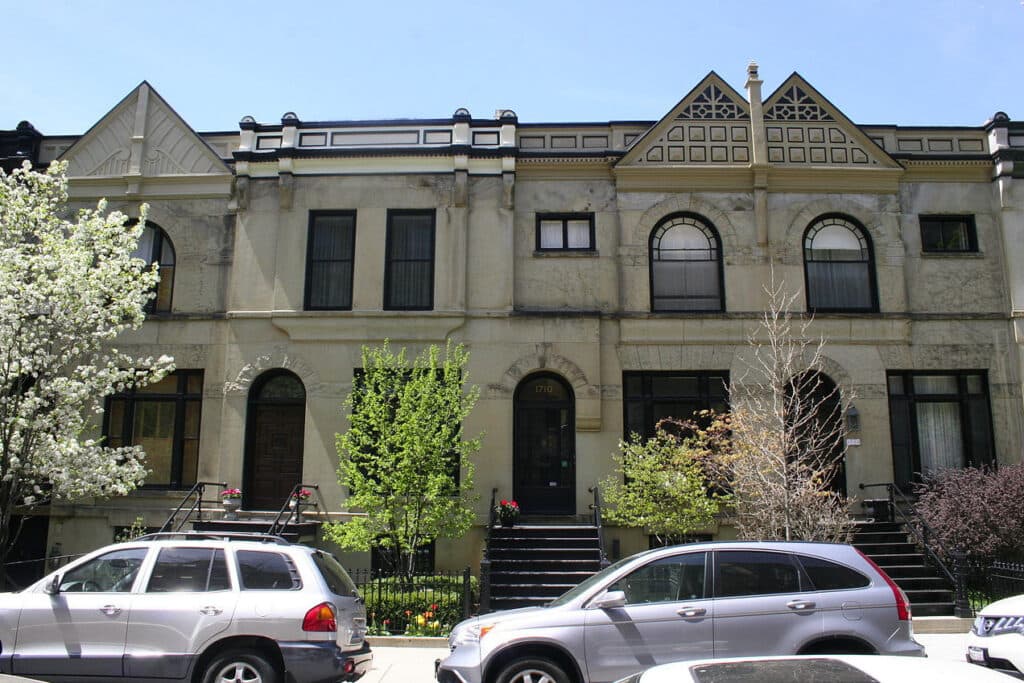 The historical Henry Gerber House in Chicago, IL (Image credit: National Park Services)
Gay rights movements in the U.S. date back to 1924 and the first gay newsletter. Titled "Friendship and Freedom," German immigrant Henry Gerber published it in Chicago. He was also the founder of the Society for Human Rights — the first documented gay rights organization in the U.S.
However, both the newsletter and the Society for Human Rights felt the first recorded account of police brutality used to stamp out gay rights. A swath of police-led raids on Gerber's home led the group and newsletter to disband in 1925.
The next four decades are rife with stories of gay panic, with fear of citizens and businesses alike being threatened for merely serving suspected gay patrons. According to the History.com accounting of the early gay rights movement, "In fear of being shut down by authorities, bartenders would deny drinks to patrons suspected of being gay or kick them out altogether; others would serve them drinks but force them to sit facing away from other customers to prevent them from socializing."
These fears and police brutality would clash on a national stage in June of 1969.
Police brutality and the Stonewall Riots
The Stonewall Inn in 1969, found in New York's Greenwich Village (Image credit: Getty Images)
Long before Overwatch 2 removed cop cars from its Pride Midtown map, a line was drawn between police and gay rights. The Stonewall Inn of Greenwich Village in New York saw its beginnings as a mafia-backed bar, purchased in 1966. Ran as a non-licensed bar by the Genovese crime family, it was a haven for gay outcasts, drag queens, and more. Because of its lack of a true liquor license and its connections to organized crime, the Stonewall Inn also found itself the target of regular police raids.
It's important to note this as the height of gay panic and hatred in the U.S. Though anti-gay sentiment lingers to this day, the late 60s were a period of authoritarian crackdown. The Stonewall Inn was one of the few fighting against regulations of the outside world. This included being one of — if not the only —gay bar where dancing was allowed.
June 28, 1969
A shot from outside the Stonewall Inn on the night of the riots (Image credit: The New York Times)
Typically tipped off to police raids, the Stonewall Inn found itself caught unawares on July 28, 1969. Police burst into the bar with a warrant in hand, arresting patrons, confiscating alcohol, and accosting anyone in sight. However, the community of Greenwich Village had grown tired of the constant police harassment of their slice of the boroughs. Rather than disperse at the police's demand, the crowd grew outraged.
As one account recalled, "At one point, an officer hit a lesbian over the head as he forced her into the police van — she shouted to onlookers to act, inciting the crowd to begin throw pennies, bottles, cobble stones, and other objects at the police."
The next seven days would see protests and riots involving thousand of people at the sight of the Stonewall Inn. However, the spark ignited. The gay rights movement didn't start at Stonewall, but it was emboldened by its events. A year later after the riots, the first true "Pride parade" was held. It saw thousands of marching protester shouting "Say it loud, gay is proud."
Police apologies, far too late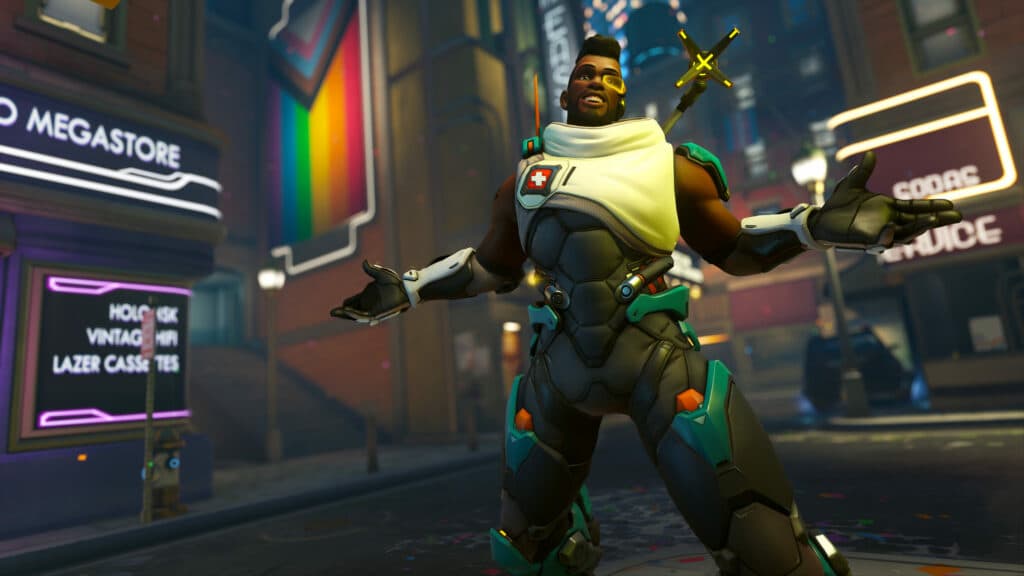 Baptiste in Overwatch 2 (Image via Blizzard Entertainment)
It feels obvious to say out loud why the gay rights movement doesn't allow a police presence at its events. As an arm of the authoritarian governments that have actively harmed or pushed activists into the shadows, there's also been a lack of culpability on the part of police departments. It wasn't until 2019 and the 50-year anniversary of the Stonewall riots that an official apology came from the NYPD.
This includes back in Chicago, with the mayor of Aurora, IL. Richard Irvin boycotting the parade in 2022 after the police uniform ban. In a statement on the boycott, he said that uniformed police is "one of the basic principles of community policing."
Overwatch 2 cop car removal: Pride or patronizing?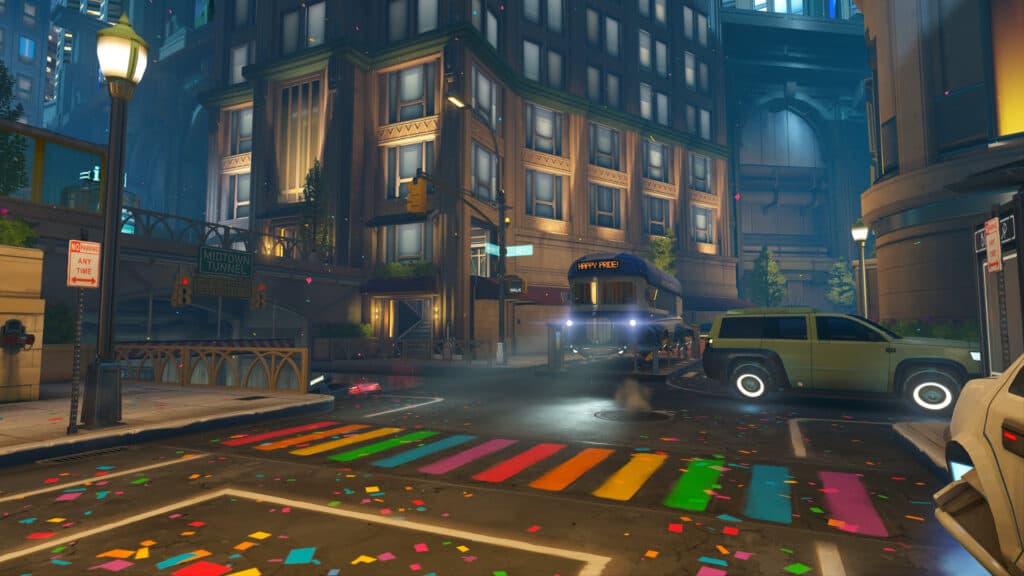 Pride Midtown map (Image via Blizzard Entertainment)
Perhaps there is too much history between the movement and police departments for there to ever be any trust. This does beg the question of Blizzard's removal of the cop car terrain from the Overwatch 2 Midtown map. In light of a tumultuous past few years for its parent company Activision, it may be viewed as patronizing an audience starved to be seen. "Oh, it's just an easy win to cater to the gay, police-hating audience." I'm sure someone is typing it now on a Twitter thread somewhere.
But it's so much more than that. Pride Month celebrates the creation of space for everyone represented under that flag. In no way can gay rights truly be free to exist as its best self if forced to share sight and space with those that once — and still to this day — help keep it in the shadows.
Overwatch 2 Tracer Lesbian Pride name card (Image via Blizzard Entertainment)
It's clearly in the minds of Blizzard developers, as they referenced the Stonewall riots in their Pride Month announcement post. "Pride's emphasis on expressing everyone's true self is beautiful, and we want it to feel like it's not only a celebration for our players but an event recognized within the Overwatch universe as well. In honor of what this event means to so many people–and for the original Stonewall riots that inspired this annual celebration."
Personally, I'm choosing to give the benefit of the doubt to Blizzard. It's a team of diverse individuals who we tend to forget are still people. Average, everyday people with their own lives, loves, fears, hopes, and dreams. It's not up to me to assign motive to something like creating as safe a space as possible for a month-long event meant to celebrate something unique.
And if that means for a month we don't see a cop car at a crosswalk celebrating Pride Month, then that's okay with me. After all, and as I've said for a year now since I came out myself as bisexual — gay is proud, say it loud.
Stay tuned to esports.gg for esports news and Overwatch information.