Overwatch 2 is set for release on October 4th, 2022 after Overwatch servers were officially shut down to the public.
Overwatch, one of Activision-Blizzard's most popular live-service properties, is entering a brand new phase in its life cycle tomorrow. The original Overwatch servers shut down a few hours ago, and we're ready for the next chapter. Overwatch 2 will release across all platforms on October 4th. An all-new iteration of the popular hero-shooter, Overwatch 2 will inject the franchise with a fresh lease of life.
Players can also pre-load the game now so that they can hop right into the action as soon as the game releases. The developers have provided the official pre-load and release times through Twitter.
When does Overwatch 2 Release?
Players can log into the game and start playing Overwatch 2 on October 4th or October 5th, depending on their region. The game will be available to play across timezones at the following times:
October 4th, 2022:
US East Coast - 3 pm EDT
US West Coast - 12 pm PDT
South America - 4 pm BRT
UK - 8 pm BST
Europe - 9 pm CEST
October 5th, 2022
Asia - 4 am KST
Australia - 6 am AEDT
Overwatch 2 Download Size and System Requirements
Overwatch 2 is available to pre-load across time zones. The download sizes are around 50 GB on PC and 30 GB on consoles. The system requirements to run Overwatch 2 on PC are as follows:
Operating System - Windows 10 64-bit or newer (Preferably updated)
CPU - Intel Core i3 2120 or AMD Phenom X3 8650 (Intel Core i7 2700k or Ryzen 5 1600 Recommended)
Graphics Card - Nvidia GTX 660 or AMD Radeon HD 7850 (Nvidia GTX 1060 or AMD R9 380 Recommended)
RAM - 6GB (8GB Recommended)
Disk Space - 50 GB
Broadband Network Connection
What's new?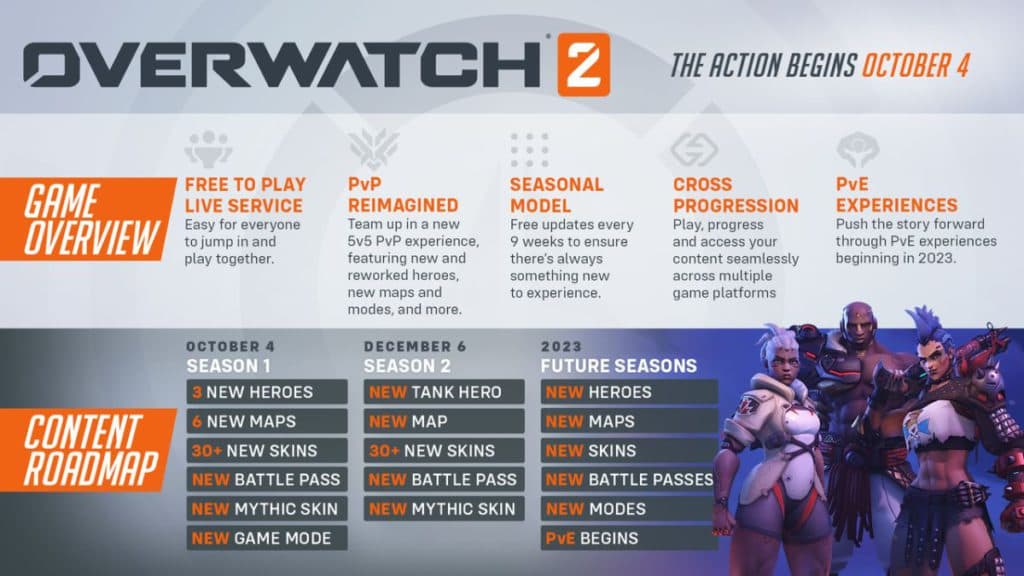 The Overwatch 2 Roadmap, as revealed by Activision-Blizzard promises loads of upcoming content
Overwatch 2 serves as more of a relaunch of Overwatch than as an outright sequel. Players can expect a plethora of new content in a better-planned infrastructure. Overwatch 2 will follow a seasonal battle pass system for content updates. Additionally, players can expect new PvP maps and characters. They've also revealed a new system to combat cheaters and disruptive players.
Will existing players retain their content?
Since Overwatch 2 is replacing Overwatch in its entirety, there won't be any point in logging in to Overwatch, whose servers were shut down earlier today. Players who had all characters unlocked in Overwatch 1 will gain access to the full roster in Overwatch 2. New players will have to grind through in-game levels to unlock the full roster. For PC players, the developers have revealed in a blog post that their skins are going to carry over into Overwatch 2. Console players will have to follow a process to transfer their skins into Overwatch 2.