With $4 million on the line and a LAN grand finals, the event is set to bigger than ever.
The PUBG Mobile Global Championship (PMGC) 2022 is set to begin on Nov. 22. This year's edition of the PMGC is set to be bigger than ever with 48 teams competing for a share of the $4 million prize pool and the title of world champions.
Just like last year, the PMGC 2022 is divided into the league stage and the grand finals. The tournament will run until January 2023. Here's everything we know about the event so far.
The Grand Finals are set to be the first-ever PMGC LAN event
Tencent introduced the PMGC in 2020 amidst the pandemic. In its first year, the finals were supposed to be played at the Coca-Cola Arena in Dubai, United Arab Emirates.
Tencent couldn't pull this off, however, as several players who had traveled to Dubai tested positive for COVID-19. As a result, all teams were put in isolation and they competed from within their hotel rooms.
The 2021 edition was played completely online. Some teams, however, had to travel to another country to eliminate ping differences.
Tencent has now confirmed that fans will finally be able to see their favorite players on stage fighting for the world championship. The PMGC 2022 will take place in Indonesia, which is a popular market for the battle royale title.
PMGC 2022 will be divided into the League Stage and the Grand Finals
Just like the past two years, the PMGC will be split into a league stage and the grand finals. The league stage will run for four weeks with the top 13 teams advancing to the grand finals.
Tencent hasn't revealed the exact format for the event yet. Considering there will be 48 teams in the league stage and it's online, it's safe to say that it will be divided into the East and West – just like last year. Twenty-four teams will compete in each region with the top teams making it to the grand finals.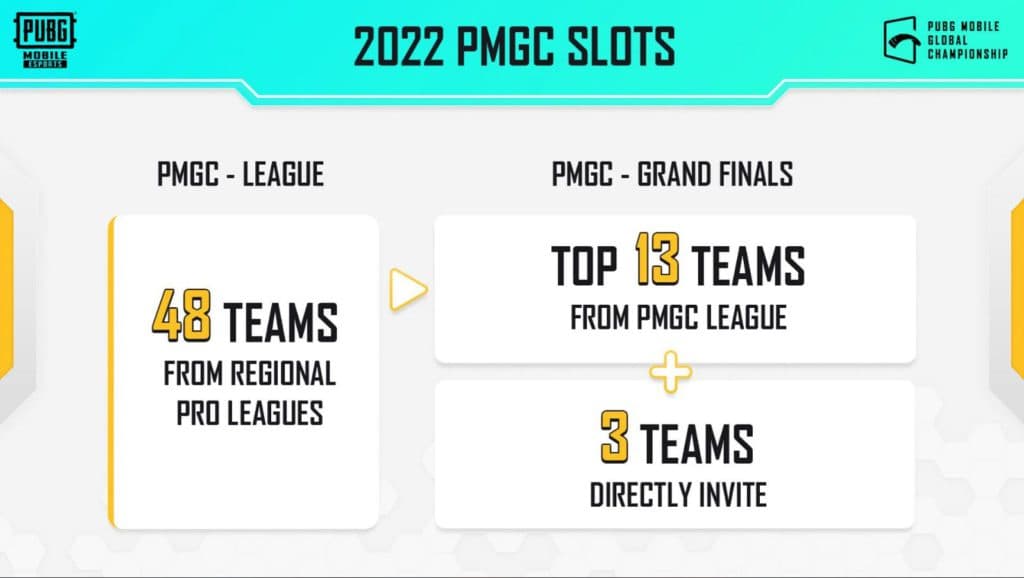 An interesting addition this year is that only 13 teams will qualify for the PMGC 2022 grand finals through the league stage. The remaining three will receive direct invites. One of these invites will be a home team from Indonesia. It's unclear what the other two will be. Perhaps, the defending champions and a team from India could receive these invites.