A spectacular comeback saw the team deny fan-favorites GodLike Esports the trophy.
Global Esports has won the Battlegrounds Mobile India (BGMI) Masters Series 2022 after staging a stunning comeback on the final day. The BGMS happened in Delhi, India from June 24 to July 17 with a prize pool of Rs. 15 million (about $187,000).
The team was sitting in fifth place after Day four with 143 points, 35 behind the table toppers GodLike Esports A tremendous performance on the final day, however, saw them accumulate 58 points to top the table and become the champions of the BGMI Masters Series 2022. In addition to the trophy, Global Esports will walk home with Rs. 2.6 million (about $33,000) and a Hyundai Venue car for the victory.
Heartbreak for GodLike Esports and Soul wins another fan-favorite award
Two of the fan-favorite teams in the BGMS were GodLike Esports and Team Soul. For GodLike, the tournament was a chance for redemption after some bad performances in recent times. Team Soul, on the other hand, were looking to carry over their momentum after winning the Pro Series in the BGMS before heading out to the PUBG Mobile World Invitational (PMWI) next month.
GodLike Esports looked set to take the trophy home based on their lead ahead of the final day. However, the second-last and last match of the BGMI Masters Series saw them finish in ninth and 10th place respectively with no kills. Global Esports capitalized on this and accumulated 43 points to close the gap at the top of the table and the victory.
After all 20 matches, the gap between Global Esports and GodLike was a meager four points. For GodLike, this loss would certainly mean heartbreak as they were so close to taking the trophy.
Team Soul, on the other hand, looked really strong as well. They were third after Day four in the overall standings. A disappointing last day where they could only get nine points saw them eventually finish in sixth place. Nonetheless, the team managed to earn itself the fan-favorite award of the BGMI Masters Series.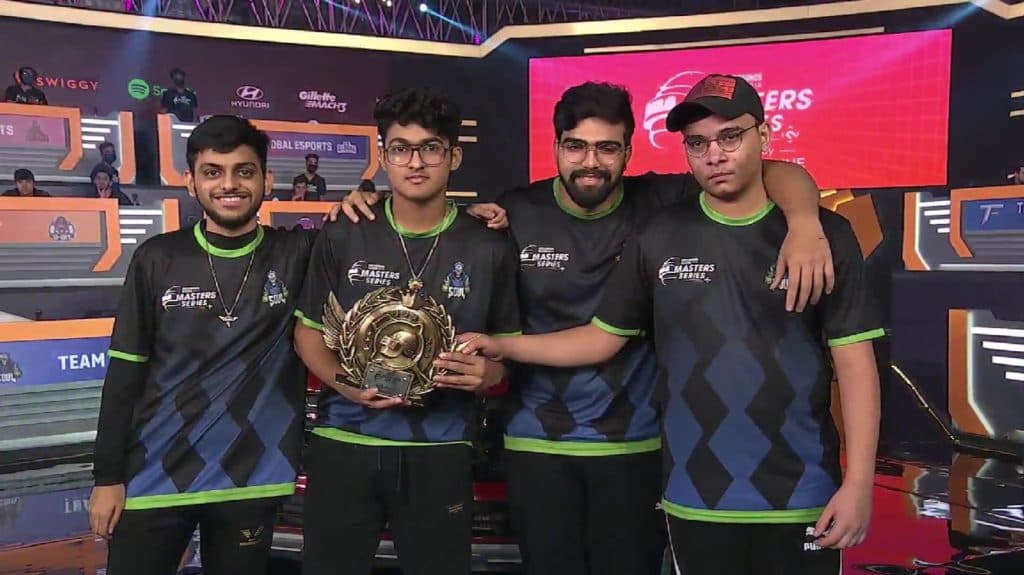 BGMI Masters Series Finals: Here are the overall standings
Global Esports: 201 points
GodLike Esports: 197 points
Orangutan: 192 points
Team Enigma Forever: 191 points
Skylightz GamingL 169 points
Team Soul: 164 points
Chemin Esports: 151 points
Team Insane: 152 points
Enigma Gaming: 144 points
Team XO: 140 points
OR Esports: 130 points
8Bit: 129 points
Blind Esports: 122 points
Nigma Galaxy: 106 points
FS Esports: 97 points
Revenant Esports: 78 points
With the BGMI Masters Series wrapping up, Krafton has announced an esports event for the game already. The Battlegrounds Mobile India Showdown will happen from July 21 to 24 with 24 teams from the country participating. It will feature a prize pool of Rs. 1.5 million (roughly $18,779.10) and will be the first official LAN event for the game.