Who will become the champions? We've put together this overview to keep you up to date on all the results from the BGMI Masters Series.
The Battlegrounds Mobile India (BGMI) Masters Series' (BGMS) final phase saw 16 teams compete for the title title. The anticipated finale took place from July 13 to 17.
The BGMI Masters Series had a total prize pool of Rs. 1.5 million (about $189,000). Sixteen of the country's best BGMI teams locked horns across five days for the lion's share of this prize money.
The BGMS is the first official tournament for the battle royale game to be broadcasted live on television. Fans could tune into the competition on Star Sports 2 on TV. Additionally, the BGMS was a LAN event with the teams competing from a studio in Delhi.
After a three-week league stage, eight teams had been eliminated with 16 qualifying for the grand finals. The matches took place between 8:30 PM and 11:30 PM IST on each day. Besides TV, it was also broadcasted on Loco and Glance. Fans had the option to watch it in either Hindi, English, or Tamil.
BGMI Masters Series Finals Overall Standings
Here are the overall standings after 20 matches. Global Esports have been crowned the champions of the BGMS.
Global Esports: 201 points
GodLike Esports: 197 points
Orangutan: 192 points
Team Enigma Forever: 191 points
Skylightz GamingL 169 points
Team Soul: 164 points
Chemin Esports: 151 points
Team Insane: 152 points
Enigma Gaming: 144 points
Team XO: 140 points
OR Esports: 130 points
8Bit: 129 points
Blind Esports: 122 points
Nigma Galaxy: 106 points
FS Esports: 97 points
Revenant Esports: 78 points
BGMS Finals Match-wise points table
Here are the match-wise scores for the BGMS Finals.
Match one – Erangel
Match two – Sanhok
Match three – Miramar
Match four – Erangel
Match five – Erangel
Match six – Sanhok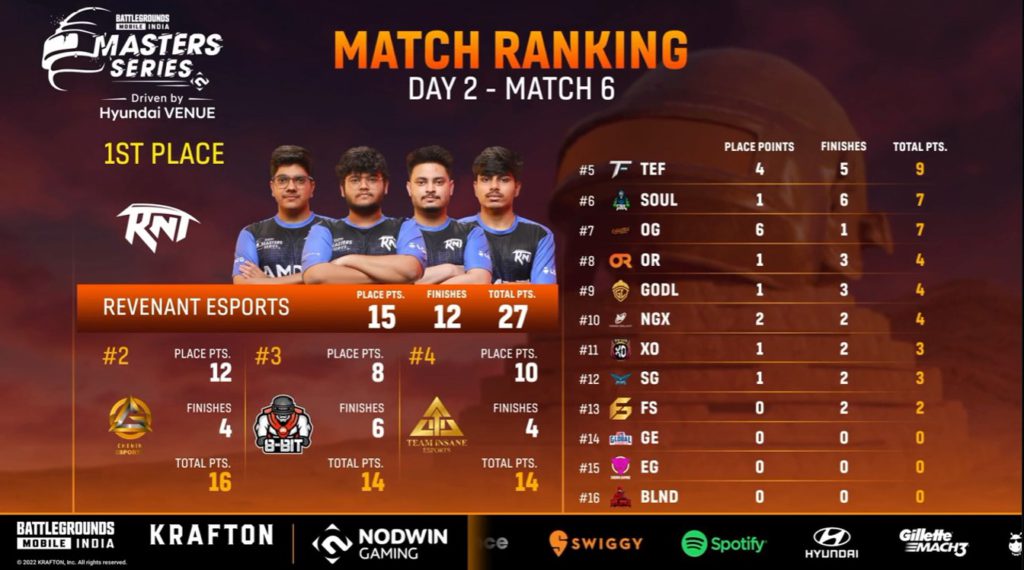 Match seven – Miramar
Match eight – Erangel
Match nine – Erangel
Match 10 – Sanhok
Match 11 – Miramar
Match 12 – Erangel
Match 17 – Erangel
Match 18 – Sanhok
20 matches took place in the BGMS Finals
After an intense three weeks of league-stage action, only 16 teams remained in the BGMS Finals. The teams played four matches per day to determine the winners. Thus, a total of 20 matches took place in the BGMI Masters Series Finals.
BGMI Masters Series: Here are the 16 teams who are competing in the finals
The 16 teams in the BGMS Finals were as follows:
Team XO
Orangutan
Chemin Esports
Skylightz Gaming
OR Esports
GodLike Esports
Team INsane Esports
Enigma Gaming
Nigma Galaxy
Team Soul
Blind Esports
8Bit
Team Enigma Forever
Revenant Esports
FS Esports
Global Esports
Stay tuned to esports.gg for the latest mobile gaming news and updates.