Who will be the winner of BGMI's first official LAN event?
The Battlegrounds Mobile India Showdown (BMSD) 2022, which was the first official LAN event for Battlegrounds Mobile India (BGMI), happened from July 21 to 24. The four-day event saw 24 invited teams from across the country lock horns for a share of the Rs. 1,500,000 (about $18,800) prize pool.
Several reports have suggested that the winner of the BMSD will be the Indian representative in the After Party of the PUBG Mobile World Invitational (PMWI). Krafton hasn't confirmed this, however. Just like during the BMPS earlier this year, it's unlikely that Krafton will officially confirm that the winner will go to a PUBG Mobile event by Tencent, given that the game is banned in India.
Here are the standings and results of the BMSD.
Overall Standings - Finals
Here are the overall standings of the grand finals. A total of six matches were played with 7Sea Esports coming out on top. The top eight teams are as follows:
The bottom eight teams are: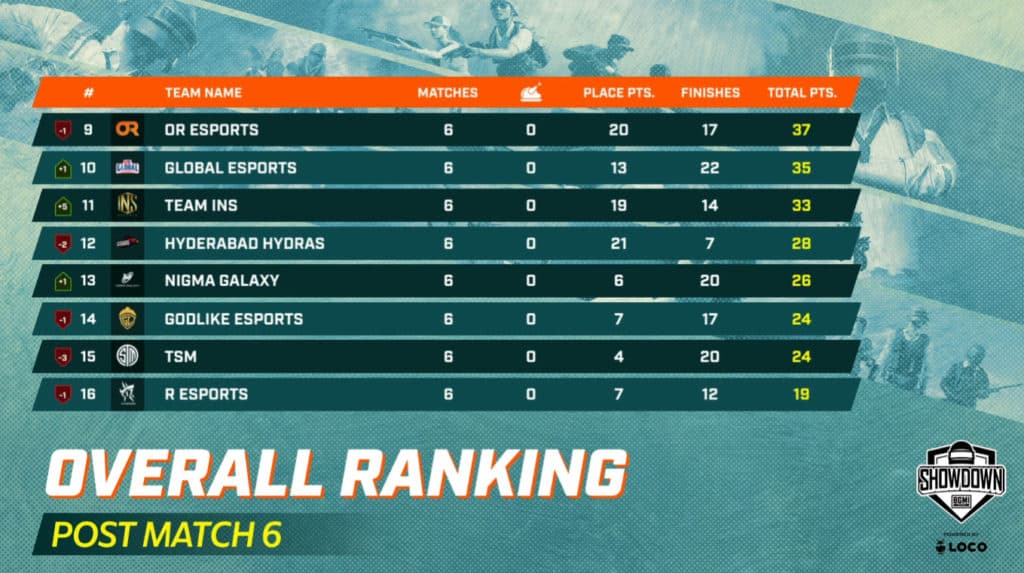 Match-wise Standings for the Finals
Match one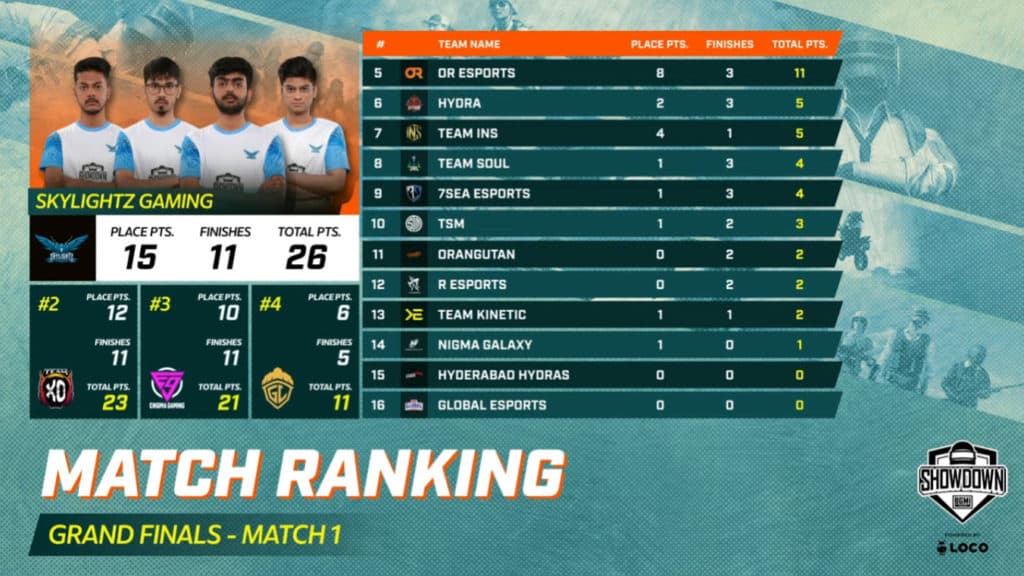 Match two
Match three
Match four
Overall Standings - Group Stage
Here are the overall standings of the BMSD's group stage. A total of 18 matches were played and the top 16 teams advanced to the Finals.
Here are the top eight teams after Day 3.
The teams in ninth to 16th after Day 3 are as follows.
Finally, the bottom eight teams after the third day are as follows.
Teams
The 24 teams played in the BMSD are as follows:
7Sea Esports
Global Esports
GodLike Esports
Orangutan
R Esports
Inside Out
Team Kinetic
uDOG India
Autobotz Esports
FS Esports
Hyderabad Hydras
OR Esports
Reckoning Esports
Esports Wala
Team Soul
TSM
Big Brother Esports
Enigma Gaming
Hydra
Nigma Galaxy
Revenant Esports
Skylightz Gaming
Team XSpark
Team XO
BMSD Format
The Group Stage took place from July 21 to 23. The 24 teams were divided into three groups of eight teams each. Each team played 12 matches.
The top 16 teams advanced to the Grand Finals on July 24. On this day, six matches were played to decide the champions.
Where to watch the BMSD 2022?