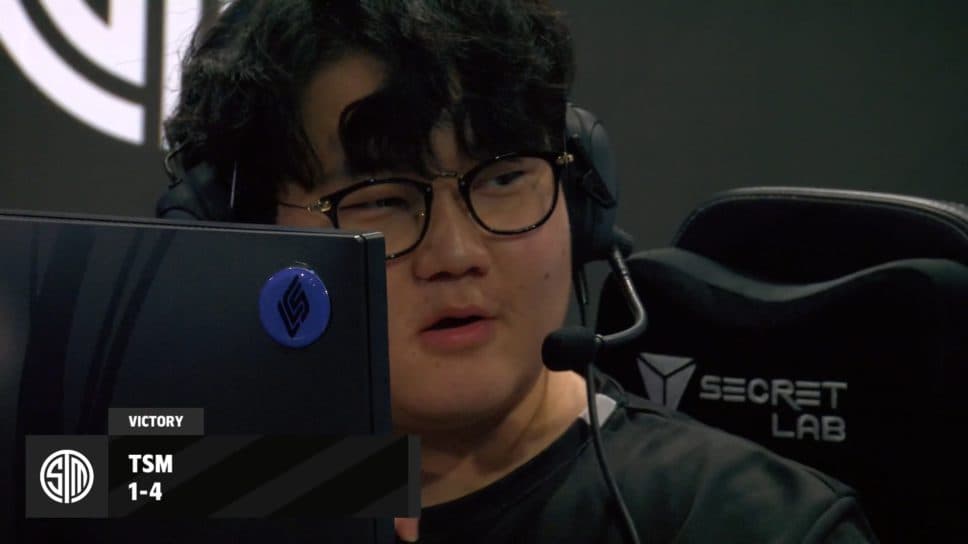 TSM Huni: "Playing Smite top makes me more intelligent about the game"
Heo "Huni" Seung-hoon spoke to Esports.gg's Devin "PiraTechnics" Younge after TSM's first LCS win of the season about team communication, progress over quick success, enchanters and Smite.
Devin "PiraTechnics" Younge was on-site at the LCS for Esports.gg and caught up with Heo "Huni" Seung-hoon of TSM shortly after their first victory of the new season over Immortals.
Less than a week ago, TSM moved Shenyi down to Academy and promoted Yursan following the team's 0-4 start to the LCS 2022. However, things are on the up, and Huni expressed in his interview that now in Week 3, TSM are "finally ready".
PiraTechnics: TSM had a very rough start to the split with some tough opponents but you finally pulled out a win today against Immortals. is that just a big relief for you?
TSM Huni: "Yeah, like even though the win was not the cleanest win ever, it just doesn't matter. Because I think this is a really good turning point. We can just keep doing what we're doing, and just focus on what we're doing. I think the environment is like really much better than what it was.
So I think those kind of things are like really helpful. Yursan just came in, and he's just like fresh air. Honestly, I'm not sure we're actually playing better or worse but all the matters we actually won today. That's a really huge dub."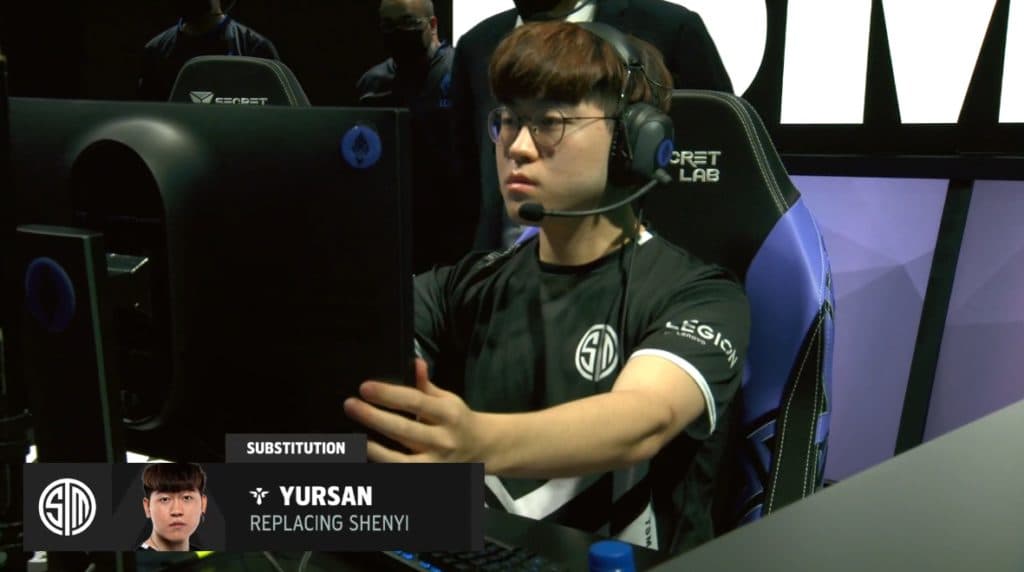 Yursan was promoted for week 3, replacing Shenyi who was moved to TSM's Academy team (Image:
LCS Twitch broadcast
)
PiraTechnics: Absolutely, getting the results counts, and sometimes you need to make that little change. Some players shave their heads, some players will swap in and swap out. sometimes you'll mix up the playstyle. For TSM, could you elaborate a bit more on what the overall feeling was, not just after the win, but with the roster swap you recently made? Also I believe the communication are now being done in English since last week. How has that been for you personally?
TSM Huni: "Yursan has been in North America longer so we're not having as many issues with communications as we did before. Before Keaiduo and Shenyi both were not able to speak what they wanted to say 100%, and that was really tough for the team.
In terms of communication I think we solved a lot, and it's still getting better. After week 2 our practise was really really good. I think it was the best practise we had. I think we're finally ready.
In Week 1 and 2, in every single interview I was asked are 'are you ready?', and to be honest I was like no. We did not have enough time to practise and we hadn't solved the communication issues. We were not playing good as a team, and there were so many issues we weren't able to perform as a team.
But for this week 3, I felt we are finally ready. I knew we were going to win one game at least, and I was correct. We just got to keep doing it."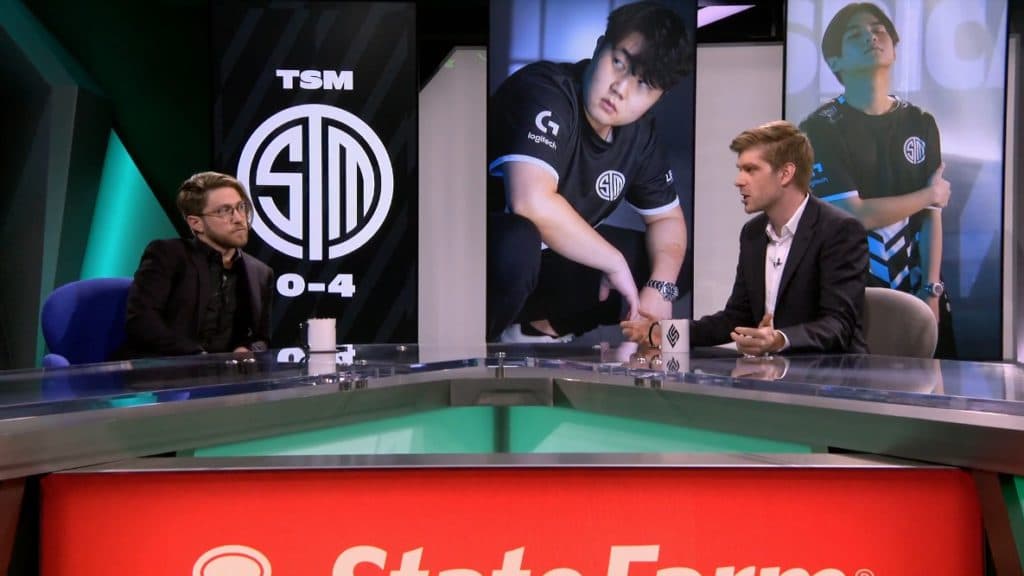 TSM secured their first win of the season over Immortals, after going 0-4 in the first two weeks of the LCS (Image: LCS Twitch stream)
PiraTechnics: Do you feel this is a big turning point for the squad right now? Are you feeling a lot more confident that you'll be able win games. Maybe not just down the line, but maybe even tomorrow against a very tough opponent. Long-time rivals Cloud9.
TSM Huni: "Even we win or lose together it doesn't really matter. I think the most important thing is to play the best we can. Even though we may lose because we were the worst team, or worst individually, it just doesn't matter. We have shown we have improved, and as long as we're improving, I'm with fine with it. "
PiraTechnics: You played the enchanter double Smite game, not your normal laning experience. Is this something you enjoy doing or do you hate it?
TSM Huni: "Playing more Smite top it makes me more intelligent about the game, I'm actually doing a support job and need to see more of the map. I'm looking at the mini map way more often but I'm not really looking at my lane. This kind of thing helps me see more of the bigger picture.
These kind of things make me... don't want to play (Laughs). I just get mad because I know this is not my optimal. That's why I get mad because I want to be able to be fast and try my best, but I'm still in the progress of learning a new thing. It can make me frustrated sometimes."
Piratechnics: I think this is a mindset you've always had. I remember when you first debuted for Fnatic way back in the day. The first time I got to cast you, it was really about not just wanting to outplay your opponent but wanting to be the best player you could be. It sounds like that mentality has carried you through. So even though it's frustrating to try something different, you said its made you a better team player? As arguably the most experienced member on TSM would you say you've been the leader to step up into this role this year?
TSM Huni: "Yes, I have, and that's why it was kind of suited to me because like I said I get to see more of the map and it's easier to shotcall. I do have the loudest voice in our team (laughs), so that's why I think it was really good strategy for TSM.
It's really good practise because we're playing through bottom and through mid but not through top. I think it's going to be great for the future. Me and Spica can always play through top no matter what. If we're playing just 2 at the top I feel we're going to win 2 v 2 against anyone.
This is Spring Split. It's not a big deal going. It is a big deal winning Spring Split and going to MSI would be really cool. But I think eventually, as everyone knows, the most important thing is going Worlds. I'd rather go Worlds and just not win Springs Split. To be real there a lot of teams that would think that way.
That's why we trying a lot of new stuff, and this where communication can break down. But trying new things is helping us think more as a team for the future."
PiraTechnics: Next week we'll be on patch 12.4, and then a couple of weeks after we will get to see Renata Glasc enabled, a champion obviously more suited to the bottom lane. Have you encountered this in soloqueue and what's your opinion of Renata?
TSM Huni: "Right now I think that champion is broken (laughs) They've removed the Chemtech Drake soul because you know it can nearly end the game. I think Renata is just as bad because you basically get a Chemtech soul and then if you kill someone you get re-raise. I think generally she is just really strong but this is just based on my games in solo queue where it was really really rough and we couldn't really kill her. "
PiraTechnics: In terms of the meta, it has been shaping up in pro and evolving through Champions queue. With this shift enchanters have been played top, you've been doing it yourself, a lot more focused on the bottom since 12.1 and the teleport changes. Have you been overall enjoying the sgift up from last year were a lot more focused on the other side of the map?
TSM Huni: "I mean for me, I don't really mind, because right now I'm also enjoying the Hullbreaker meta, which is pretty disgusting as a top laner. I do like it, and at the same time, I do enjoy playing enchanter top, because like, I'm pretty sure I played mostly enchanters as a top laner no matter what, over the entire role. Even last year I was spamming Lulu, even before I was playing Karma top.
Even since Fnatic, Lulu was my favorite champion to play top. It's really satisfying just to see my AD Carry pop off. Even though I'm not the main carry, it doesn't really matter. We just win the game kind of easily and I trust my teammate. It's cool, you know? It's enjoyable to see my AD Carry doing well."