LCS Summer split is entering its fourth week. Let us do a quick roundup of week 3, and welcome C9 Zven back into the league.
The LCS Summer 2021 split week 2 saw 100 Thieves live up to their expectations, with Felix "Abbedagge" Braun putting an end to all speculation on his potential. The imported midlaner proved he is here to challenge the best in the LCS. For week 3 however, we saw the top of the table get shaken up a bit between the three teams chasing each other.
Let us dive straight into the results, standings, and what is to come for each team in the LCS.
TSM FTX pumping
Rank: 1st
Record: 19-8
Rank Change:+2 place
In the midst of all the dumping, TSM FTX went 3-0 in week 3 effortlessly. This is bold to say considering their schedule included Immortals, Dignitas, and none other than Cloud9. The latter matchup was definitely a significant win which will prove its worth later in the season.
TSM FTX Spica and Huni stood out the most throughout the three matches. Spica was instrumental in their win against Cloud9 playing Volibear. The jungler was everywhere on the map, helping teammates and taking objectives as well. He ended the game with a perfect 5/0/6 KDA.
100 Thieves gives up 1st, for now
Rank: 2nd
Record: 18-9
Rank Change: No change
In a surprise loss, 100 Thieves fell to Counter Logic Gaming. The 9th placed team at the time managed to upset 100 Thieves on the first game of the week. The weirdest fact about their loss is that it wasn't even close. The organization managed to put a single kill on the board for an entire 30 minutes. CLG on the other hand stomped them with 21 kills.
They managed to quickly identify where they went wrong before the remaining two matches. 100 Thieves managed to win against FlyQuest and Team Liquid after that. 100T Huhi and Closer picked up MVP for those games' respectively. The biggest matchup of week 4 is against Cloud9 to determine who will stay on the top of the LCS standings.
Cloud9 implodes
Rank: Tied 3rd
Record: 17-10
Rank Change:-2 place
What everyone was expecting to happen at some point in the season finally happened. Cloud9 went 0-3 for week 3. Considering the downward trend of the team's performances, and the non-convincing wins, it was inevitable we will see it happen at some point. A change is needed for Cloud9 to quickly recover and stay on the top before 100 Thieves and TSM FTX fly away with the lead.
The change has been made. Well, it shouldn't have been there to begin with. C9 Zven, the roster's legendary ADC, is finally back in action. LCS viewers can enjoy the Danish player starting from week 4. They come up against 100 Thieves next, so it is his chance to prove what Cloud9 has been missing.
Team Liquid is on a steady growth
Rank: Tied 3rd
Record: 17-10
Rank Change:+1 place
Team Liquid picked up two quick wins against FlyQuest and Golden Guardians. They didn't manage to close it out with a clean 3-0 because 100 Thieves was there to ruin the party. TL CoreJJ, the renowned LCS support, had a tremendous showing against Golden Guardians on Nautilus. He was involved in 10 out of the 14 kills Team Liquid had on the board.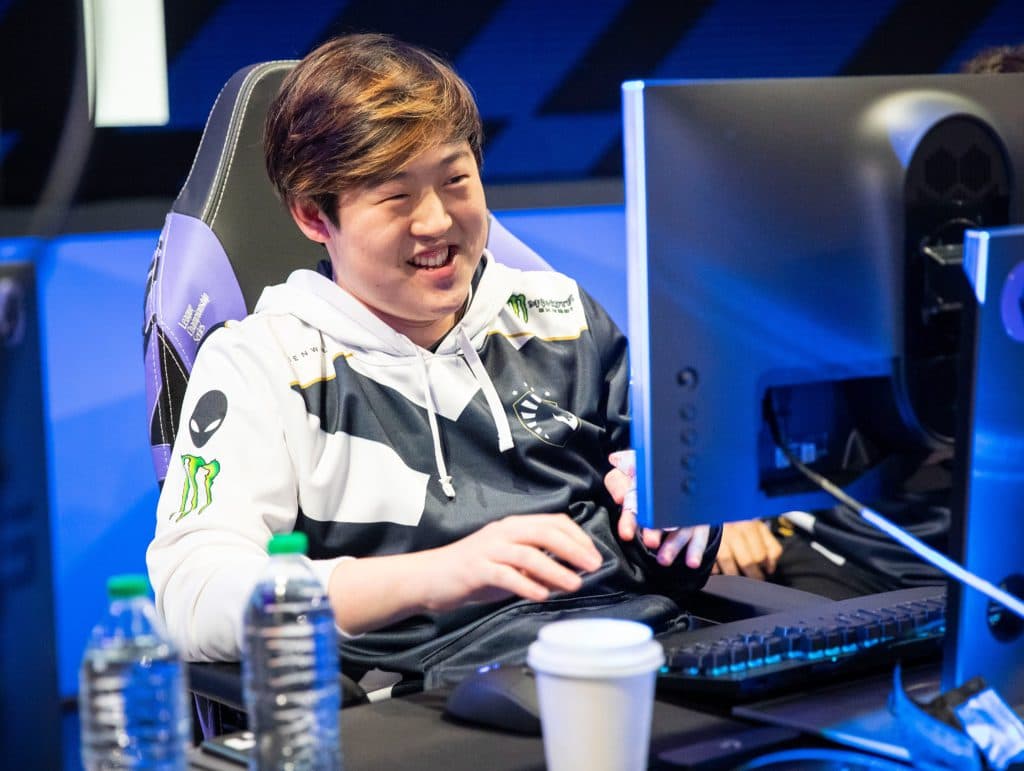 Team Liquid come up against Evil Geniuses for the first game of week 4. This won't be an easy task at all when considering the run of form EG Jizuke and his teammates are in. Not only that, they play TSM FTX on the third day of the week as well, which will play a part of their upper table standings.
Dignitas stands their ground
Rank: Tied 5th
Record: 14-13
Rank Change: No change
Dignitas had a week to forget. Week 3 wasn't the best by any means for the organization in the LCS Summer split. They fell to Golden Guardians, TSM FTX, and Counter Logic Gaming. It is not the first week they are struggling in, since week 2 only saw them win one game.
Unfortunately, it doesn't get any easier as well with their week 4 matchups. Dignitas comes up against 100 Thieves, FlyQuest, and Evil Geniuses respectively. One win against any of those teams could spark the comeback they need to get their groove back.
A steady week for Evil Geniuses
Rank: Tied fifth
Record: 14-13
Change: No change
Evil Geniuses had a solid week two and will need to keep that up if they are to land higher in the playoffs. EG started off the week with a solid victory over Cloud9. Their second game in week three ended in defeat to Counter Logic Gaming. EG rounded off the week with a victory over GGS.
Next week could be a season-defining week for Evil Geniuses. The LCS side starts off the week with a match against a Team Liquid side that is in turmoil. This is followed up by a match against the league leaders in TSM. Evil Geniuses rounds out the week against a struggling Dignitas. While EG should be favored to win two of the three matches this week, this is a big week for them. All three sides are above them in the standings and a solid week here will go a long way for their playoff seeding.
Immortals are on the hunt
Rank: Seventh
Record: 12-15
Change: No change
Immortals had a strong week three and are setting themselves up for a summer split surge. This was an extremely difficult week for the LCS side but they came through with a 2-1 record. Starting off the week, IMT threw against TSM in what would have secured a 3-0 week for them. IMT made sure lighting did not strike twice as they were able to defend a Cloud9 comeback. IMT rounded out the week with a victory of FlyQuest.
IMT currently sits two victories behind fifth place and will need to make every game count moving forward. Immortals starts off week four with a match against CLG, followed up by a meeting with tenth place GGS, and rounding out the week they will face 100 Thieves.
Counter Logic Gaming are on the rise
Rank: Tied eighth
Record: 9-18
Change: No change
It was a week to remember for Counter Logic Gaming. The faithful was rewarded with a monstrous 3-0 week to keep their playoffs hopes alive. CLG started out the week with a surprising perfect game against 100T. CLG's next victory came against EG. Finally, CLG rounded out the week with a win over Dignitas.
Business does not get easier for CLG. They go up against a red hot Immortals side in their opening game. This is followed up by a Team Liquid side with a point to prove. The week for Counter Logic Gaming is rounded out by a match against a full strength Cloud9 side.
Flying low for FlyQuest
Rank: Tied eighth
Record: 9-18
Change: No change
FlyQuest is struggling and struggling hard. Last weeks losses meant FLY has lost their last four LCS regular season matches. The first of three losses came against Team Liquid. The second was against the 2nd placed side in 100 Thieves, rounded out by a loss to Immortals.
FlyQuest are tied with CLG for the last playoff spot at 9-18. However, next week is vital for them if they are to stand a chance at keeping up with the red hot CLG. Next week, they start off the the round of games against TSM, while they are the first place side, FLY has a 3-0 record over TSM this season. The next two games are winnable for FLY, they face DIG in game two and GGS in their last game.
Tough week for Golden Guardians
Rank: Tenth
Record: 6-21
Change: No change
Golden Guardians went 1-2 last week, while it is not what they would have hoped for, the LCS side has already picked up the same amount of wins as they did in the entire spring split. GGS started off with a victory over Dignitas, this was followed by back-to-back defeats to TL and EG.
Next week does not get any easier for GGS. They go up against a full-strength Cloud9 roster with Zven returning to the starting line-up, this is followed by a match against Immortals with the week ending with a match against FlyQuest. Given they have already taken down Cloud9, if GGS are to make a late surge into the playoffs then this is the week to do it.