Korean player and GOAT of League of Legends Lee "Faker" Sang-hyeok has secured a military service exemption.
Lee "Faker" Sang-hyeok is no stranger to the bright lights of stardom, but the Korean LoL star's latest accolade has secured a him and the rest of the Korean Asian Games League of Legends team a unique boon: A military service exemption. Team South Korea's win over China at the 2023 Asian Games has granted then entire squad exempt status.
Faker himself didn't play in the grand finals win due to illness, with Jeong "Chovy" Ji-hoon taking his place. Chovy, Choi "Zeus" Woo-je, Seo "Kanavi" Jin-hyeok, Park "Ruler" Jae-hyuk, and Ryu "Keria" Min-seok defeated the Chinese national League of Legends squad to secure the gold on September 28, 2023. But Faker will still be granted the exception due to playing in previous matches during the Asian Games.
Why is the military service exemption important?
South Korea has a mandatory military conscription, which requires physically able men between the ages 18-35 to enlist and do complete military service. However, there is a possibility for exemption; athletes, musicians, dancers and others can all become military exempt, if they have won prizes in their sector. Not only prizes, but they must also be recognizable as bringing prestige to South Korea with their talent and sector.
BTS on stage during an LA concert, while members had military exemptions - image via BTS official Instagram 2023
Similar exemptions have been given to the K-pop boy band BTS, whose oldest members have only recently enlisted following their own military exemption. At 27 years old, Faker is very much in the middle of the ages for military enlistment, and his exemption is significant for his professional gaming career.
It was also theorized that Faker may have already had a plan for military exception. Having dropped out of high school in 2012 Faker could have instead partake in social service (a non-active duty role) rather than military enlistment. Still, this win at the Asian Games has secured it for sure.
What does this mean for Faker and other LCK pro's careers?
For Faker's career, a military exemption means that he can continue playing professionally and will not have to stop to do his military service. Yet. A military exemption does not guarantee he will never do his service, just not currently. But his win at the Asian Games does mean we will see him on stage very soon.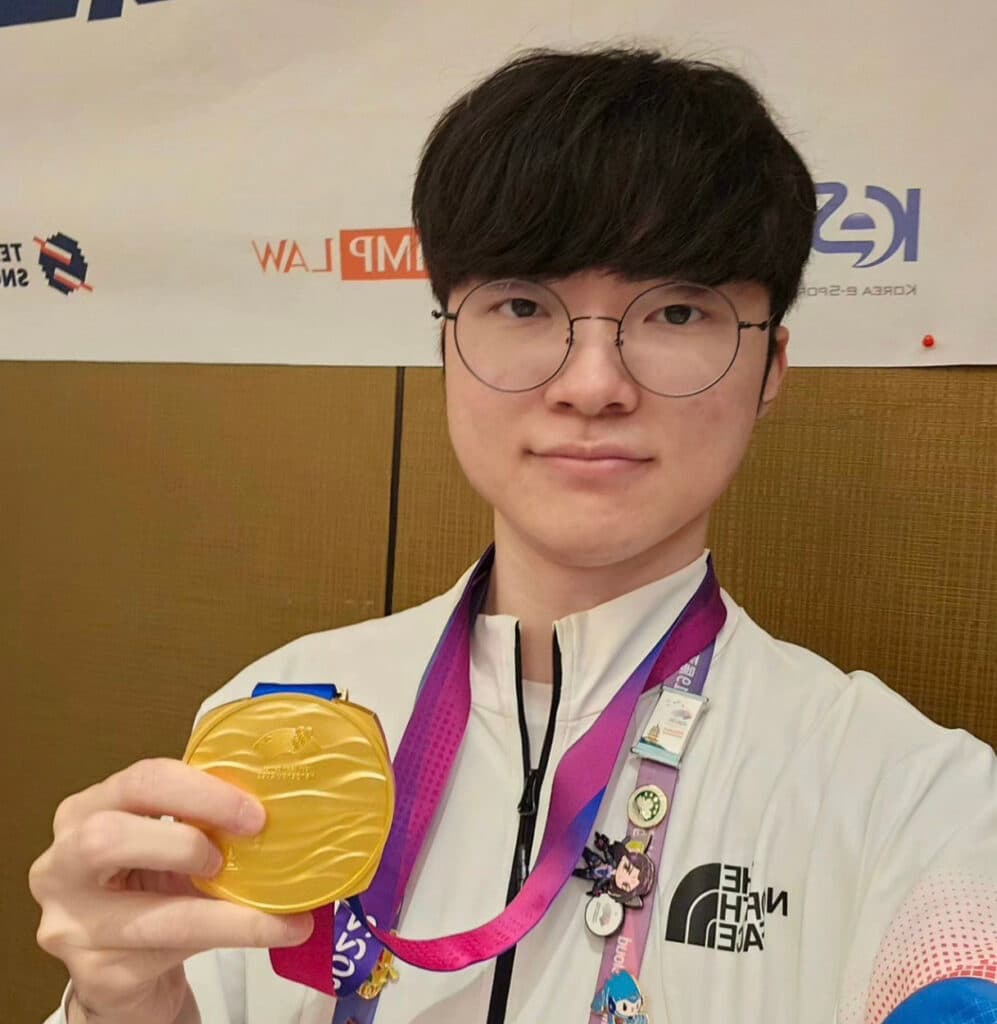 Faker with his latest medal from the Asian Games 2023 - image via Faker's official Instagram 2023
As for other LCK pros, a military exemption is not necessarily that important right now, but who knows, maybe in the future we will see more exemptions for pro players.
When will we next see Faker playing on stage?
The next opportunity we will have to see Faker play professionally on stage will be Worlds 2023. Faker along with his team - T1, will debut for Worlds 2023 during the Swiss stage. This will be a chance for him and his team to show up on the international stage after being knocked out of MSI 2023, where they finished third.