Combine the talent they have at their age, with what they have accomplished and the sky is the limit for these under-20 League of Legends roster.
The inaugural League of Legends esports Worlds season was in 2011. Since then, every season we have seen new players breaking into the scene. The organizations quickly recognized the need to cultivate this talent to become future stars.
We have seen rookies completely change up their teams. The most recent example to come to mind would be Javier "Elyoya" Prades picking up the 2021 LEC Spring Rookie of the Split award and contributing massively to MAD Lions' success. To continue on this "young and talented" theme, we have decided to explore the best under-20 players throughout the LEC, LCS, LCK, and LPL to form an incredibly dangerous team. They may just win it all if an organization owner is willing to take the risk after reading this piece.
Top: Suning Chen "Bin" Ze-Bin
Suning Gaming's 2020 season was one the organization will remember forever. They managed to finish 4th in the LPL 2020 Summer after coming 11th in the LPL 2020 Spring split. Their progress didn't stop there, as they won the LPL 2020 Regional Finals, qualified to Worlds 2020, and went head-to-head with Damwon KIA for the title but falling short to close out their incredible journey.
An instrumental player in their success was none other than SN Bin. He challenged the likes of G2 Wunder, TL Impact, TOP 369, and JD Zoom. All are incredibly dangerous players, to say the least, and Bin casually singlehandedly carried games at the age of 18. Suning clearly recognizes his potential and funneled gold straight to him.
During Worlds 2020, SN Bin had the second-highest Kill Share and Gold Share at 26% and 23.1% respectively. He played the most games of anyone at the tournament with 19 matches, registering an average of 3.89 kills per game and second-highest CS per minute at 8.54.
These numbers alone are enough to show you the potential Bin has to enter the League of Legends history books from its widest of doors. Suning's 2021 hasn't lived up to what 2020 drew for them, but Bin's performances even during their losses show his mentality is to never back down till he has given it his all. A player worth keeping an eye on till he lifts the Worlds trophy.
Jungle: Damwon KIA Kim "Canyon" Geon-bu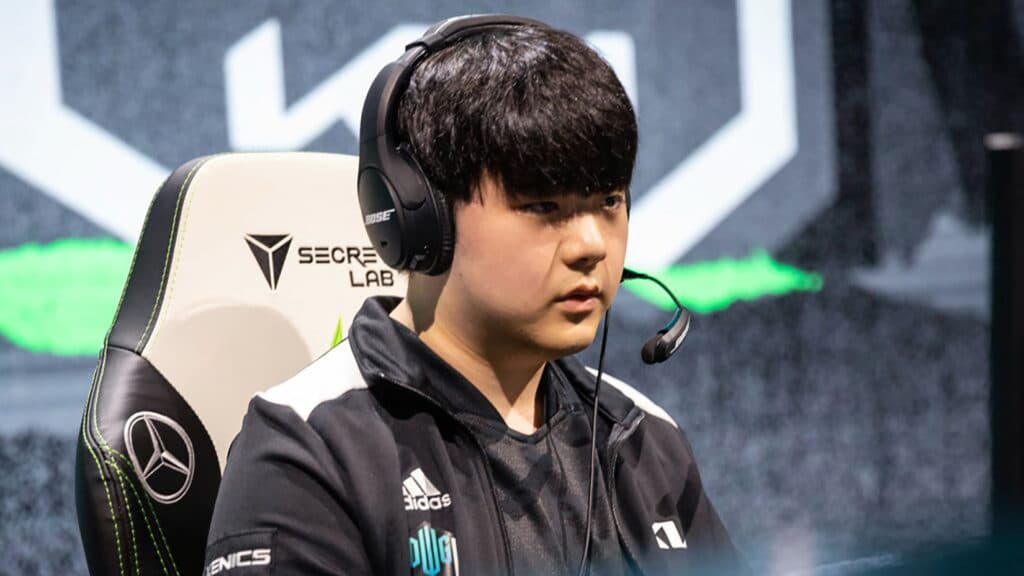 REYKJAVIK, ICELAND - MAY 14: XXX at the 2021 MSI annual League of Legends tournament on May 14, 2021 in Reykjavik, Iceland. (Photo by Colin Young-Wolff/Riot Games, Inc. via Getty Images)
Damwon KIA, the 2020 Worlds Champions, LCK 2020 Summer champions, LCK 2020 Summer Playoffs champions, and 2nd placed team at MSI 2021. An organization that recently has been synonymous with League of Legends dominance and success. All you need to see to recognize why they are at the place they are right now is their jungle. Just move around the dark bushes, and you will find a wild DK Canyon jungle gapping his opponent.
The South Korean 20-year old player has been incredible, to say the least since his emergence onto League of Legends esports. The player has never left Damwon KIA, having been part of the team since September 2018 at just 17 years old.
During Worlds 2020, he blew the competition out of the water, finishing in first with an 82.4% win rate, second in KDA with 7.22, and third in CS per minute with 7. DK Canyon carried this momentum with him for the LCK 2021 Spring and Summer splits, and as of the time of writing, he holds the highest gold per minute at 372. This just shows his efficient jungling while making sure to be everywhere and anywhere his team needs him to be.
Mid: Misfits Gaming Vincent "Vetheo" Berrié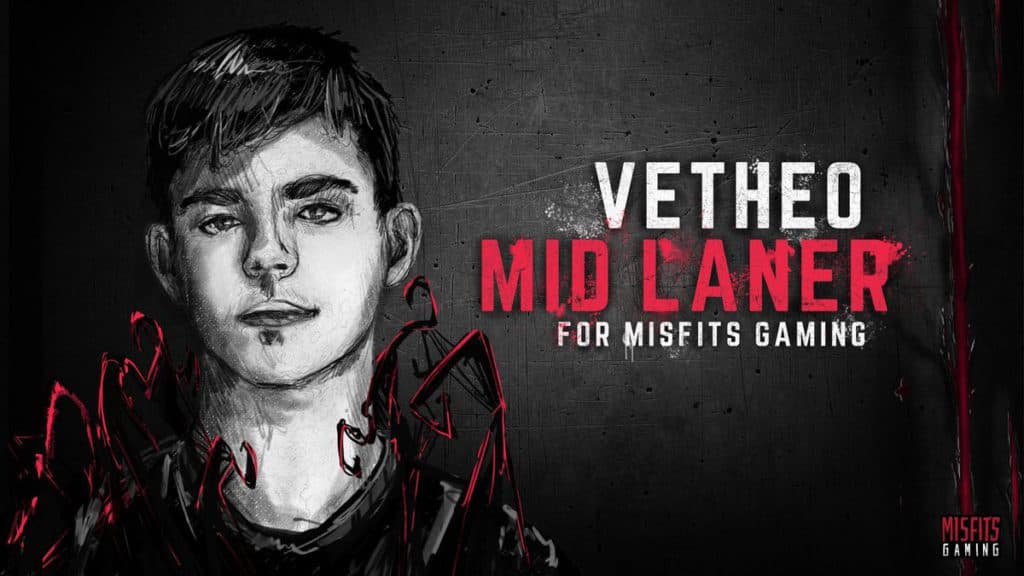 Not as accomplished as the two we have mentioned so far on this roster, but Vincent "Vetheo" Berrié came into the LEC from the LFL to make a statement. The French midlaner has taken the LEC by storm and managed to fight toe-to-toe with the best midlaners in the region. He sometimes even came out victorious in these unfavorable matchups.
The 19-year old midlaner started his career with TP Adequat Academy, where he learned the basics of being a League of Legends professional player and hone his craft. A few months later, LDLC OL, one of the well-recognized French league organizations, picked him up, and the rest is history. He managed to win the EM 2020 Spring Main Event, and came 3rd in the EM 2020 Spring Main Event.
Since his addition to the Misfits Gaming roster, and the team looks revitalized. Some might see it as a bold statement considering they finished 7th in the LEC 2021 Spring split. However, the time he took to accustom to the new pace of the league he is part of showed considerable returns when the Summer split started. As of the time of writing, they are tied in 2nd place with a 10-5 record, after dominating the standings for four of the seven played weeks.
ADC: MAD Lions Matyáš "Carzzy" Orság
We will stay in the LEC for the first member of our botlane duo, and move away from Misfits Gaming to MAD Lions. It is going to be none other than Matyáš "Carzzy" Orság, the 19-year old Czechian player. Considering his age, Carzzy has played for 13 teams so far since his debut in 2016 onto the professional scene, when he was just 14 years old.
Carzzy absolutely lit up the league with his LEC Spring 2021 Playoffs performances, coming in first place ahead of everyone in average kills per game, assists, and win rate at 5.31, 6.46, and 69.2% respectively. It is hard to ignore that despite all these stats, Carzzy sometimes gets a bit too confident in his own abilities, and it is heavily reflected in his average deaths per game, currently sitting in 2nd for highest DPG for the LEC Summer split at 2.4. It is not a one-off stat as well, since he was 2nd in the same stat category in both Spring split and Playoffs at 3 and 2.77 respectively.
Carzzy has proven he can go head-to-head with the best ADCs in the world during MSI 2021, challenging the likes of DK Ghost, RNG Gala, and C9 Zven. The sky is the limit to what he can achieve, but some restrain to his over-aggressiveness is needed and will definitely be learned along the way at the pace of his development.
Support: T1 Ryu "Keria" Min-seok
Support is one of the most underrated roles in League of Legends, yet incredibly effective if in the hands of the right player. This can be easily said and justified for T1 Ryu "Keria" Min-seok. The South Korean 18-year old has managed to get himself on the most prestigious League of Legends team of all time, and didn't settle for being there. Keria has cemented his place as an influential members, and sometimes the key factor in their wins.
His LCK Summer 2021 split so far has been going great individually, even with T1 relatively struggling as a whole. He averages the 2nd lowest deaths for a support at only 2.26. At the same time, he takes part in 68% of his team's kills. Weirdly enough for a support, a role known for being starved out of resources, Keria enjoys the most gold out of any support in the ongoing LCK Summer split at 8.5K and on average makes up for 13.7% of his team's total gold.
The sky is the limit for Keria, and even when he comes up against more experienced supports, he holds his own incredibly well. Naturally, he still has a lot to learn, but having already played 11 different champions in his role so far, he has shown tremendous flexibility to several playstyles. A player to definitely keep an eye on.