xBlyzes now has a total of seven points.
After a weekend of clashing against other competitors, xBlyzes became the champion of Hearthstone Grandmasters: Last Call Week 2! He earned the most weekly points, putting him at a total of seven points toward a place in the 2022 Hearthstone World Championship.
Hearthstone Grandmasters: Last Call
Before xBlyzes duked it out against Bunnyhoppor in the weekly finals, he faced the player and Mighty during the group stage. Although xBlyzes got put into the lower elimination bracket after a duel against Bunnyhoppor, he didn't give up as he battled Mighty in the decider match. 
After advancing to the stage for the top eight weekly players, xBlyzes went against okasinnsuke in the quarterfinals and Furyhunter in the semifinals. xBlyzes' victories against these opponents led him to a rematch against Bunnyhoppor in the finals.
Unlike the previous week, Hearthstone Grandmasters: Last Call Week 2 featured the Trio format. This involved players selecting from a group of pre-determined classes and bringing three decks into the fray. Competitors played in best-of-five matches and had to switch decks after winning a game against their opponent.
xBlyzes' Winning Hearthstone Deck Codes
When it all came down to the Hearthstone Grandmasters: Last Call Week finals, xBlyzes showcased his XL Alignment Druid, XXL Spell Mage and Holy Paladin decks.
Here are the winning deck codes:
Druid: AAECAZICDOTuA7CKBLWKBImLBKWNBMqsBKWtBISwBMeyBI21BL/OBJfvBA7A7APR9gPG+QOsgASvgASwgASJnwSunwTanwTPrAT/vQSuwASywQTaoQUA
Mage: AAECAf0ECtjsA53uA6bvA6CKBP+iBOWwBKGxBMeyBJjUBJfvBA/36APT7APO+QOSgQSTgQSljQShkgT7ogT6rASZsASNtQSHtwSWtwTquQSjzgQA
Paladin: AAECAZ8FCPvoA5HsA9n5A7+ABOCLBLCyBNO9BNq9BAvM6wPw9gOL+AO3gATunwTQrATQvQTXvQTi0wSS1ASh1AQA
Druid, Mage and Paladin Victories
In game one, xBlyzes chose XL Alignment Druid while Bunnyhoppor opted for Big Spell Mage. While Bunnyhoppor played Balinda Stonehearth during the mid-game and summoned powerful dragons, xBlyzes prevented lethal with the help of cards such as Scale of Onyxia and Earthen Scales. However, Bunnyhoppor had consistent board control and damage to the face. This eventually earned him the first point.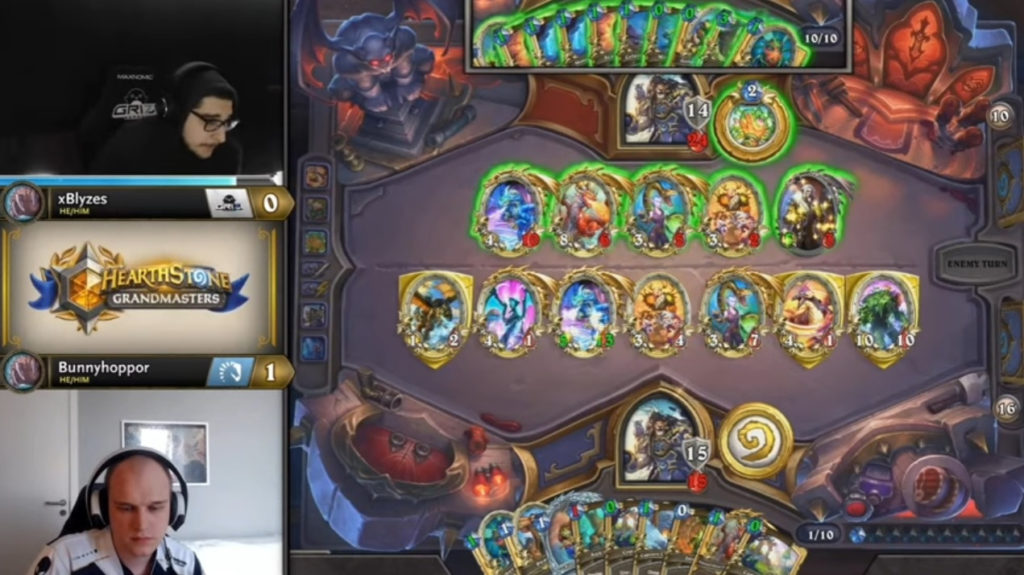 Next, it was xBlyzes' XL Alignment Druid again versus his opponent's Prestor Druid. Both players managed to become Wildheart Guff for the armor gain, mana crystals and card draw. However, xBlyzes tied the score 1-1 after clearing the entirety of his opponent's board. This was followed by another xBlyzes victory as he bested his opponent's Prestor Druid using XXL Spell Mage.
Despite the two loses with Prestor Druid, Bunnyhoppor brought it back and evened the score in the next game against xBlyzes' Holy Paladin. This meant that when it all came down to the last game between the players, it was xBlyzes' Holy Paladin versus Bunnyhoppor's XL Holy Paladin.
Both players fought for board control in the early game and mid-game, with Bunnyhoppor committing to the board and forcing out a clear from xBlyzes. After xBlyzes had to use Blademaster Samuro to help clear his opponent's minions, he established a stronger board presence and started going for face before Bunnyhoppor had the chance to draw into answers. With the aid of Equality, Lightforged Cariel and a couple of minions still on his own side of the board, xBlyzes found lethal and won Hearthstone Grandmasters: Last Call Week 2.
Hearthstone Grandmasters: Last Call pauses for Murder at Castle Nathria Launch
Hearthstone Grandmasters: Last Call showcases a total of 16 competitors, with each of them aiming for the most points before the playoffs in the final week. Since xBlyzes became the Week 2 champion, he earned the most weekly points toward the playoffs weekend. So far, he has the second most points in the Hearthstone Grandmasters: Last Call standings.
There won't be Hearthstone Grandmasters: Last Call matches in the next couple of weekends. However, the esports action will return from August 12th to 14th with Masters Tour 5. Until then, players can anticipate to the launch of the Murder at Castle Nathria expansion!