Hearthstone Battlegrounds' biggest change will go live tomorrow. A new keyword, new heroes, 37 new minions, and much more!
Hearthstone Battlegrounds overhaul is upon us, and as we announced, a lot will change as soon as tomorrow. Blizzard is launching BG's greatest update since the game mode launched. August 31st will be a day of great news, and Hearthstone's auto battler will be a part of that.
With little less than 24hr notice, Blizzard posted that Battleground will be getting a specific Keyword, 37 brand new minions, and 2 new heroes. There are some other important changes to the way games will be played, so let's dive right into the news.
New Hearthstone Battleground Heroes
Masters Nguyen
Master Nguyen came all the way from Pandaria to be a part of this event. The new panda hero will bring a completely new playstyle to Battlegrounds.
His Hero Power, "Power of the Storm", will force players to choose between two other hero powers at the start of every turn. Although it is yet to be discovered if every hero power will be in the pool, Master Nguyen will be a blast warranted. Who doesn't love opening boxes?
Master Nguyen - New BG Hero
Cariel Roame
Cariel Roame was right around the corner in Stormwind. The iconic Alliance character will join Hearthstone Battlegrounds with her characteristic aggression. Her hero power will upgrade through the battle, giving incremental value to the Hero.
Conviction will cost 1 gold and give +1/+1 to a random friendly minion. The buff upgrades when you get to Tabern 3 and 5, giving three random minions +1/+1 and five random minions +1/+1, respectively.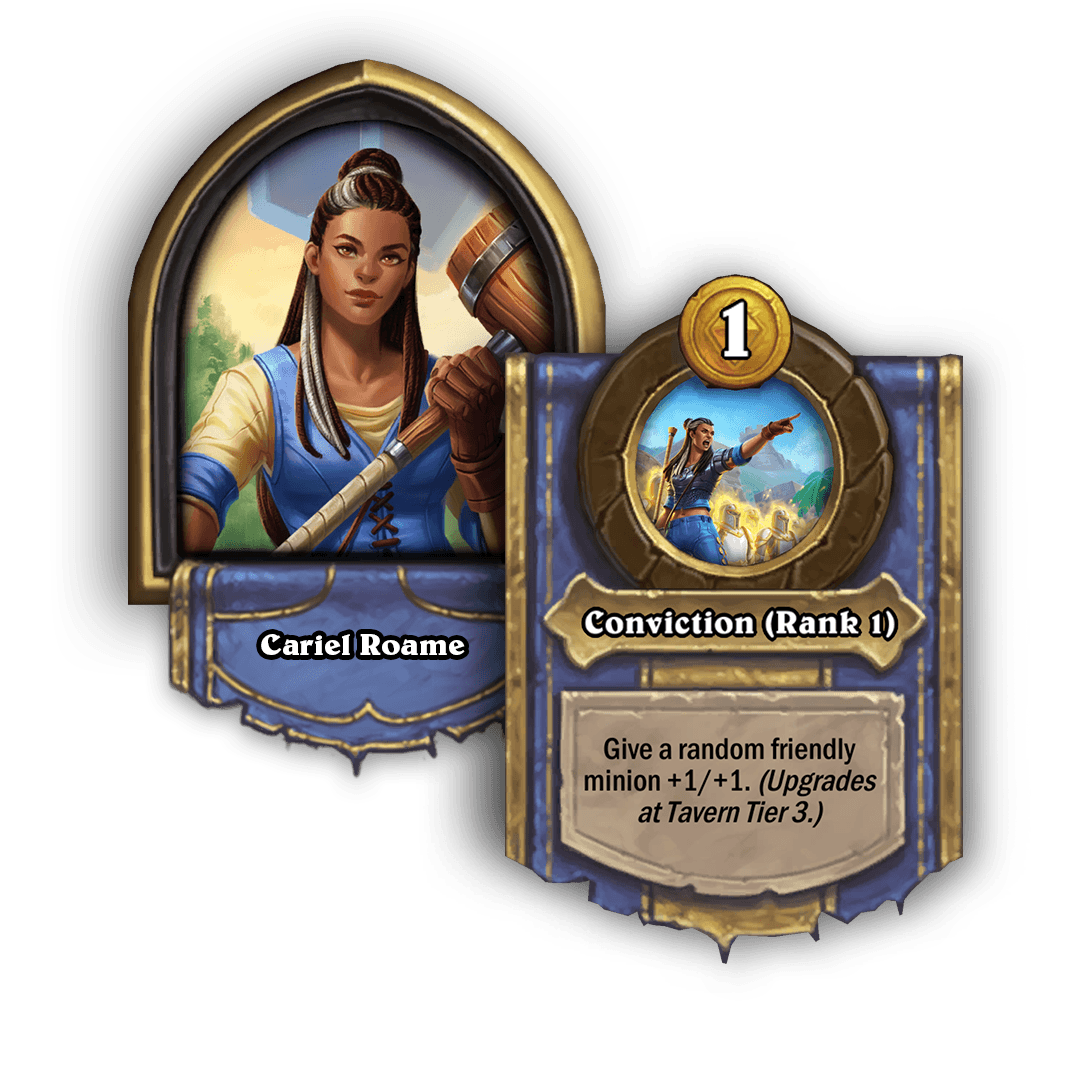 Cariel Roame - New BG Hero
Avenge: New Hearthstone Battlegrounds Keyword
For the first time, Hearthstone devs have made a specific keyword for Battlegrounds with this Revamp. Avenge minions will do something special after a certain amount of friendly minions die. There is not much other information than this one in the original post. However, we can already check the minions that have this ability.
Dazzling Lightspawn featuring Avenge Keyword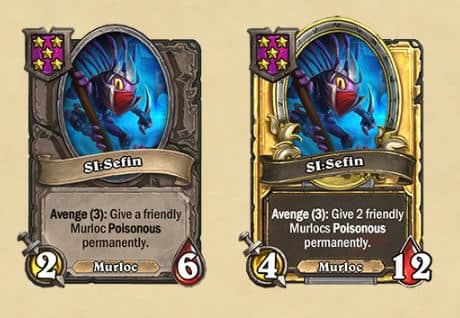 SI: Sefin featuring Avenge Keyword
As we could expect from the previous announcements, the effect of the Keyword has much to do with the tribe of the minion. Developers mentioned that new minions were "specifically designed to play off the core fantasy of that Type and re-emphasize how the Types play".
37 New Minions: Holy Mecherel
As promised, this Battlegrounds Revamp brought a whole bunch of new minions. However, Bob's tavern won't be crowded since these new minions will replace old ones. The intention is to better represent the minion-type playstyles and bring a fresh experience to the game.

You can find the complete list of minions entering the Battlegrounds and the ones leaving in the official post. We won't go over the 37 of them, but we will address some.
Holy Mecherel, the Mech version of retired Holy Mackerel, is already in the eye of the storm, and many see it as an overpowered minion. The divine shield refresh has direct synergy with the Mech type, and with no poison, the minion won't be as oppressive as the Murloc version. However, the synergy when having two copies will be a win condition in many games.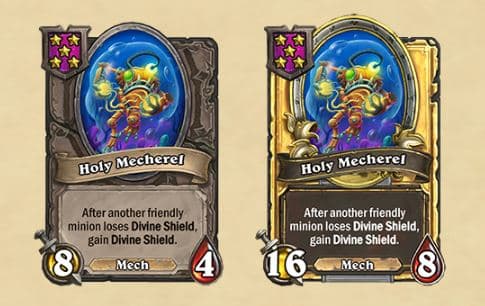 Holy Mecharel - New BG Mech
Tony Two-Tusk - New BG Pirate
Tony Two-Tusk is what every Pirate dream to be. With the new keyword Avenge, this minion will make another friendly Pirate Golden after 5 friendly minions die. In many cases, this will mean that you could get a golden minion a turn. If you have two copies, they can make each other golden and end up having a shiny composition.
Wait, there is more for Hearthstone Battlegrounds
I know that with so much change it is hard to adapt and react. But fear not, you will have some extra 5 seconds from turn 3 to 9. It might sound like little time, but when the rope is burning, every second counts!
Moreover, this Battlegrounds Revamp will bring a damage cap. This means that until the first player dies, no player can take more than 15 damage from combat. So plan ahead and watch your enemies closely, they being alive might be the key for you not receiving a lethal blow during the early game.
As a final note, Hearthstone Battlegrounds ratings will have a reset with the 21.2 patch dropping tomorrow. This means that your MMR will be thrown back to 0. As it happens with these resets, Blizzard will still "remember" your skills and match you with opponents that had a similar ranking before the reset.