The last Lobby Legends event for 2023 will take place this weekend crowning the Battlegrounds Fall Champion.
The Hearthstone Battlegrounds Lobby Legends Fall Championship will be happening soon! The lack of promotion by Hearthstone Esports might indicate the contrary, but no. The $50,000 Battlegrounds Lobby Legends Fall Championship will kick off this Saturday and here is everything you need to know about it!
Hearthstone Battlegrounds Lobby Legends Fall Championship
The Top 16 Battlegrounds players will clash on the Fall Championship starting on October 14 and run through October 15. The live broadcast will begin at 9 a.m. PDT on both days, and the players will also be streaming their points of view.
Official Battlegrounds Lobby Legends Streams:
Remember that Anomalies will be live during the tournament, guaranteeing that every game will be different from each other.
Format & Players
These 16 players will fight among themselves, divided into two lobbies. Only the top 4 point earners after three games in each lobby will make it to the grand finals on Sunday. These are the competitors and their group pairing.
As the graphic shows, there are many seasoned players returning to the Battlegrounds Lobby Legends arena. Some of them already know how it feels to be a Lobby Legends winner. Among them, Waterloooooo, the defending champion, is coming for their third crown!
During Sunday finals, Lobby Legends Fall Championship viewers will enjoy, once again, the Battlegrounds Check Format. This means that in the final lobby, players have to earn 20 points to "put the lobby in check" and have a shot at taking the crown.
The player who succeeds at winning a lobby after meeting the 20-point threshold will be the Lobby Legends Fall champion! Trust me when I say that this format creates an extraordinary viewing experience.
The end of Battlegrounds Lobby Legends?
While viewership increased in 2023 thanks to the broadcasts returning to Twitch and competitors streaming their point of view, the competitive community morale is at an all-time low.
Talking about viewers, it is still unclear if they will be able to compete during the Battlegrounds Lobby Legends broadcasts using the Tavern Buddy Twitch Extension. There has been no official blog post this time presenting the players or the event besides the tweet we featured above.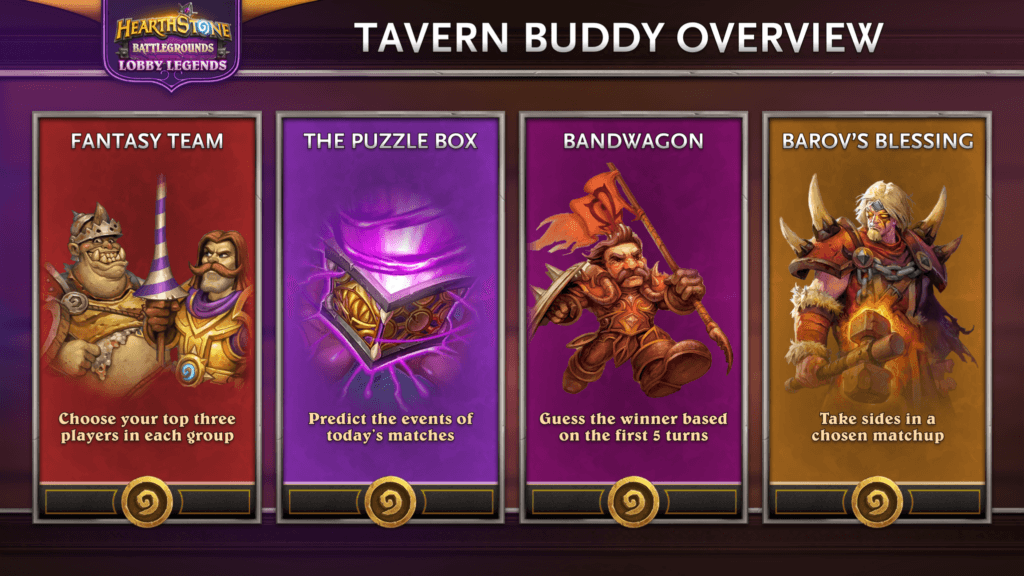 If you enjoy these events, make sure you check it out since it might be the last one and not only for 2023. That's all for now, but stay tuned to esports.gg for more Hearthstone news and updates. See you next time in Bob's Tavern.