The PMCO is back with its Fall Split of 2022, providing players a path to go pro. Here's everything you need to know about it.
Tencent has announced the return of the PUBG Mobile Club Open (PMCO) for the Fall Split in 2022 with registrations currently live. This split has a total prize pool of $600,000 split between six regions.
The PMCO provides a path to budding professional players to make it big. The top teams from here go on to secure a spot at the PUBG Mobile National Championships or the Regional Cups. From here, the best will advance to the PUBG Mobile Pro League (PMPL) Spring 2023.
If you are looking to go pro, the first thing that you need to do is to register for the PMCO Fall Split 2022. Registrations will be open until Oct. 9.
How to register for the PMCO Fall Split 2022?
Tencent has made the registration process pretty simple for the fall split. Instead of manually entering details and signing up through the website, you can just do so in-game.
Open PUBG Mobile.
On the bottom right of the main screen, click on the upwards to bring a slide up menu.
From here, select the Matches option.
A new screen will open displaying different tournaments for players to participate in.
Click on the PMCO Fall Split 2022.
A new screen will appear allowing players to register for the PMCO. Click on Create.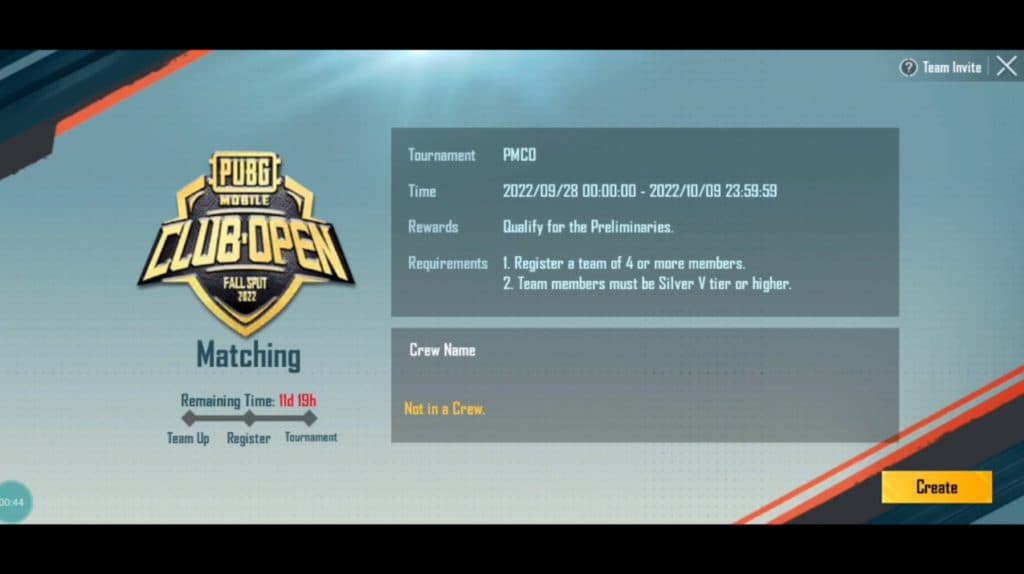 You will now be able to invite upto five friends to be a part of your team.
Each team must have a minimum of four members and a maximum of six members, two of whom will be substitutes.
Who is eligible to register for the tournament?
Players must be at least 16 years old to be eligible to register for the PMCO Fall Split 2022. Additionally, they must have achieved a rank of Silver V or higher this season or in the previous one.
Teams should also keep in mind the regional requirements when registering for the PMCO. For teams of four or five players, at least three of them should be from the registered region. For teams of six, at least four players must be from the registered season.
PMCO Fall Split 2022: Everything you need to know
The PMCO Fall Split 2022 has been divided into six regions covering most of the world. These are North America, South America, Europe, Africa, Middle East, and Asia.
If you are confused about your country's eligibility, you can find the complete list of countries under each region on the official website. 
After you register for the PMCO Fall Split 2022, teams will be required to play in the qualification stage. This will take place from Oct. 13 to 19 in Europe and from Oct. 17 to 23 in other regions. The top teams from here will make it to one of the six following PMCOs: 
North America
South America
Africa
Middle East 
Asia
Europe
Each PMCO will be split into a Group Stage which will be followed by the Finals to crown the regional fall split champions.