A user on the GTA forums leaked 90 videos worth of pre-alpha footage from GTA 6 in a single 3GB file, causing Twitter to explode with excitement on the prospect of a new GTA game.
Grand Theft Auto is undeniably one of the biggest video game franchises in the industry. It's always a huge deal whenever a new GTA game releases, even among the non-gaming crowd. It has also been nine years since GTA V was released. In fact, it has been exactly nine years since GTA 5 was released - the game released on 17th September 2013.
Naturally, when news breaks out on the existence of a GTA 6, it drove the world mad. As it did on Twitter when a hacker leaked pre-alpha gameplay footage from GTA 6. There's so much furor about it and it is already among the most trending topics on the micro-blogging platform.
The fact that a GTA VI exists isn't news to the world. In fact, Rockstar Games officially confirmed that the next entry in the Grand Theft Auto franchise was in active development seven months ago in the form of a community update on their website.
Regardless, there has been almost nothing beyond this confirmation other than a few scattered details and rumors about the game. Rockstar Games has been quite obvious in maintaining its secrecy around the project, one of the most anticipated ones in gaming. A new Grand Theft Auto game is always a big deal so it would be important for the developers to stay quiet about it on the internet until the project is ready. That makes this leak one of the biggest leaks in the gaming industry and a huge foil for Rockstar Game's plans.
What's the lowdown about these GTA 6 Leaks?
A user on the GTA forum posted a 3GB file containing 90 videos of pre-alpha GTA VI footage. Naturally, users on the forum went wild with this massive leak and posted it across their socials. The situation is so bad for Rockstar Games that this might actually be one of the biggest leaks in the studio's history and the game is barely through its pre-alpha stage of development. A lot of gameplay aspects were covered in these leaks, including a female protagonist, Vice City being confirmed among the in-game locations and more general gameplay.
GTA 6 Leaks confirmed to be real footage
Noteworthy tech and video game journalist, Jason Schrier tweeted a confirmation that the massive GTA VI leak is in fact, real. He also refers to it as "one of the biggest leaks in video game history". If his word weren't proof enough of the fact that the footage is indeed from GTA VI, then maybe the fact that TakeTwo Interactive, Rockstar Games' parent company has begun copyright striking some of the leaks should convince more readers.
Bonnie & Clyde Inspired Campaign set in Vice City?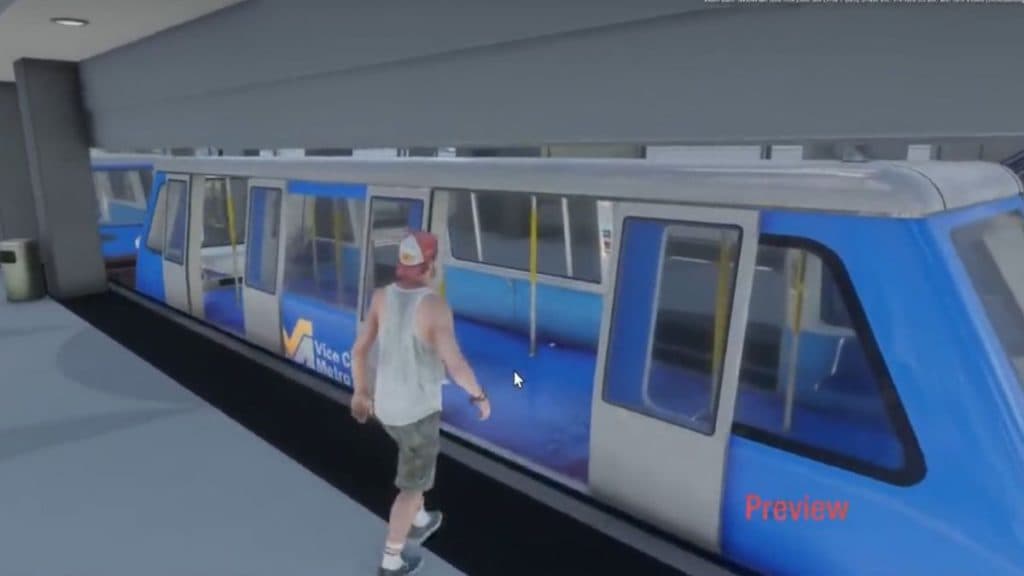 Footage from the leaks reveals a protagonist boarding the "Vice City Metro"
The leaked GTA 6 footage includes a clip of gameplay with both a male and a female protagonist with one video with character-switching being a possibility, just like between Trevor, Michael and Franklin in GTA V. It's very likely that the campaign will be inspired by Bonnie and Clyde. Ergo, a couple from humble beginnings aspiring for the big leagues through a life of crime. More footage from the leak confirmed the game takes place in Vice City. This includes a clip of one of the protagonists boarding a train on the "Vice City Metro"
The leaker wants to "negotiate a deal" with Rockstar
It's quite brave of the leaker to hack into Rockstar's files and leak THIS MUCH content. Rockstar Games is infamously prickly about its copyrights and intellectual property. Not to mention the sheer popularity of the franchise. A GTA 6 leak, exactly nine years after GTA 5's release is a massive affair and bound to go viral. It looks like they were after some kind of monetary compensation, holding the leaked footage ransom against Rockstar. In a follow-up comment on the forum post, they stated their intentions and provided their contact details. Another bold move.
Ok so this has gone unexpectedly viral, woke up to 3000 Telegram DM's If you are a employee of Rockstar or Take2 and your trying to contact me. Send me a message on telegram Or you can email me from your corporate email address I will try to read all these reply soon - i am looking to negotiate a deal
teapotuberhacker, GTA Forums
No matter how anyone perceives this, there's a lot of evidence to suggest that these leaks are real. Grand Theft Auto is undeniably the most popular game on the planet. In fact, at the end of 2021, eight years after its release, GTA V was STILL the most viewed game on Twitch. It's only a matter of time before Rockstar Games and TakeTwo Interactive start taking action on the leaked clips. In fact, they've already begun DMCA striking them. The game looks to be far from its closing stages, with a lot of the footage looking like it's running on the GTA V game engine. Major details like the campaign setting and Vice City are still big reveals though. Enough for a large crowd to go wild about it on Twitter.