The new Marvel Snap Nexus event left many players disappointed. Ben Brode responded about the mismatched expectations.
Marvel Snap is Ben Brode's new CCG, and, despite the initial hype, the last Nexus Event created a huge community backlash. The game has been in the closed alpha stage for almost two months now, and while the creators are praising the gameplay, they insist on the collection management problem. Why was the last Marvel Snap Nexus event tagged as predatory, and what did Ben Brode say about it?
Marvel Snap Nexus event failure
The content creators did not welcome the new monetization feature in Marvel Snap, the Nexus Event. Ben Brode presented the new Nexus Event as a way to introduce new cards to Marvel Snap. While players expected the Nexus Event to have something to do with gameplay, it was just a lootbox system.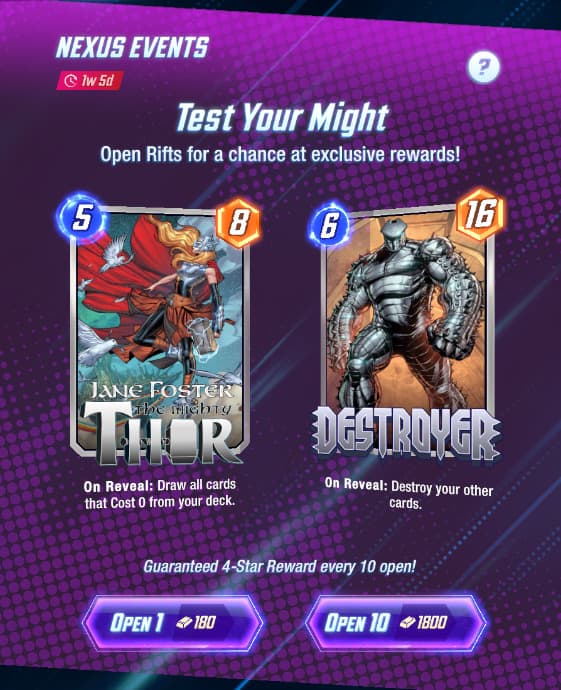 Marvel Snap Nexus Event promotion
Marvel Snap players called the Nexus Event promotion and information misleading, at least. The photo we see above shows the sweet pay-offs and below that says there is a "Guaranteed 4-Star Reward every 10 open!". With no further visible explanation nor prior reference, it is only natural to think the cards were the 4-Star Rewards. Spoiler, they weren't!
"So I'm not intimately familiar with the legal requirements on lootboxes, but ethically, does this clear it? Layout implies that the card is a 4-star reward, and in the detailed info on pull odds, it does not define *anywhere* what a 4* reward is. Reality is $300+ per card."
The cards shown are actually "Super Rare Rewards" and had a drop rate of only 1.5% and a pity-timer of 50 packs. You might find where the discrepancy between expectations and reality comes from. Oh, by the way, there are two of these events a month, so unless you are an extreme highroller, that means $1,200 to get the four cards.
Ben Brode addresses Marvel Snap Nexus Event complaints
With many content creators and players expressing their disappointment about the Marvel Snap Nexus Event, Ben Brode had no other option than to give a response. To be fair, Brode has always been close to his community, and in his time as Hearthstone Game Director, he often addressed community concerns.
Ben Brode posted this message on Marvel Snap's official Discord: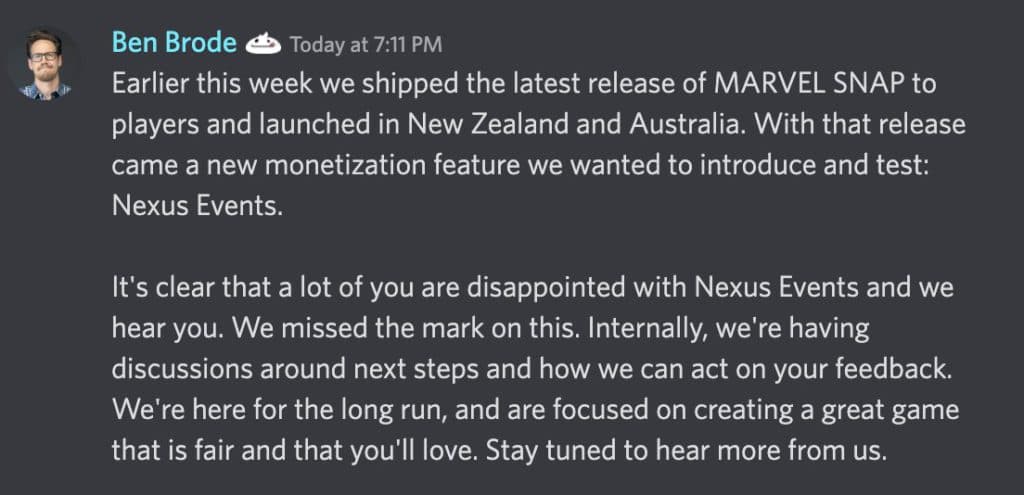 Brode's response on discord - July 21st
Furthermore, Brode went to Twitter to respond to the players. He understood how the event promotion created confusion. It was not clear to the players what the Nexus Event was. When they realized it was just a Marvel Snap lootbox, it didn't meet their expectations.
"We were trying to tie it to the TVA from Loki - events that mess with the timeline are called nexus events there. Yeah In hindsight it set absolutely the wrong expectation."
Prior problems
This is not the first complaint Ben Brode has to address about Marvel Snap. Players were already complaining about card collection changes. The updates introduced were not contemplating compensations for the ones who were past those stages.
While, in this case, it's understandable that a game in alpha stages has to make adjustments, and those will, one way or the other, not benefit all the player base, the sentiment adds up.
It is too soon to judge how this Nexus Event will affect Marvel Snap and how Ben Brode will react to make it good. What we do know is that the Marvel Snap community will now be less tolerant of future problems.