World Cup winner, Bugha, released his Fortnite Icon Skin along with a new game mode and tournament, Bugha's Late Game with a $100,000 prizepool.
The former World Cup winner, Bugha, dropped an insane announcement on the Fortnite community. The next featured Icon Skin series in Fortnite is Bugha. There are three variants, an emote, pickaxe, and back bling of his dog. Additionally, the cosmetics come with a tournament and a new game mode. "Bugha's Late Game" drops players right into 4th zone and simulates a typical stacked end game. The tournament starts July 28 and boasts a $100,000 prize pool.
Bugha shares his new Icon Skin in Fortnite
The much-anticipated announcement from Kyle "Bugha" Giersdorf came live from his stream. Bugha announced to over 100,000 viewers that he is the next Icon Skin released in Fortnite. He joins five other creators with exclusive Icon Skins.
""It's been super cool to see and play with all the other Fortnite Icon Series Sets. To join the list of Icons, get my own Set, and my own LTM is crazy; it's a dream come true," said Bugha in the official announcement.
"We put a lot of time into bringing this to life - I hope everyone enjoys playing with my Icon Series Set and playing in Bugha's Late Game. I also really want to give a big shoutout to my community for their continued support!""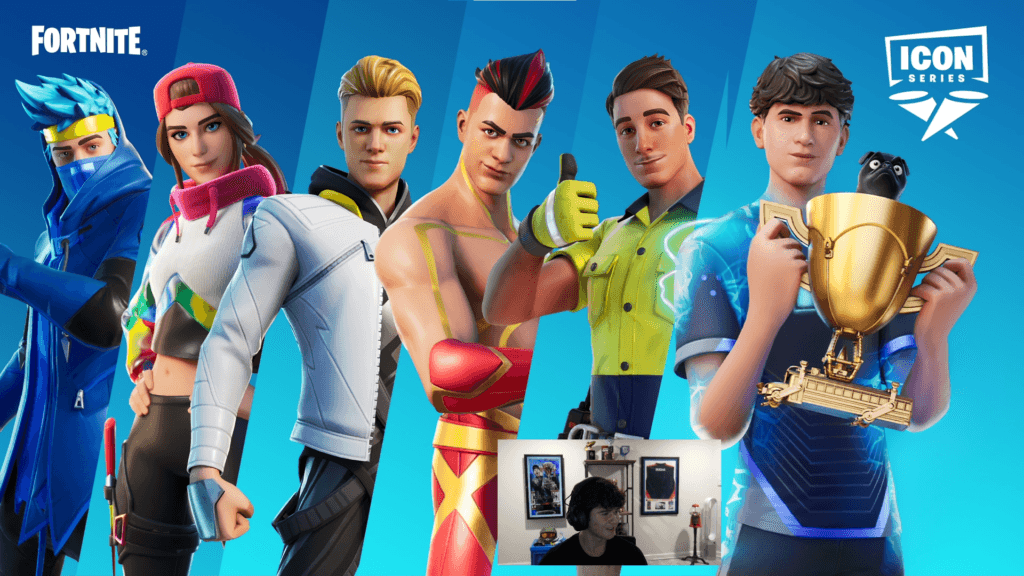 The skin comes with three variants. One of the variants is reactive and glows as the match progresses. In addition to the skins, players can purchase a World Cup trophy back bling and Bugha pickaxes.
Bugha is the first competitive Fortnite player to be featured as a skin. Other players received customized item shops and shared their favorite skins, but nothing like this. Bugha's legacy as a player and World Cup Champion is now forever remembered within the game.
The skin becomes available on June 20th. Bugha hinted he would give away a few codes, but did not specify how. Players can look forward to the item shop on Tuesday, June 20 along with a new competitive game mode.
Outside of the six Fortnite creators, Epic Games also awarded Icon Series skin to individuals in the entertainment industry. For example, Lebron James was recently unveiled as a Fortnite Icon Series skin.
$100,000 Bugha's Late Game "The first all competitive game mode"
Not only did Bugha release the Icon Skin, but also dropped a brand new competitive Fortnite game mode. The new mode becomes available on June 20th after the game update. Bugha's Late Game is meant to simulate a stacked competitive end game. It is the first of its kind and allows players to practice end game without the tedious looting and rotating in normal matches. Additionally, there is an in-game tournament on July 28 featuring this new game mode.
For anyone that has played competitive Fortnite, the end games are hard to imitate. The new game mode provides players an opportunity to jump right into the action. The game starts in between 3rd and 4th zone. Players are dropped across the map with various loadouts, materials, and locations. Then the match proceeds like a normal game. This new game mode could be a game-changer for Fortnite.
Bugha continues to thrive in game and out
In 2019, Kyle "Bugha" Giersdorf became the face of competitive Fortnite. After winning the first World Cup, Bugha appeared all over the media. He spoke with Jimmy Fallon, joined the TODAY Show, and made an appearance on ESPN. Since then, Bugha remained at the top of the competitive Fortnite scene and continued to push for more. Both inside and outside the game, the young player padded his resume.
Bugha still stands as a top 10 player in North America. He reached the Grand Finals in seven out of nine FNCS tournaments. In four out of seven, Bugha finished in the Top 5 or better. He remains one of the most consistent Fortnite players to this day.
Outside of the game, Bugha partnered with Gamers Outreach. Together, they provide hospitalized children an escape through video games. Bugha's donations go towards GO Karts, mobile gaming setups, that Gamers Outreach brings to children throughout the country. Bugha does all this by donating a percentage of his Fortnite creator code and participating in the charity events hosted for Gamers Outreach. He is on pace to provide more than 18 GO Karts. This all further's Bugha mission to make gaming more accessible.