WOTE is back with another $75,000 prize and this time… it's OG
Women of the erena (WOTE), a premiere series of competitive gaming events for women is back with another $75,000 prize pool celebrating all things OG in Fortnite.
WOTE returns on Monday, November 20, with another huge tournament celebrating all of the best and brightest women in gaming.
As part of the celebration of the history of Fortnite, WOTE will aim to showcase the fantastic women competitors who have played the game through the years.
Format
As it was in August, WOTE OG will be split across North American and European servers. These games will also be split between the different modes in Fortnite. Half of them are going to be Zero Build and the other half will be Battle Royale.
2 Zero Build Games - European Servers

2 Battle Royale Games - European Servers

2 Battle Royale Games - North American Central Servers

2 Zero Build Games - North American Central Servers
Prize Pool
A fantastic $75,000 is on offer during WOTE and every single player who takes part will take home at least a small slice of the pie.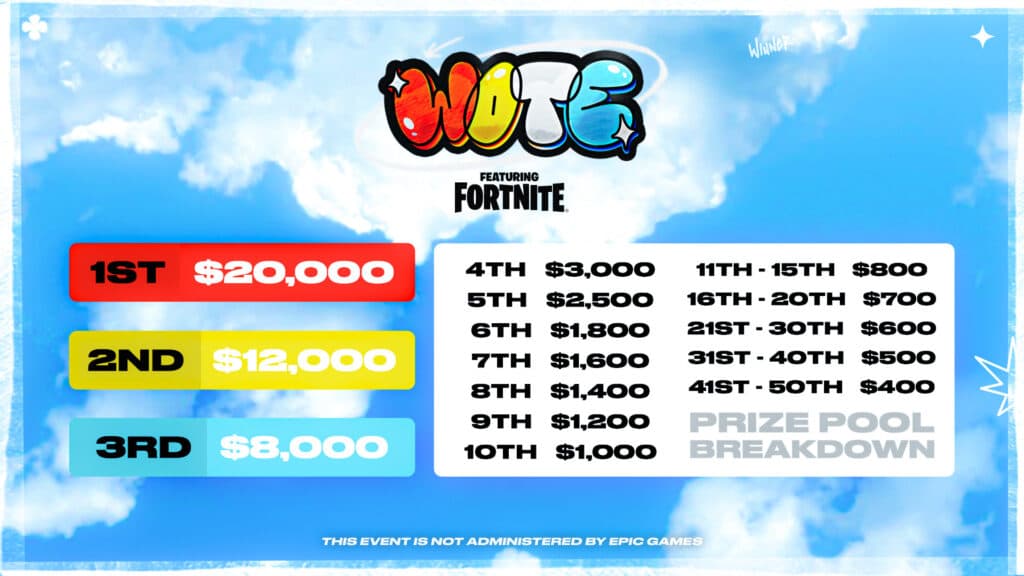 The teams will get paid out based on their placement. The placement will be decided by a combination of kills and placement during the tournament. The teams will win the following prizes based on where they finish:
1st: $20,000

2nd: $12,000

3rd: $8,000

4th: $3,000

5th: $2,500

6th: $1,800

7th: $1,600

8th: $1,400

9th: $1,200

10th: $1,000

11-15th: $800

16-20th: $700

21-30th: $600

31-40th: $500

41-50th: $400
Stream
All of the action from WOTE OG will be live on the erena Twitch channel. The action begins from 5pm EST on Monday, November 20, 2023.
Qualified teams
The top 10 finishing teams from the previous WOTE event in August have been automatically qualified for the OG event. These teams have the option of playing with each other again, or splitting up and finding new teammates.
The teams who finished in the top 10 in August are:
albaxna and envyy74

Kelszey and Linatr

Riv and carolineloll_

Moxie and Regsita

Sommerset and Vanessuhbtw

WTJ Yqzmin and ilynina

lolablood and v1ctroiavrrr

TurntDais and Sofy

PeachCobbler and BtyMassilia

kiaxia and elisasky
All other teams will be invited to the event, as it aims to showcase a wide range of different women from across the world.
WOTE OG is the 13th event in the WOTE series and has been a long standing champion of promoting women in gaming.