Here is how you can vote for the best Fortnite map of 2023!
Fortnite and The Game Awards have announced a collaboration to crown the best Creative Island of 2023. To make things better, players can head into a meticulously designed Fortnite x The Game Awards Creative map to cast their vote. Significant nominations include maps created by popular streamer Nick "NickEh30" Amyoony and esports organization Dignitas.
Today, we'll explain how you can vote for the best Creative map of 2023 and list all the nominations.
Fortnite x The Game Awards: How to vote for your favorite map
All Fortnite players can vote for the best Creative map by opening Fortnite and either entering The Game Awards Island Code or finding the map on the Discover menu. Once following either of those methods, you can load into The Game Awards Fortnite creative map. Refer to the screenshots below for help finding the Island.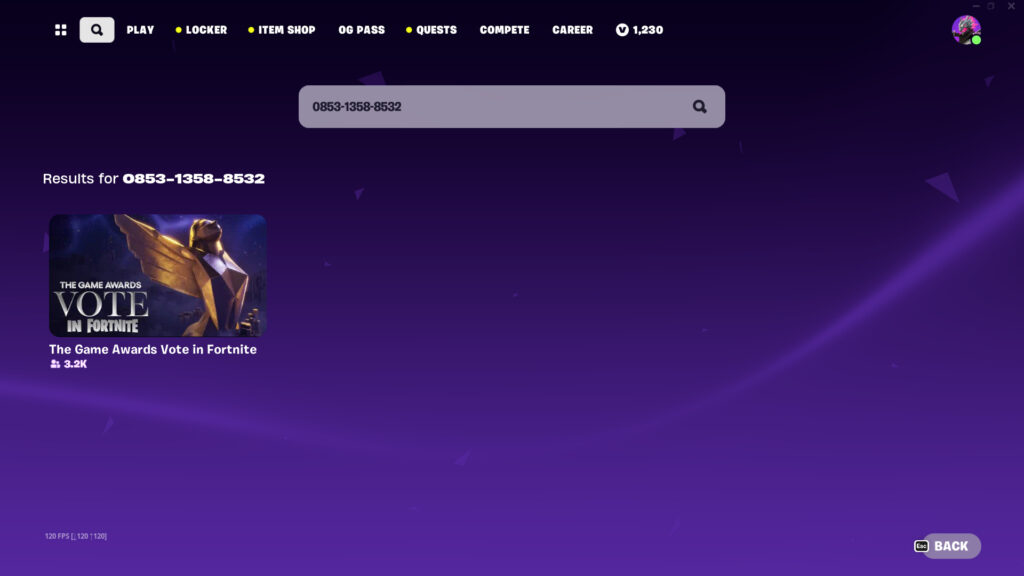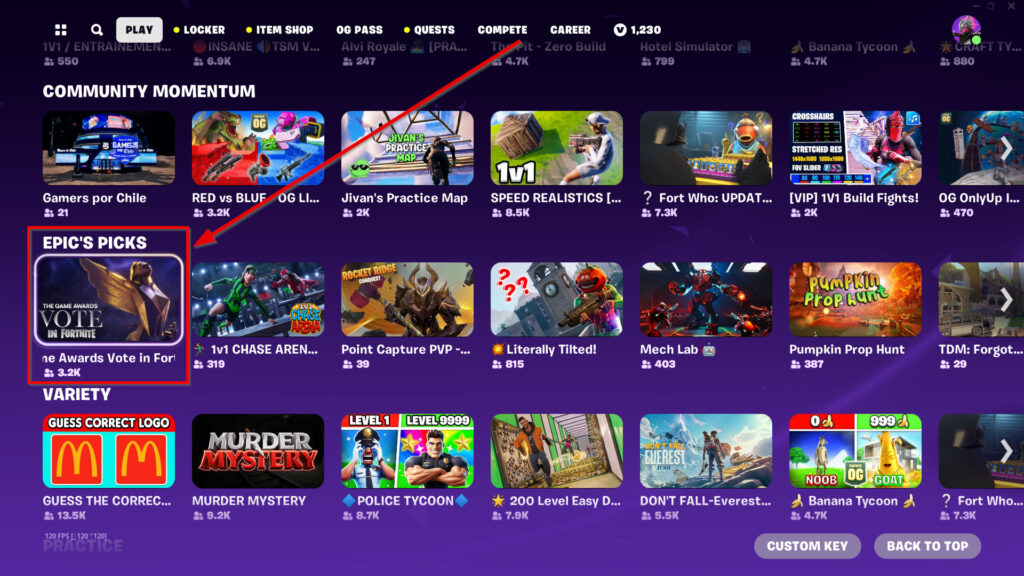 After dropping into the map, you can do what you please, including reviewing all of The Game Awards Fortnite map nominees. Additionally, you can play each map to determine which you'd like to support for the awards ceremony.
Before covering the nominees, it's worth pointing out that you can earn an XP bonus by exploring the map and collecting all The Game Awards statues.
Here are your nominees for best Fortnite creative map
Fans can vote on various Fortnite maps that cover different game types–from fun to competitive and everything in between.
Fort Who by spankysully (Island Code: 5794-2200-8636)

Music Megaverse by pridask (Island Code: 3632-2839-9780)

Murder Mystery by alliance (Island Code: 8513-2892-9361)

Teddy by goodgamerslegacy (Island Code: 6890-1483-5306)

Xplosive Deathrun by futuretrash (Island Code: 8099-5397-1275)

Big Inflatable Deathrun by bonnie-kiwi (Island Code: 9696-2438-2930)

Canyon Race by bjumper (Island Code: 3705-7219-2283)

Doomsday Raid by sigrs (Island Code: 8699-5345-4889)

Fortnite Funland by NickEh30 (Island Code: 2057-3742-0636)
Here are some noteworthy items to consider before casting your vote:
Voting is active until December 6 at 6 p.m. PT / 9 p.m. ET

Votes are limited to one per Epic ID

The winning Island will be revealed on the Island and during The Game Awards on December 7

This category is 100% fan-voted
Be sure to vote before the polling closes and tune in to The Game Awards to see which Fortnite Creative map will take home the crown.