Bugha's End Game: How to play the new Late Game Arena Mode
Jump into Bugha's End Game and see what competitive Fortnite is all about.
Fortnite World Cup Champion Kyle "Bugha" Giersdorf has revived the beloved Late Game Arena mode. After several unsuccessful attempts by Epic Games, Bugha, Dignitas, and Creators Corp brought life to Bugha's End Game using Unreal Editor for Fortnite (UEFN).
This brilliant take on Late Game Arena gives players six custom-designed maps based on classic Fortnite drop spots. It's about as close as possible to a genuine end game.
Bugha's End Game: The spiritual successor to Late Game Arena
Bugha is partially responsible for one of the best game modes in Fortnite history. Late Game Arena debuted in July 2019 alongside the release of the Fortnite star's Icon Series set.
This new game mode simulated Fortnite end games with realistic loadouts and randomized spots. Furthermore, Late Game Arena possessed a separate hype leaderboard, in-game tournaments, and more.
It was an instant hit and a game mode everyone hoped would stay. After vaulting Late Game Arena in Chapter 2 Season 7, Epic Games revived it three times, but it never felt the same.
Enter Bugha and Dignitas—the esports organization he competes under. The two teamed up with Creators Corp to design Bugha's End Game, a serious take on Fortnite end games.
What to expect when playing the new Late Game Arena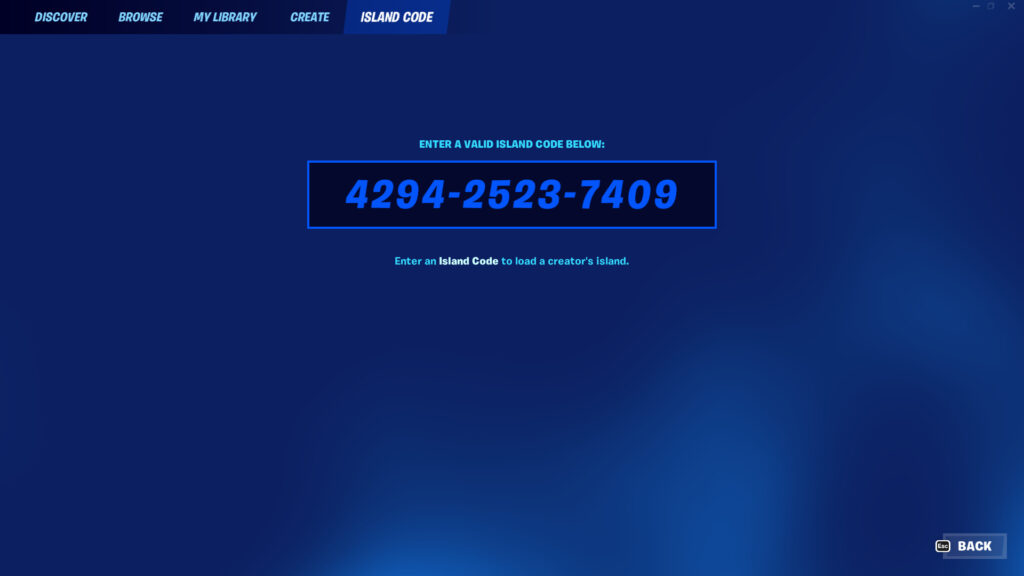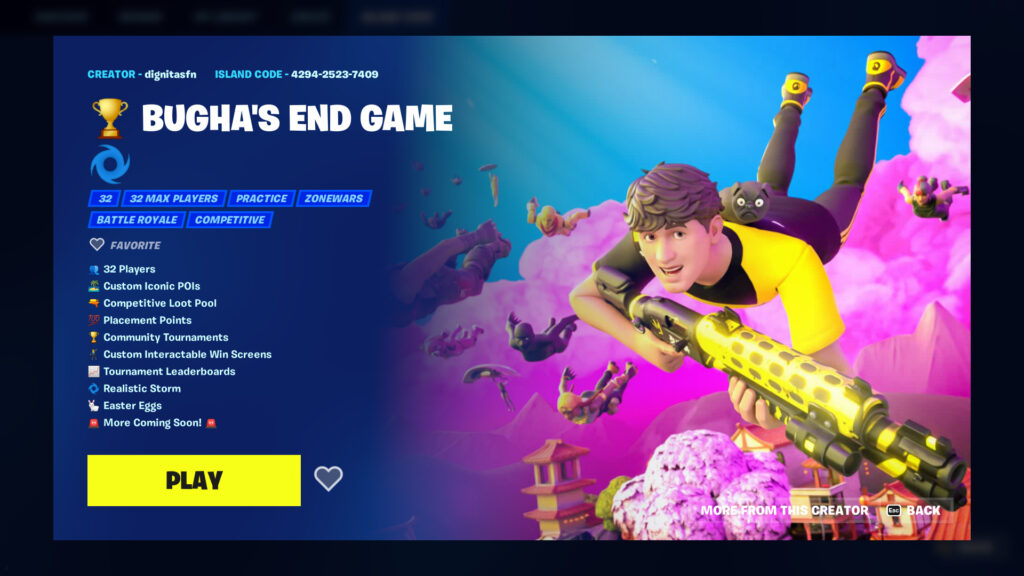 The map is now available to all players. You can play Bugha's End Game by launching Fortnite and entering Island Code 4294-2523-7409, as shown above.
Here's what you will find when playing the custom map:
32 players
Six custom "iconic" POIs
Competitive loot pool
Placement points
Community tournaments
Custom win screens
Tournament leaderboards
Realistic Storm
Bugha's End Game is chaotic, and everything you would hope to see from an end game simulator. More than 1,500 players are actively playing the map, which is sure to increase, especially with the $10K Show Match happening on Friday, September 1.
How to watch Bugha's $10K End Game Showmatch
To celebrate the launch of the new map, Bugha and Dignitas are hosting a $10K Showmatch featuring 32 top Fortnite creators. The tournament goes live on Friday, September 1, at 4 p.m. ET. There will be 15 rounds of Bugha's End Game.
Here is a list of confirmed competitors:
Bugha
Typical Gamer
Zemie
Thiefs
Jerian
Rodey Bros
Jivan
Ranger
Klutchshot
ThePeachCobbler
Clix
Khanada
Dukez
Acorn
AlarmingAmber
Lacy
Punisher
Emad
Faxuty
Scoped
Pgod
Reddysh
Check out Bugha's End Game in Fortnite right now and tune in to watch the $10K Showmatch, where all 32 creators will put this map to the ultimate test.