Some Fortnite skins and cosmetics are usable only in Battle Royale and Zero Build following the latest update.
Fortnite OG is rapidly approaching the halfway point, and it's one of the most successful seasons ever. The jump back to Chapter 1 has generated unprecedented numbers from a player count perspective. Epic Games deployed the Season 7 and 8 update today, mirroring the OG seasons. However, Fortnite also introduced a new age restriction policy that has sent players into a frenzy.
Fortnite age restriction policy explained
Unhappy players have flooded X and Reddit with negative feedback for the new Fortnite age restriction. Those who loaded into the game today and checked their locker would ultimately find some skins with a caution symbol. Alongside the caution symbol was a small notification stating, "You cannot use this item in experiences rated 10+ or lower."
This new policy restricts players from using skins and other cosmetics deemed inappropriate in specific game modes. That means that while you can use Deadpool in Battle Royale and Zero Build, you will become a default skin in some Creative maps.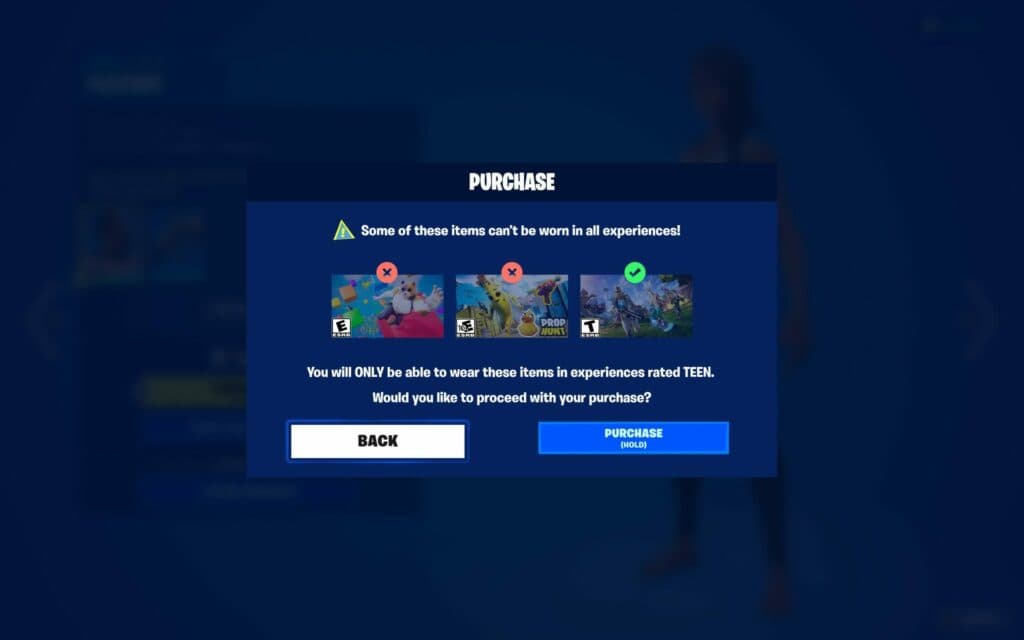 Image Credit: iFireMonkey
Furthermore, as pointed out by leaker iFireMonkey, a notification will appear when purchasing certain skins, informing you that it is only usable in Battle Royale or Zero Build. Since those two game modes are rated Teen, it is okay. However, many Creative maps such as Prop Hunt and Deathruns are rated Everyone.
It's also worth pointing out that any Fortnite cosmetic with weapons have fallen victim to the age restriction, even Loading Screens, which only the person playing can see. Here is an example of the restricted cosmetics: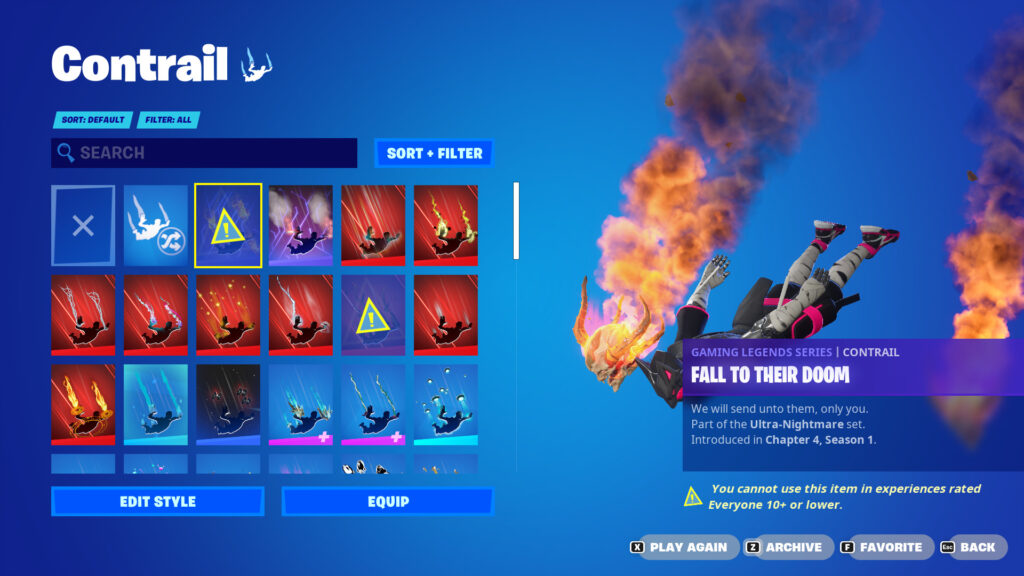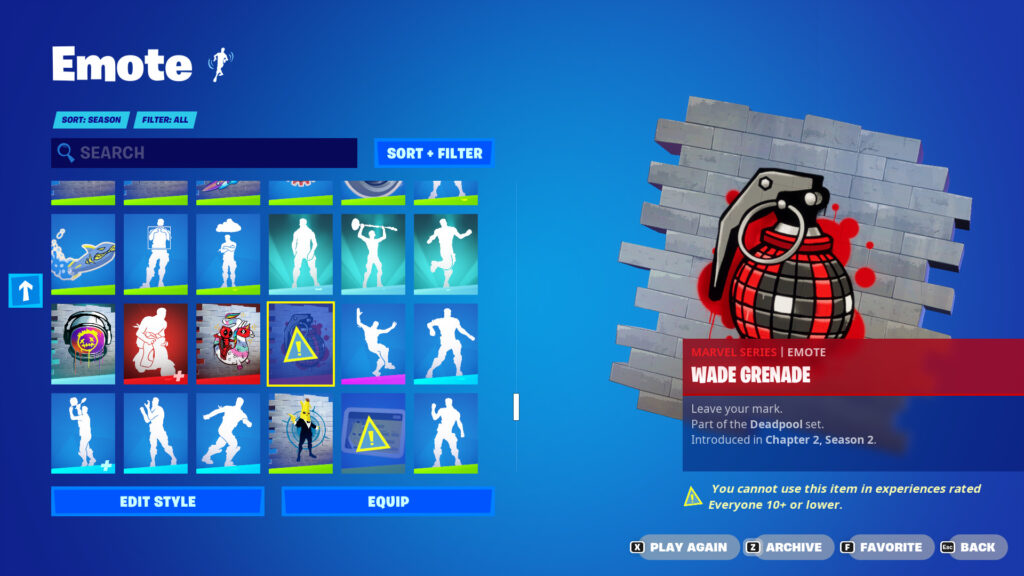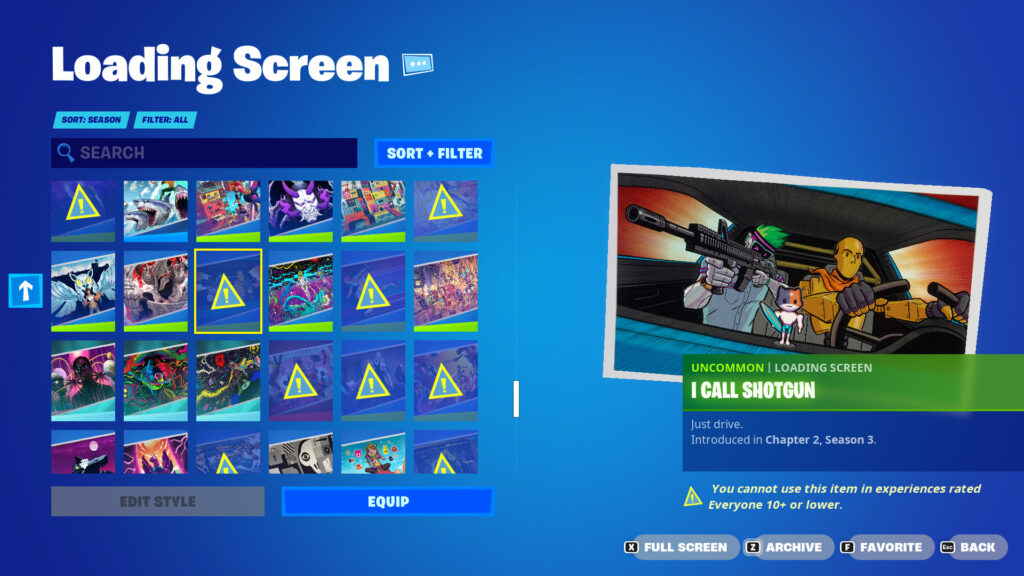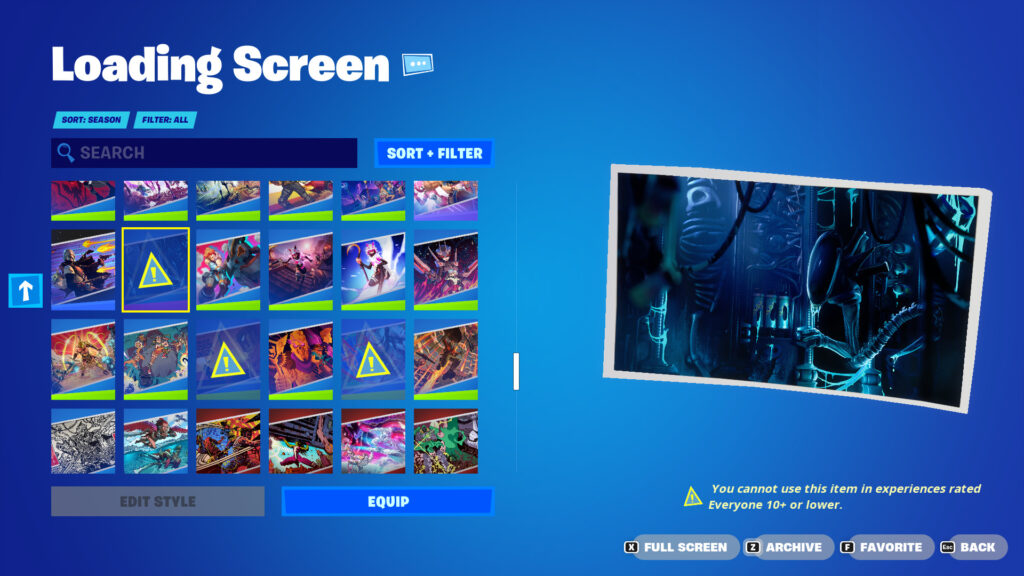 Editor's update 11/21/23: Epic Games responds to the community response
Since this story broke and made its rounds, Epic Games released a statement regarding the age restriction, called "Cosmetic Gating." Here is the response provided in the developer's blog post:
Cosmetic gating will be disabled for the majority of Fortnite cosmetics until we have a long-term solution in place. This change will start rolling out with the v28.00 update on December 3, 2023.
We were conservative in how we reviewed cosmetics and their potential impact on an island's rating. We are evaluating all cosmetics again now.
A small number of existing cosmetics and less than ten Outfits will remain playable only in T-rated (or regionally equivalent rated) islands because of their obvious fear or violence elements.
We've been deep in the comments over the past few days and we'll keep working on getting this right.  
The community reacts to the restricted use of Fortnite skins
Fortnite and Epic Games have received overwhelmingly negative feedback following this change. One community member launched a petition to revert the change. The petition has already received more than 1,500 signatures. Many have pointed out that Fortnite features guns and other weapons integral to the game. In contrast, characters with weapon implications, i.e., Deadpool, Lara Croft, Cable, Chris Redfield, and more are now restricted.
This sudden change appears to align with a recent blog post, where Epic Games announced age restriction policies enforced on Unreal Editor in Fortnite (UEFN). Considering the feedback, it will be interesting to see if Epic Games responds to the outcry. We'll have to wait and see how this unfolds.