Fortnite hits the reset button?
Nostalgia and Fortnite are topics that go hand-in-hand. While the game has come a long way from its primitive 2018 design, most fans would love one more chance to experience the OG Fortnite Chapter 1 map. If these recent leaks are any indication, the Fortnite Chapter 1 map might return in Chapter 4 Season 5.
Here is what we know so far about the potential return of the OG Fortnite Chapter 1 map returning next season.
Leakers believe a time machine will send players back to the OG Fortnite map
Reliable leaker HYPEX is one of many to jump aboard the theory train, indicating the beloved Chapter 1 map is returning. According to the source, a current time machine in Fortnite Chapter 4 Season 4 will malfunction and send players back to the OG Chapter 1 map with a similar loot pool.
The changes will occur for a month, cycling through the different Chapter 1 seasons before Fortnite launches into Chapter 5.
"A reliable source claimed a day before S4 that Chapter 1 returns in S5 due to the time machine breaking, and that we'll cycle through ch1 seasons for a month with constant map changes and OG weapons / loot pool, until the blackhole, and then we go into Chapter 5. And today we see Ch1S5 teasers.. 👀 Also heard similar things & hints from multiple sources with @FBRsections & @ShiinaBR"
HYPEX tweet regarding the return of Fortnite Chapter 1
Fellow Fortnite leaker ShiinaBR provided more context to the return of the OG Fortnite map:
The time machine will lose control and a rift will teleport our map to the Chapter 1 map.
At this point, information becomes less clear, but it seems that the maps could be mixed together in some way.
Next season's map will have huge chunks of the Chapter 1 map, and it will most likely rotate specific seasons on a weekly basis
Both old guns and old gun models are set to return
Why is the Chapter 1 map coming back?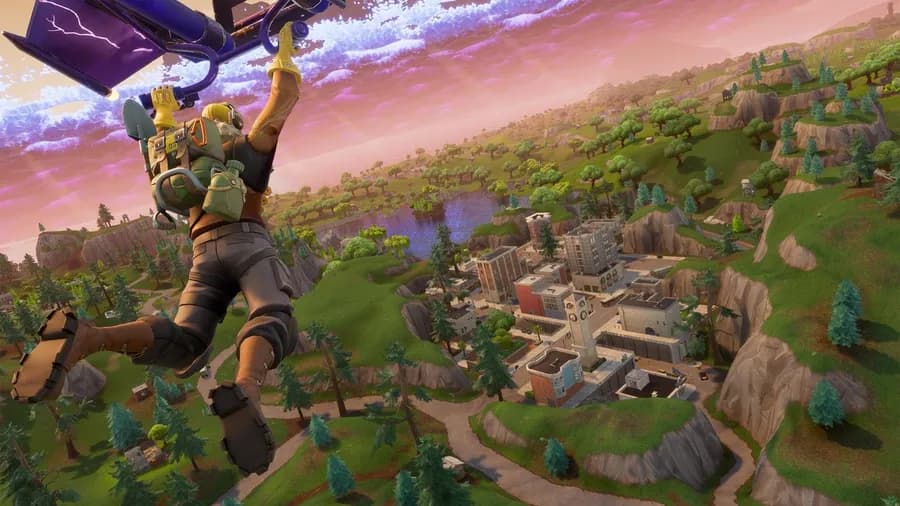 Image Credit: Epic Games
It's unclear what led to this decision, but perhaps Epic Games hopes to bring players back to Fortnite before Chapter 5's launch later this year. Fans have wanted to experience the OG Fortnite map since the Chapter 2 launch because it represents the game's humble beginnings.
There is no question that players will flock back to Fortnite to get one last look at what made the game iconic in 2018. We will keep you updated with further leaks as we receive them.