Fortnite's The Nindo 2022 gives players the chance to earn free in-game Naruto cosmetics by completing specific challenges.
Fortnite's collaboration with the hit anime series Naruto has received another installment in Chapter 3 Season 3. Dubbed Rivals, the latest Fortnite x Naruto crossover welcomes villains Itachi Uchiha, Gaara, Orochimaru and Hinata Hyuga from the series into the game on June 23 at 8 PM EST. Additionally, Epic Games announced The Nindo 2022 – a Naruto-based set of challenges in Fortnite as part of the latest collaboration.
Participants in The Nindo 2022 can earn a wrap, glider and several emoticons for completing challenges. Moreover, each path offers 80,000 XP for unlocking every character-specific badge. Here is everything you need to know about The Nindo 2022.
The Nindo 2022: How to participate
From June 21 to July 7, The Nindo 2022 is open to Fortnite Battle Royale and Zero Build players. You can partake in paths based on the abovementioned characters during that time. However, it's worth noting that you must register on a particular website to join.
Firstly, head over to The Nindo 2022 website. Secondly, you'll need to log in to your Epic Games account to register for the event officially. Finally, you have enrolled in the crossover event and can track your progress on the website. 
How to unlock each cosmetic item & XP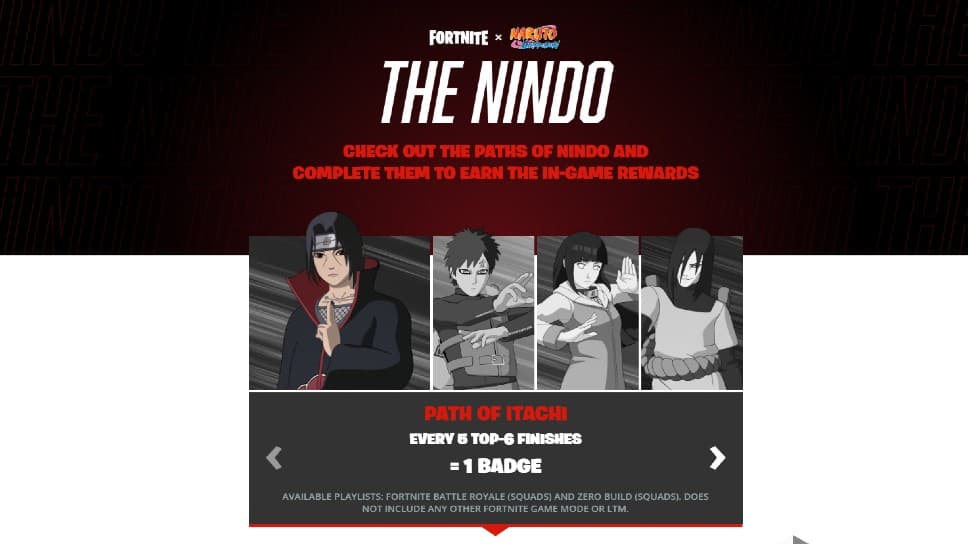 Fortnite The Nindo 2022 website
Each path in The Nindo 2022 provides players with a set of challenges. Furthermore, the tasks range from achieving top-six finishes to earning 18 eliminations. As a result, once you've met the requirements in either Battle Royale or Zero Build mode, you'll collect badges and rewards.
Here are the challenges you must complete to earn badges on each path during The Nindo 2022:
Five top-six finishes grant one badge in the path of Itachi.
24 Storm Circles survived grants one badge in the path of Gaara.
20 fish caught grants one badge in the path of Hinata.
18 eliminations grant one badge in the path of Orochimaru.
Now that you know how to collect The Nindo 2022 badges, here are the rewards you can gather along the way:
One Itachi badge unlocks the Shocked Itachi Emoticon.
One Gaara badge unlocks the Focused Gaara Emoticon.
One Hinata badge unlocks the Byakugan Hinata Emoticon.
One Orochimaru badge unlocks the Orochimaru's Smile Emoticon.
Five badges of one path unlock 20,000 XP. You can earn up to 80,000 XP total by unlocking all five badges of all the paths.
Ten badges of any of the paths unlock the Akatsuki Wrap.
Complete all four paths to claim the final reward of the Manda Glider.
The Nindo 2022 concludes on July 7 at 11:59 PM EST. Until then, you can follow the steps above to enroll in the collaboration event and unlock free comsetic items and XP.