As Chapter 3: Season 2 begins, Fortnite players now have a new vehicle to conquer the island with: tanks.
After years of Fortnite slowly adding in new and improved vehicles, the newest one is now trampling through towns, the Fortnite Tank. With the start of Chapter 3: Season 2, the popular battle royale officially added in army tanks as a brand new vehicle. Here is everything you need to know about them.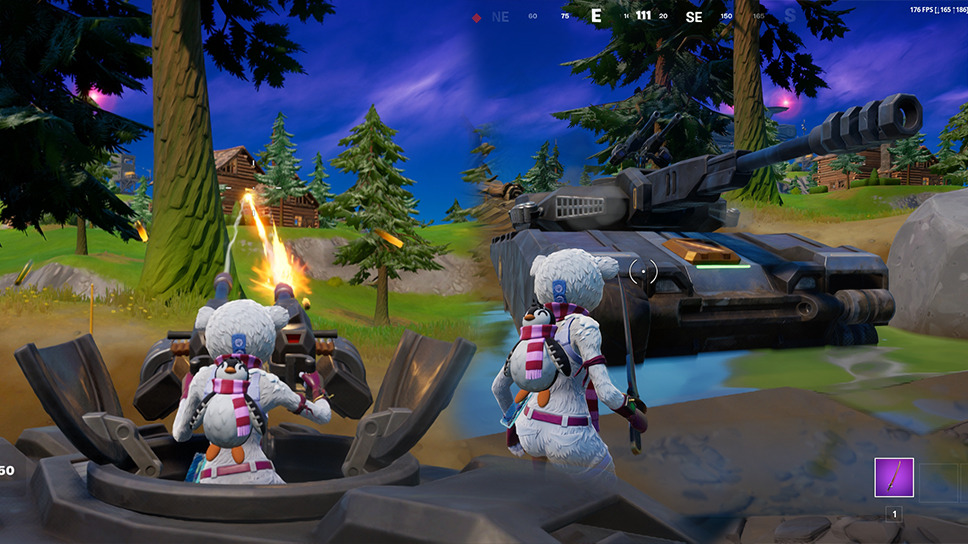 Where can I find them in Fortnite?
As players rush to man these heavy gunner vehicles, many wonder where exactly they can find them throughout the map. Luckily, Fortnite added more than a couple of places where tanks are available.
These places include popular points-of-interest Tilted Towers, The Fortress, Coney Crossroads, Daily Bugle, and Rocky Reels. The tanks run in correlation with the game's ongoing story, so each place is heavily guarded by IO members.
Fortnite Tank abilities and how to utilize them
The tanks in Fortnite are not just a way to get around the map, but also a vehicle used for combat. Whether you are in competitive or casual, players can demolish bases and trample towns with the new wheels.
This is different to previous vehicles in Fortnite that required you to boost to crash through buildings.
The driver can operate the tank's main gun while driving using their camera direction. While it is slow firing it is very powerful and can instantly flip cars and deal over 100 damage to an enemy.
A fast-firing turret gun on top of the Fortnite Tank can also be used by swapping seats if you are solo. A total of four players can ride a tank, and that includes enemy players who secretly hitch a ride!
How many people can ride a Fortnite Tank?
There are four seats in a Fortnite Tank:
1 x Driver's Seat
1 x Machine Gunner's Seat
2 x Passenger Seats
The tank allows for up to four people to ride in it. This is perfect for every squad looking to get that victory royale. The seats include a driver's seat, a machine gunner's seat, and two passenger seats.
Although the tank may move at a slower speed than other vehicles within the game, its power is immense. The tank is able to trample builds while also providing a strong firepower that no other weapon can provide an equivalent to.
How to kill a Fortnite Tank?
Going up against a tank is not an easy feat, but as long as you and your teammates are playing together, taking one down shouldn't be too hard.
Use C4 bombs (500 damage to vehicles)
Focus Fire to avoid giving them time to repair it (A Tank has 2,500 health)
Find another Tank and blow it to pieces
Assuming not all 4 seats are filled, hop in the tank as a passenger and shoot the Machine Gunner
Each tank is equipped with 2,500 health, making it a tough vehicle to destroy. If a team wants to take a tank about, they will need to focus all of their firepower at once. Utilizing another tank to destroy a tank is also a swift way to defeat them.
With the addition of C4 bombs, players can also attempt to get close enough to the tanks and try to stick a C4 bomb onto the tank. C4 currently does 500 damage to vehicles, so it would only take a few of these bombs to defeat a tank.
How to repair tanks?
Along with the tanks, Fortnite also added a new 'vehicle repair' feature with its new season. Repair torches are now scattered throughout the map. Players can pick up these items and hold them in their inventory, using them whenever their vehicle needs repairing.
All players have to do is point the repair torch in front of their damaged tank and shoot the fire at it. This regenerates the health of the vehicle. This can also be done with cars and trucks.
Giving players a chance to reuse their vehicles even after being damaged will help evolve the popular battle royale's gameplay in new and exciting ways.