Ariana Grande literally smashed it in her Fortnite concert, wielding a giant hammer to break the in-game world.
Joining the ranks of Travis Scott, and Marshmello, Ariana Grande became the latest star to plunge into the world of Fortnite, holding an in-game concert. The event began on Friday 7th of August, preceded by an ominous countdown before the show began.
The unique event was an exclusively in-game affair, but numerous Twitch streamers including Richard "Ninja" Blevins and Jack "CouRage" Dunlop broadcast their reactions to the show live. Multiple personalities streamed the event live, some, like CouRage, even donning the Ariana Grande skin: Full immersion complete.
With tens of thousands watching on stream, and thousands more experiencing things live in-game, the show was yet more proof of Fortnite's one-of-a-kind experience, especially in gaming.
The interactive event lasted just over 10 minutes. During the event Fortnite players surfed, bounced, floated, flew and shot their way through an array of Ariana-inspired landscapes. All with the music star's most memorable tracks playing in the background.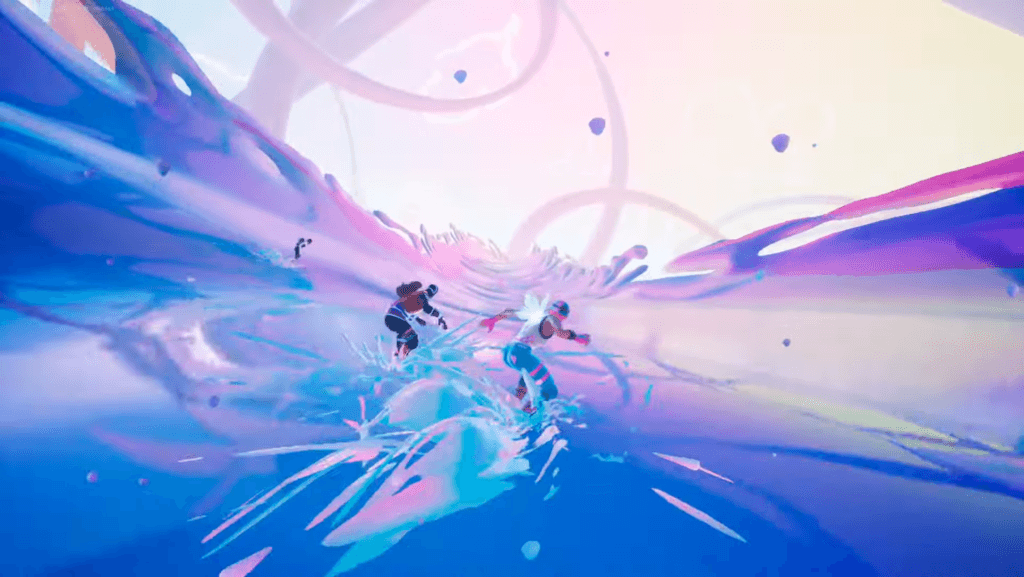 Players surf their way through the concert during the first "phase" of the event
As the concert peaked, the players were joined by a giant avatar of the star. The giant singer then performed a few of her signature tunes. Ariana flew, swung, and strutted through the in-game world, eventually taking up a huge hammer to smash through reality itself—multiple times. For CourRage, that was too much: "Crush me with your hammer, Queen..."
Breaking Conventions... With a Hammer
Beyond just people streaming the event live, the concert drew multiple reactions from across Twitch. Even the sometimes cynical Félix "xQc" Lengyel weighed in on the event: "It's so cool that it's tailored to your own individual skin."
At the close of the show, Ariana smashed through the game world once. This time to bring players back to the more familiar Fortnite world. Players descending from the sky as more musical tracks played. A conventional review might call the Ariana Grande fortnite concert an "incredible audio visual display." But for fans of Fortnite, the event was just another in the games long line of singular happenings.
Ariana Grande appearing in front of a star-studded backdrop during the concert
Fortnite continues to push boundaries with its in-game experience. And with this latest concert has now delivered numerous times on incredible events for its players. It's exciting to even imagine what the game has in store next. 
Commentator AussieAntics uploaded the full concert with no added commentary for those interested: