Grab a friend and try your had in the Fortnite Tournament of Power for a chance to win Fortnite x Dragon Ball prizes!
Fortnite's new Dragon Ball Super collaboration is here, and fans have embraced it with open arms. It's arguably the most complex crossover from Epic Games since Naruto a few seasons back. Dragon Ball is an insanely popular intellectual property, and Epic pulled out all the stops. In addition to skins and quests, the developers announced the Fortnite Tournament of Power to celebrate the collaboration.
Coming soon to a Fortnite near you, players can compete in this Dragon Ball-themed competition with a chance to win free rewards.
Tournament of Power: start time & format
The Fortnite Tournament of Power begins August 18 with three cosmetic items up for grabs. It's a Duos competition, so grab a partner before queues open on Thursday. In terms of the format, the Tournament of Power follows the usual Fortnite competition structure.
However, you'll find two leaderboards this time around. One tracks your team's score based on eliminations and placement. Additionally, the other tracks every elimination your team manages with the Kamehameha Mythic item.
Here's a breakdown of the Fortnite Tournament of Power format:
Three-hour session
Teams can play up to ten matches
The highest point-earners will collect all three Dragon Ball items
Dragon Ball tournament scoring system
Victory Royale: 25 Points
2nd: 22 Points
3rd: 20 Points
4th: 18 Points
5th: 17 Points
6th: 16 Points
7th: 15 Points
8th: 14 Points
9th: 13 Points
10th: 12 Points
11th: 11 Points
12th: 10 Points
13th: 9 Points
14th: 8 Points
15th: 7 Points
16th: 6 Points
17th: 5 Points
18th - 19th: 4 Points
20th - 21st: 3 Points
22nd - 23rd: 2 Points
24th - 25th: 1 Point
Each Elimination: 1 Point
Each Kamehameha Elimination: 1 Point
Tournament of Power prize distribution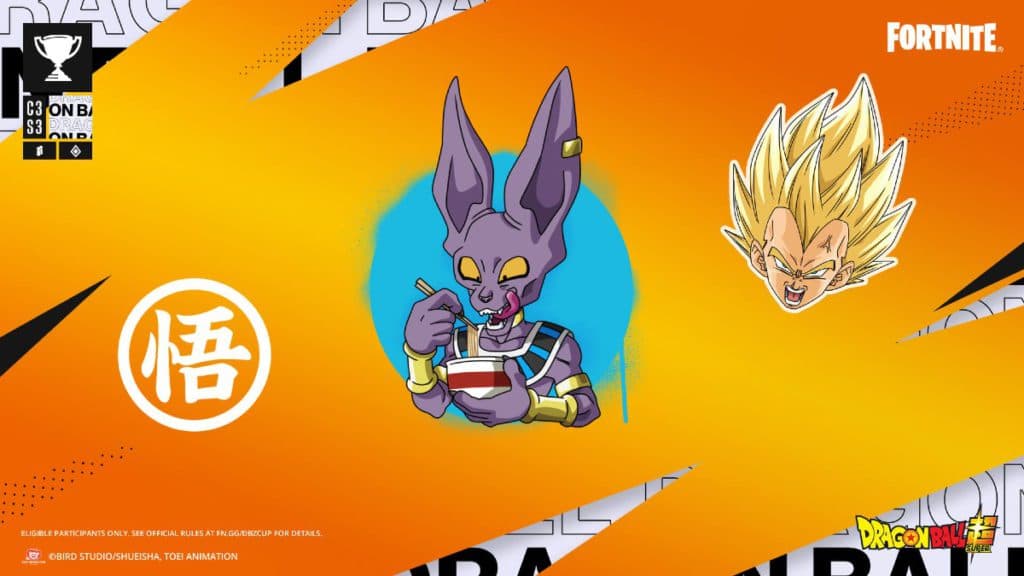 Tournament of Power prizes
The prize distribution for the Fortnite Tournament of Power is straightforward and applies to all seven worldwide regions. The top 50% from the main leaderboard will earn the Angry Vegeta Emoticon. Then, there's a Banner Icon and Spray based on the main and Kamehameha leaderboard, respectively.
Here is how you can unlock all three cosmetics in the Tournament of Power:
Top 50% on Main Leaderboard: Angry Vegeta Emoticon
8 Points Earned on Main Leaderboard: Goku's Kanji Banner Icon
3 Points Earned from Eliminations with a Kamehameha: Beerus Eating Spray
Check out Fortnite Tournament of Power on August 18 to secure more Fortnite x Dragon Ball rewards! Also, refer to our Fortnite x Dragon Ball Super article for all the details regarding this collaboration.
Stay tuned to esports.gg for more Fortnite news and updates!