CCA Fortnite Creative Series ties up its Swiss bracket
CCA wrapped up their Swiss Bracket for the Fortnite Creative Series.
The College Carball Association (CCA) held its Fortnite Creative Series Swiss bracket this Monday, September 18 where teams who qualified during the previous week were seeded into eight different groups. This marks the beginning of the next three weeks, where heavy competition will take place within every group during the Group Stage competitions.
Here is a recap of all the action that took place during the CCA Fortnite Creative Series Swiss bracket.
Teams across 4 regions compete in the CCA Creative Series Swiss bracket
CCA's Creative Series was separated last week into four regions: North, East, South and West. 16 teams from each region qualified to compete in this week's Swiss bracket, where every team was then seeded into separate groups to compete against each other during the next three weeks.
The competition was intense, as multiple teams jumped into the Campus Corner to face off against another school. In this week's tournament, players competed in the Rivalry Control Map, which is one of the seven maps within Campus Corner.
Rivalry Control Map code:
The map is playable for everyone, so check out all the craze now.
Swiss bracket standings
No players were eliminated from the competition during the Swiss bracket, but instead just seeded into different groups.
Here is a list of every group established from the Swiss bracket:
Fisher College
CU Boulder Black
UMD Fortnite
UMN Maroon
MCMaster Canada
OC Esports
PSC Catamounts
UNT Esports
Purdue
SRJC Bear Cubs
Northwood Esports
Sailfish Esports
HPU Purple
CAT
IWU Titans
Akron Zips Esports
UMN Gold
UWaterloo
Penn State
Niner Esports
UMT Griz Glacier
John Abbott College
Tamucc Islander Blue
CSULA
The UCONN Champs
UT Arlington
MVNU Esports
YU_White
UWSP
Huntingdon Hawks
GMU
Yorku CA
FGCU Thunderbirds
Villanova University
GVU
Illini Orange
CU Boulder Gold
ST Francis FW (B)
Tamu
USC Spartans
Clarke Pride Fortnite
CSTJ Pandas
GCU Esports
ST Francis FW
YU_Blue
SHU Fortnite
SRU
SJSU
SCC FN
North Florida
UBUFF
UMT Griz Maroon
Carthage College
Tamiu
UNR
Dawson College
OU
Purdue Pub
BLC
UMD Academy
Florida Tech
HPU Panthers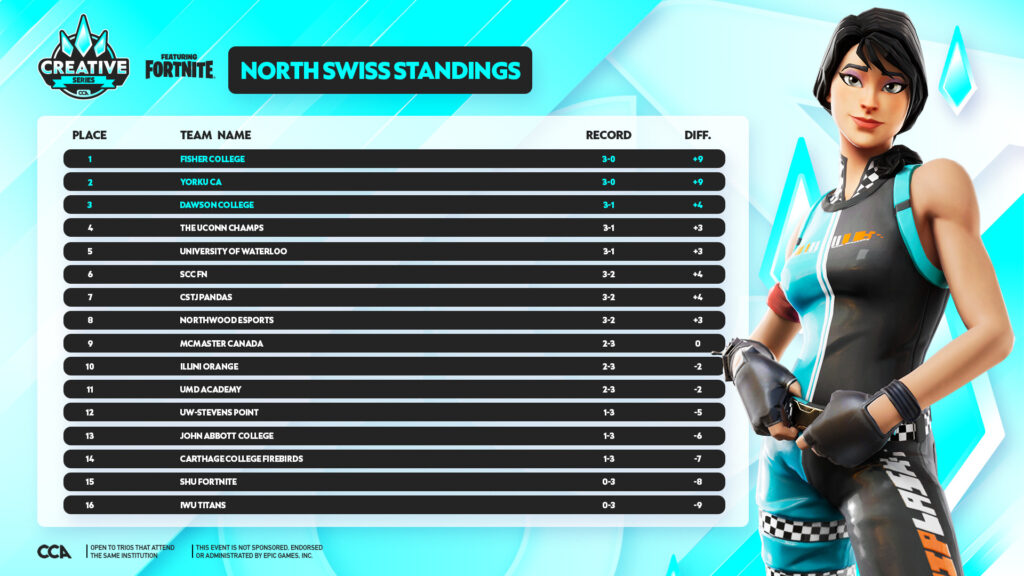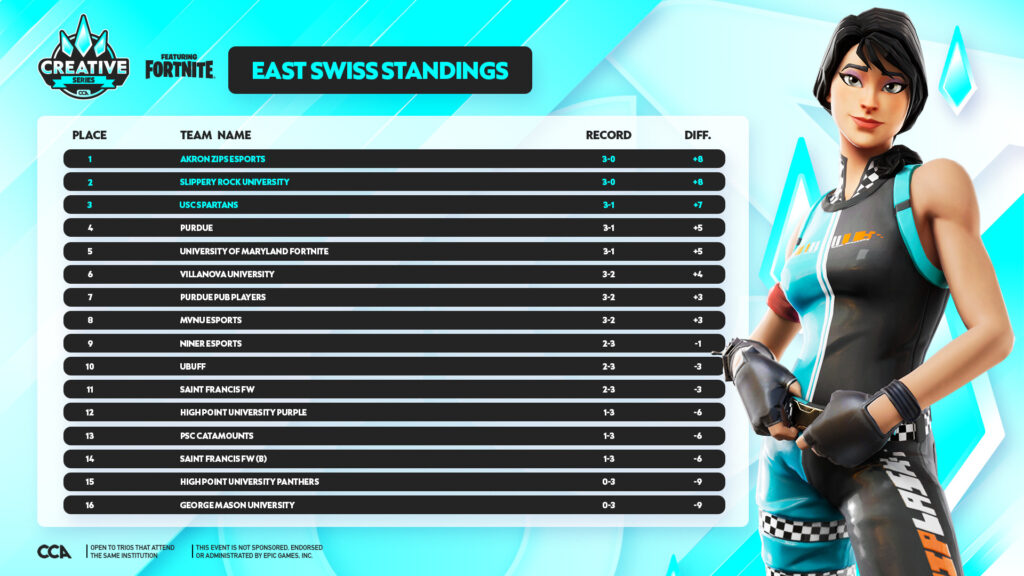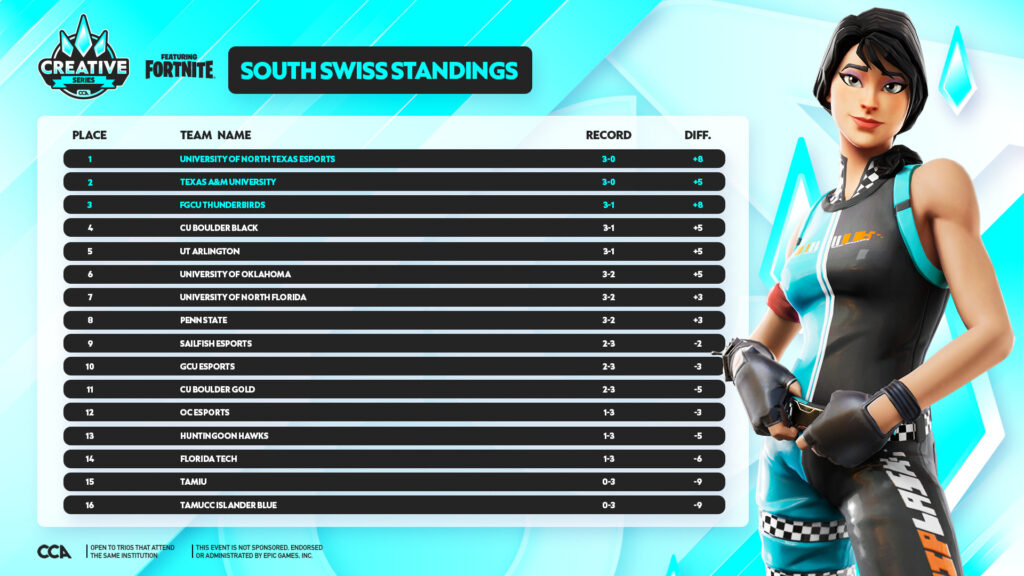 Tune in next Monday to check the standings for the first Group Stage Qualifier.
Stay tuned to esports.gg for more Collegiate Fortnite and esports news.