Here are five Fortnite collaborations we thought would happen but have not been delivered despite teasers and leaks.
Collaborations in Fortnite date back to the very early stages of the game. As a result, fans have witnessed Deadpool, Darth Vader, Goku, Robocop, and many more appear in the popular Battle Royale game. These crossovers have become more frequent, but what about the ones that never materialized? Shockingly, leaks and teasers surrounding some collaborations have surfaced over the last few years, only never to make it into the game.
Today, we are looking at four Fortnite collaborations that seemed inevitable but have not happened.
Fortnite teases Metroid collaborations in Batman comic
Epic Games is no stranger to scrapping collaborations just as evidence starts to surface. One year ago, the Fortnite developers partnered with DC Comics to produce a co-branded Batman comic. This six-issue series saw the clashing of two worlds between Fortnite and Batman, centering around the Zero Point plot device. However, the appearance of a popular Nintendo character drew the attention of many of Fortnite's significant figures.
Samus Aran of the fan-favorite Metroid series emerged as a silhouette in the third issue of Batman/Fortnite: Zero Point standing beside Street Fighter characters Ryu and Chun-Li. Subsequently, rumors and anticipation emerged ahead of a potential Fortnite x Nintendo collaboration. However, despite Ryu and Chun-Li eventually arriving in Fortnite, Samus never followed suit. Epic Games has not made any reference to Samus or Metroid since.
Fortnite x Family Guy
This one is a bit strange, but rumors regarding a Fortnite x Family Guy partnership date back to February 2021. At that time, Fortnite leaker GMatrixGames obtained a series of images dubbed "FrenchFry" from Fortnite's game files. When decrypted, the photos depicted several iconic scenes from Family Guy, featuring Peter Griffin hurting himself, fighting the chicken, and dancing to Surfin' Bird. These rumors fizzled out until April 2022, when the Family Guy collaboration surfaced again.
Onlookers observed a "Family Guy" file during the Fortnite portion of the Unreal Engine 5 showcase. Furthermore, Family Guy appeared alongside names such as Darth Vader–a character that eventually made it into Fortnite. It's unclear whether the Family Guy crossover will come to fruition or if Epic Games is merely leaning into the rumors for comedy.
Fortnite x Doom collaborations hinted during Unreal Engine 5 showcase
Another supposed partnership emerged from the Unreal Engine 5 showcase with one of the files named Doom. In reality, this could have meant anything from Doctor Doom to Mt. Doom, but many went directly to Doom – the legendary first-person shooter game by id Software. The Doom series follows a space marine named "Doomguy," who received the daunting task of battling the vile forces of hell.
The Doom series began in 1993 and has stood the test of time, but will Doomguy enter Fortnite as a playable character? It's challenging to say due to the volume of rumors that don't materialize. Still, Fortnite leaker iFireMonkey listed Doom as one of the franchises that would have collaborations with Fortnite at some point. The jury is still out, but there have been no further developments of the Fortnite x Doom collaboration since August.
Fortnite x Lord of the Rings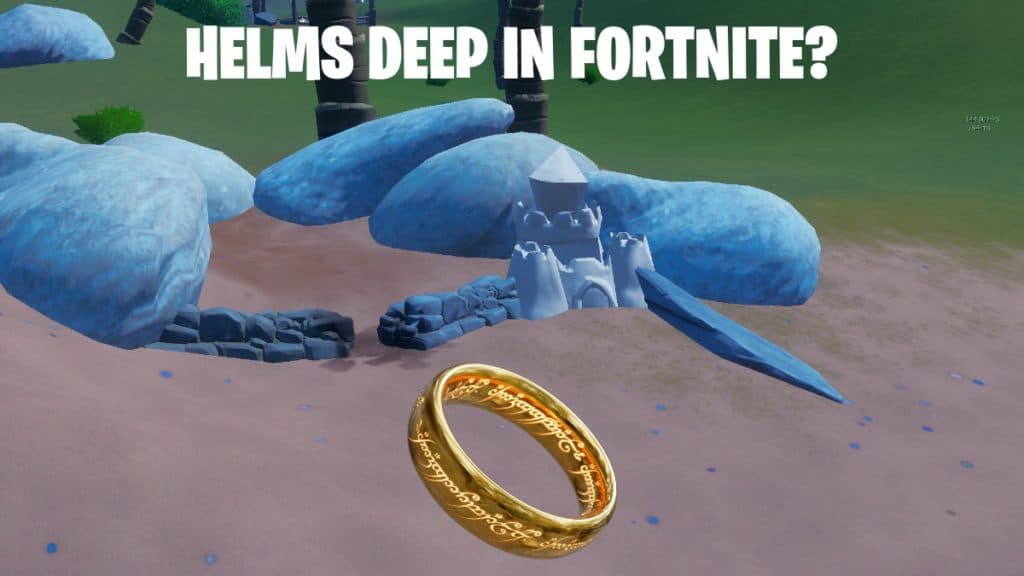 Helms Deep reference in Fortnite
It seemed inevitable that Fortnite and Lord of the Rings would cross paths after an in-game rendition of Helms Deep appeared in Chapter 3 Season 3. Those who visited a specific beach last season could find a version of the iconic Helms Deep fort made of rock. The similarities were uncanny, leading many to predict an incoming Fortnite x Lord of the Rings collaboration. 
This in-game nod and the Amazon Prime "Rings of Power" show gave this theory more merit. Sadly, Fortnite never announced an official crossover between the two properties. It's still possible, considering that Epic Games sometimes is no stranger to teasers. We'll have to wait and see if it ever happens.
Fortnite x IT collaboration in Season X
In perhaps the most bizarre easter egg we've ever seen, players took note of red balloons appearing above sewers way back in Season X. For those who aren't aware, these balloons directly reference the movie IT and Pennywise the clown. The movie IT: Chapter 2 was released on September 6, 2019–around one month after Season X's debut. Then came the red balloons and the unmistakable Pennywise laugh that followed after popping one, as seen in the video above.
Epic Games never formally referenced the IT crossover, which remains one of the strangest occurrences in Fortnite history. While we never saw a complete Fortnite x IT collaboration, there's no denying the similarities between Pennywise's dance and the now infamous Fortnite "L Dance."