Fortnite's next collaboration could bring players to Lord of the Ring's Middle-earth setting after a recent in-game teaser surfaced.
Fortnite x Dragon Ball Super is currently one of the most popular crossovers fans have ever witnessed. However, there's no denying that Epic Games tends to move quickly in developing the next one. On the heels of Fortnite's most robust collaboration date, some in-game evidence of what could be in the works. A small structure on Fortnite Island has led some to believe a link to the popular Lord of the Rings television and book series.
It's a minor reference, but there's plenty of additional evidence to make this theory plausible. Let's entertain these ideas to see whether Epic Games plans to unveil a future Fortnite x Lord of the Rings collaboration.
The "Rock Kid" builds Helms Deep
As pointed out by Reddit user Floeke on the FortNiteBR subreddit, a curious structure appeared on the map's southwest quadrant. The Rock Family's youngest member has recently showcased his creative abilities. For those unaware, the Rock Family features a mom, dad, child, and dog, all made of rock.
They first appeared in Chapter 1 as a family of stones that traverse the island. The Rock Family re-emerged in Chapter 3 Season 2 and are now responsible for a Lord of the Rings "Helms Deep" recreation in Fortnite. Here are some screenshots in-game of said structure: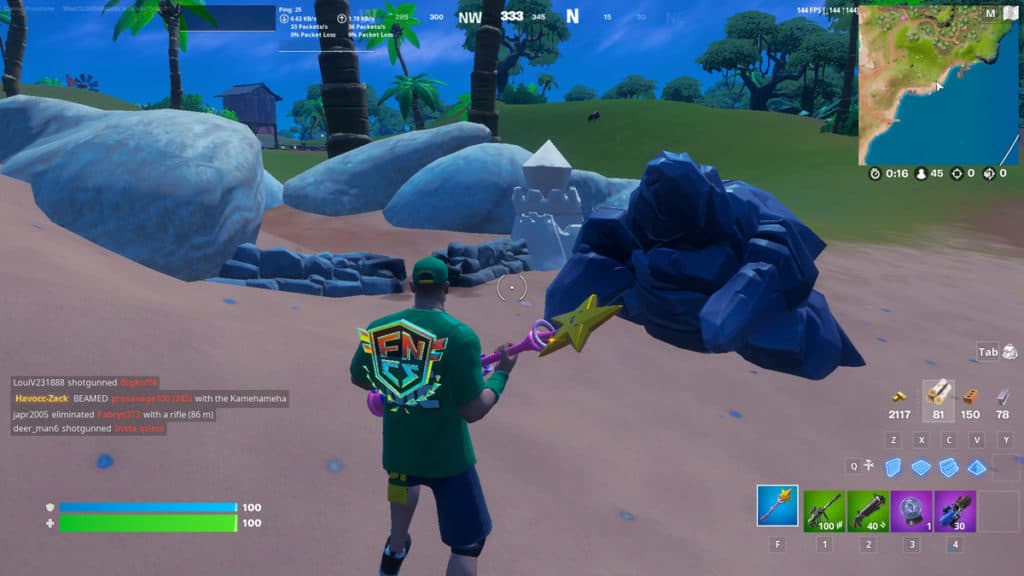 Helms Deep 1
Helms Deep 2
Compared to how Helms Deep appeared in the Lord of the Rings film series, what appears in Fortnite almost uncanny. We can see the castle, a long pathway to the right, and a broken protective wall to the left. This is a "blink, and you could miss it" reference.
Still, you can head to this area on the map to see for yourself. Could a Fortnite x Lord of the Rings collaboration be coming soon? There's even more evidence to indicate that it's possible.
The New Lord of the Rings show debuts in September
Amazon's Power of Rings series
While we could chalk this up to a minor in-game reference, there might be more. Soon, Amazon Prime Video will release a brand new series based on the Lord of the Rings series. Dubbed "Rings of Power," the show exists in the same universe as The Hobbit and The Lord of the Rings. However, the events occur thousands of years before either of those two movies.
It's no coincidence that Epic Games dropped the Helms Deep reference ahead of The Rings of Power. Furthermore, reliable leakers such as iFireMonkey from the Fortnite scene have indicated that a collaboration involving one of Lord of the Rings, Doom, Family Guy, or Destiny is on the horizon. Indeed, that's a strange list, but we've come to expect the unexpected.