Nintendo has chosen not to continue with Super Smash Bros. at Evo this year says the announcement.
Evolution Championship Series, better known as EVO, presented big news for this year's event in a Tweet sent on Saturday. First off, there will be announcement show March 8 on Twitch detailing more about this year's tournament. EVO also indicated that they plan on hosting the event offline in Las Vegas after a two-year absence due to COVID-19. However, the most shocking reveal is that Super Smash Bros. will not return to EVO's game lineup this year.
Smash has been a huge part of the world's largest fighting game event since Melee debuted in 2007. In its first year at EVO, Super Smash Bros. Ultimate had the most participants of any game, surpassing Tekken 7 and Street Fighter V. Following Sony's acquisition of EVO in 2021, many assumed Smash would eventually be excluded from the series. Unfortunately, that theory is now reality.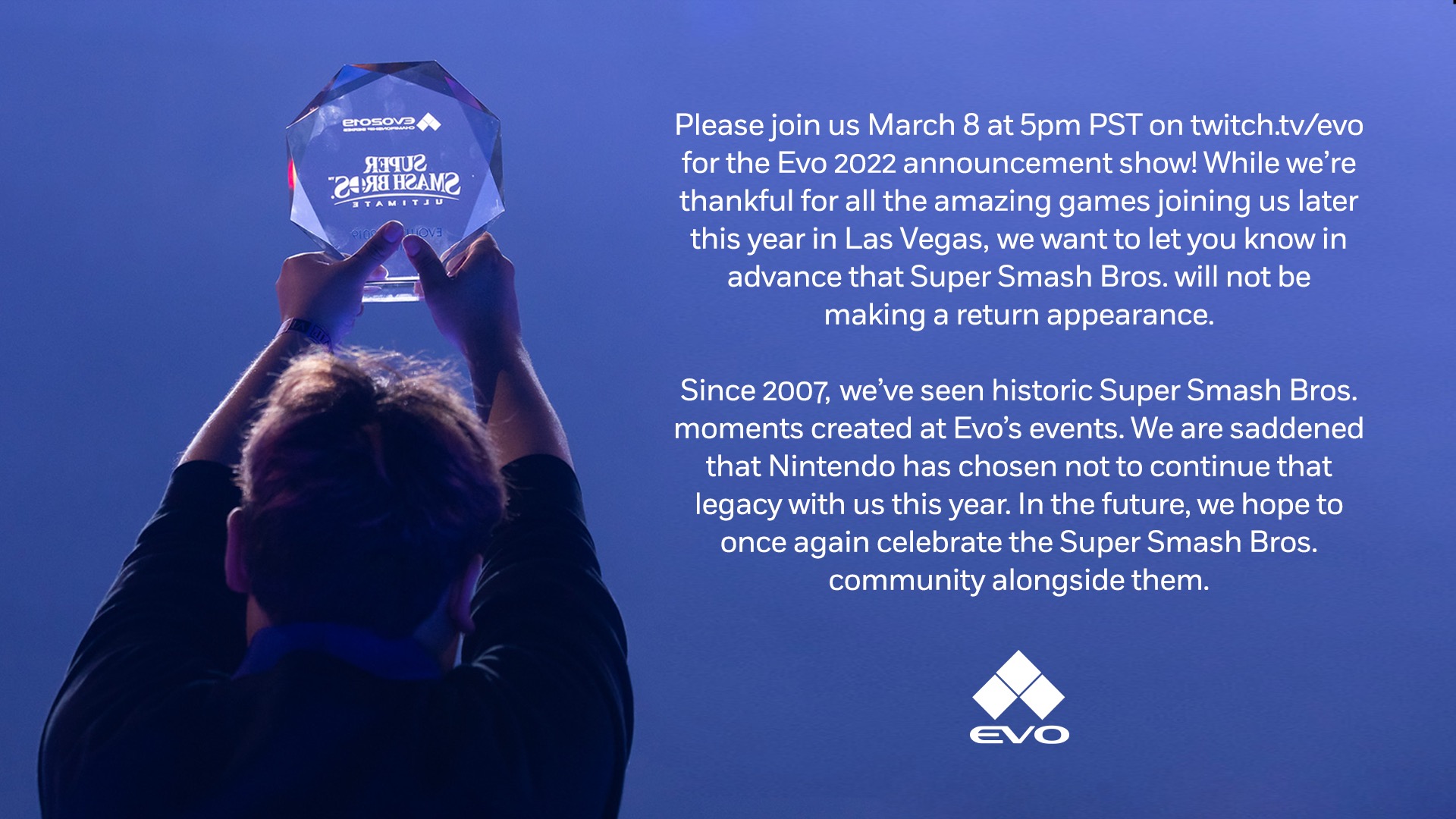 Why won't there be Smash at EVO?
It's easy to assume that Smash's absence from EVO stems from Sony and Nintendo failing to come to some sort of arrangement. The two companies are chief rivals in the gaming industry with an admiration for exclusive content.
In the announcement, EVO claims that they wanted Smash to return in 2021, but Nintendo opted against it. While it's impossible to tell who's really to blame, some sort of disagreement between the two gaming giants likely led to the decision.
After canceling EVO 2020 altogether due to the pandemic, the tournament returned in 2021, albeit online. Controversy immediately erupted around questionable netplay in fighting games, with Smash leading the conversation. When the lineup for EVO 2021 Online was announced, Super Smash Bros. Ultimate was left off the list entirely.
Many pros pointed to the game's poor netcode, and how it would likely ruin both the player's and viewer's experiences. Some argued that it foreshadowed Smash's departure from Evo after the partnership with Sony.
Relationship Issues
EVO and Super Smash Bros. have always had a shaky history with each other. After debuting with Melee in 2007 and returning with Brawl in 2008, Smash wouldn't return to the official EVO lineup for another five years.
In 2013, Melee barely made the cut after winning a fan vote for the final game by a landslide. However, organizers included Smash every following year until 2019, with Sm4sh and eventually Ultimate replacing Melee.
The tumultuous relationship between Nintendo and the Smash community is also well documented. At EVO 2013 when Melee was voted in, Nintendo sent a cease and desist to prevent matches from being streamed.
The company has a long history of providing no support for its competitive scene. However, FGC esports organization Panda partnered with Nintendo for an upcoming Smash tournament circuit in 2022. With this on the horizon, Nintendo may be using it as a reason to remove Smash from Evo. Nevertheless, this is a major blow for the Smash community as well as Evo's attendance and viewership.
In their announcement, EVO expressed hope that Smash will return to the series one day. However, its future at the tournament is certainly in jeopardy. Only time will tell if Sony and Nintendo can come to terms, or Smash is never coming back. If that's the case, then MkLeo's incredible comeback on Tweek in 2019 was a legendary match to go out with.
The community's reaction was that of shock and disbelief. While some blamed Sony (the new owner of Evo), there were others who went by Evo's official statement and trained their guns at Nintendo.
For more Super Smash Bros. news and features, follow Esports.gg.