Mortal Kombat 11 Joker main, Dominique "SonicFox" McLean, took the WePlay Ultimate Fighting League S1 title in a 5-1 bracket reset victory.
LAN Esports are back in style
The 2018 Esports Player of the Year impressed again with a bracket reset of rival Sayed "Tekken Master" Hashim after a 1-3 loss in the Winners Finals. The joker main impressed by putting on a show throughout the bracket in their first LAN performance of 2021. This was their first LAN performance since winning Final Kombat 2020 in March of last year.
Hosted in Kyiv, Ukraine, the Ultimate Fight League features three titles in back to back weekend tournament style competition: Mortal Kombat 11, Soulcalibur VI, and Tekken 7. Held UFC style, competitors fought for the chance to win a title belt and featured video promos.
While it call backs to the UFC, the UFL is very much an authentic esports event. From hype driven casters to legendary pop offs, everything that makes Fighting Games unique was present and enjoyable to watch over the weekend. Unfortunately, there will not be an audience for UFL's inaugural season, but the product more than made up for it.
SonicFox wins, what's next for UFL S1?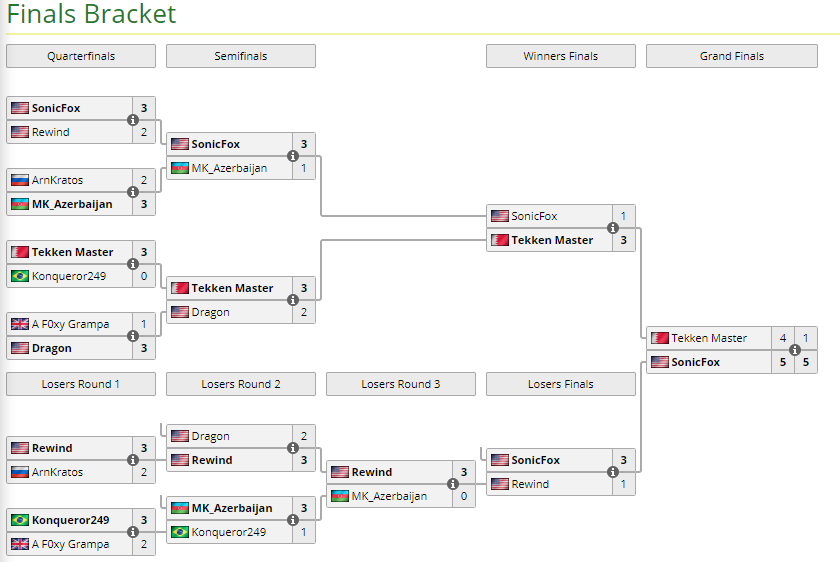 WUFL's host Banks: "SonicFox is godlike"
While SonicFox won his bracket reset with ease, their quarter-finals run nearly ended early against fellow American Curtis "Rewind" McCall. Despite an early close call, SonicFox proved why many call them, "one of the best FGC players in the world."
"SonicFox is godlike. They are so patient in game, brings the hype and is very entertaining while still being able to stay focused and destroy the competition. We all knew that SonicFox was one of the favourites going into the event but the way they won, getting knocked to the lower bracket by Tekken Master and then coming back to win the whole thing, including the reset, that is the strength of a true champion that adapted and deserved the win. SonicFox screamed as they won that they are the best player in the world and truly they are, you can argue they are the best if not one of the best FGC players in the world with their accomplishments."

James Banks WePlay host told Esports.GG
The event will pick back up on April 1st in Soulcalibur VI before ending with Tekken 7 next week.