CLG keeps making big moves in the FGC! Check out more details for CLG Run It Thursdays!
Counter Logic Gaming (CLG) keep on making big waves in the FGC. With the launch of their new division CLG FGC, the premier esports organization continues to show their commitment to fighting games with a new tournament series. "CLG Run It Thursdays" will be a weekly online FGC event featuring the most popular games and top competition. This comes shortly after CLG signed Jeannail "Cuddle_Core" Carter and Brian "Brian_F" Foster as the first fighting game players to their roster.
The free-to-enter tournaments are open to all players regardless of their experience or skill level. Players in both the United States and Canada are eligible. There will be separate brackets for the East Coast and West Coast. Each week will feature an $800 prize pot split between the two regions, paying out to those that make Top 8. To learn about regional designations, tournament rules, and more information, visit the event's registration page.
CLG introducing unique weekly tournaments
CLG Run It Thursdays will introduce the Ladder tournament format to the FGC. Competitors play as many sets as they want and those with the best records advance to Top 8. This ensures that even if a player starts out 0-2 they can still keep playing in the Ladders. It also gives the fight for making Top 8 a fresh new feel of intensity.
Ladders will start at 4 p.m. ET for the East Coast bracket and 4 p.m. PT for the West Coast. Top 8 begins at 8 p.m. ET and 8 p.m. PT, respectively. This gives competitors four hours to climb up the Ladders and qualify for Top 8. Above all else, the Ladder stage format equally allows every entrant a reliable source of unlimited tournament sets regardless of how they finish at the end.
Each Thursday will feature a live stream for the Top 8 of both brackets. Broadcasts will begin at 8 p.m. ET with coverage of the East Coast Top 8. Catch all the action on CLG's official Twitch channel.
Get ready to run it!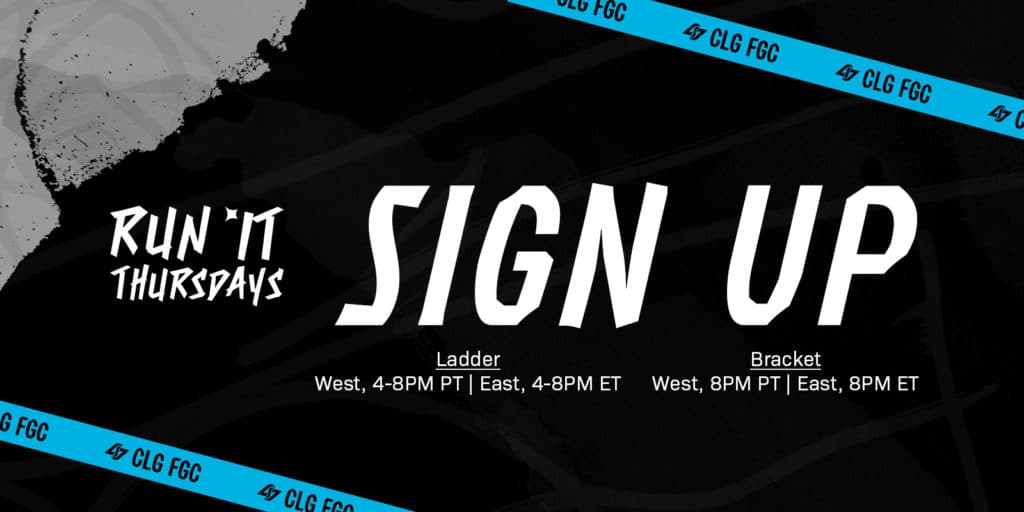 Image Credit: CLG
CLG Run It Thursdays will debut July 7 with Street Fighter V. Many of the best players in North America have signed up to play, including Brian_F, iDom, MenaRD, ChrisCCH, Nephew, Shine, Samurai, and many more. Future iterations of the series will incorporate other fighting games such as Guilty Gear -Strive-, Tekken 7, and Dragon Ball FighterZ. CLG intends Run It Thursdays to be a fun space for all fighting game fans to play, with the ultimate goal of becoming the premier online weekly for both Street Fighter V and Guilty Gear -Strive-.
This brand new tournament series is the latest step in CLG's FGC journey. Much like the Cuddle_Core and Brian_F signings, it looks poised to become another huge success. What's more, CLG is far from done making their mark on the FGC. They have routinely teased that two more fighting game players will be signed to their roster in the coming weeks.
We'll be sure to stay on the lookout for the next big announcement that comes from CLG FGC.