Bridget, the Yo-yo wielding bounty hunter makes her Guilty Gear Strive debut!
Guilty Gear series veteran Bridget returns to the series in Guilty Gear Strive! Just before top 8 of Guilty Gear Strive at Evo 2022, Arc System Works revealed the first character for season 2 DLC. Bridget, the yo-yo wielding bounty hunter returns to the Guilty Gear series for the first time since Guilty Gear XX Accent Core.
Who is Bridget?
Bridget was born as one of a set of twin brothers. In the village they were born, twin sons were considered to be bad luck. One of the two would be sacrificed or exiled without question. As such, Bridget's parents raised her as a girl. As she grew older, she had the idea to go out and amass a fortune to show the village that the superstition meant nothing. She would leave as a bounty hunter, hoping to prove herself to the village.
Bridget in Guilty Gear Strive
Bridget is a fast paced character with long range moves in Guilty Gear Strive. She is able to use her yo-yos as powerful weapons to strike others from afar. When she has her yo-yo out with her "Stop and Dash" move she has access to powerful mix ups using "Rolling Movement". Bridget also has access to an invincible reversal option with "Starship". After knocking down the opponent, you can set up your yo-yos and start working on mixing up the opponent.
Alongside Bridget, Guilty Gear Strive also celebrates shipping over one million units worldwide! To celebrate, Arc System Works has released a special illustration by Kenta Asano!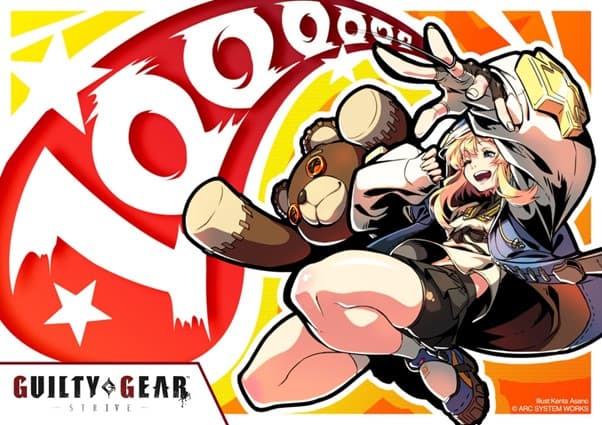 Credit: Arc System Works and Kenta Asano
As an added bonus, players can now purchase the ultimate edition colors on Steam! These colors used to be exclusive to the Playstation versions of Guilty Gear Strive. Guilty Gear Strive will also be available for a new lower price of $39.99. Additional bundles with the Season 1, Season 2, and the Ultimate Edition contents are also available for purchase!
---
For more coverage of everything FGC, be sure to follow us here at esports.gg!