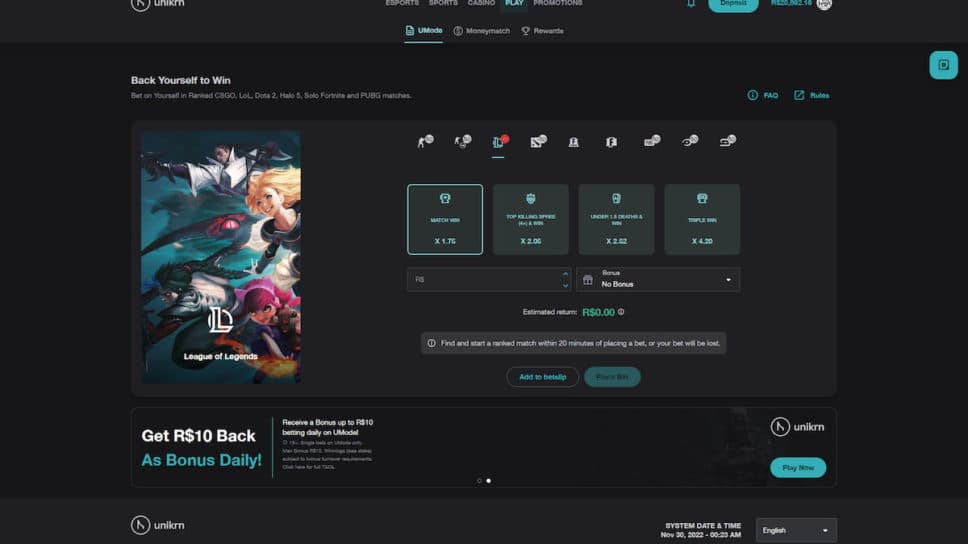 Unikrn and Entain to launch the most expansive esports betting platform around
Esports betting platform unikrn is back and better than ever after a new launch added more features than ever before
Esports betting platform unikrn has made a dramatic return to the esports betting world with the launch of a brand new platform. Their new website, launched today (December 1), is largely thanks to their acquisition by Entain earlier this year.
Powered by the huge market knowledge that the Entain plc brings as one of sports biggest global sports betting and interactive entertainment groups, the new unikrn platform offers an easy-to-use interface that makes it smoother and simpler for players looking to bet on their favorite esports games.
With an around-the-clock stream of the world's most popular video game titles, unikrn gives players more ways to bet while watching and playing their favorite games.
New features on unikrns relaunch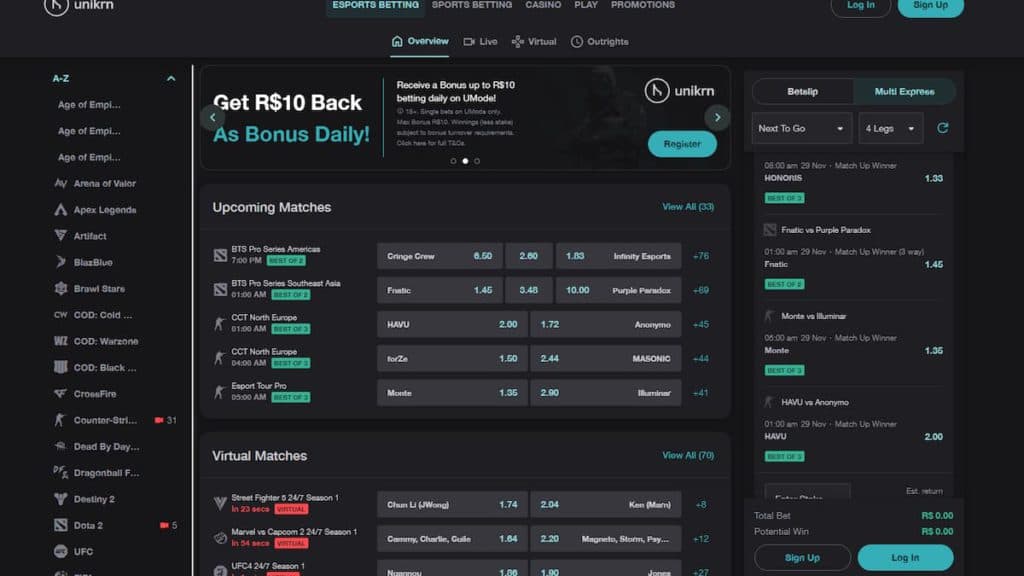 (Image via unikrn)
The new website boasts the aforementioned stream, also known as unikrn Virtual, but also fun new features like unikrn Moneymatch, a way to bet in competition with your friends. It also expands the features from just
esports betting
to conventional sports, a casino, and an in-app reward system.
Speaking on the releaunch, Justin Dellario, CEO of unikrn and managing director of esports at Entain had nothing but praise for the work that had been done on the new site: "Over the past year, the passionate team at Entain has worked closely with us to create a safe, accessible, secure and compliant product that players can trust – even if they've never placed a bet before. The launch of unikrn in both Brazil and Canada is the first step as we introduce a video games and esports betting platform that truly puts a new generation of players and their passions first."
As stated by Dellario, the platform primarily operates in Brazil and Canadian provinces and territories except Ontario. The platform plans to continue to enter new markets around the globe in 2023 and into the future. For more information, visit the website,
here
, or follow the company on Twitter in Brazil at
@unikrnbr
and Canada at
@unikrnca
.
Michael Hassall
Michael is a UK-based content creator who caught the esports bug in 2010, but took eight years to figure out he should write about it. Throwing away a promising career in marketing and PR, he now specialises in MOBAs, covering League of Legends, Dota 2, and esports in general since 2019. When not glued to tournaments taking place on the other side of the globe, he spends time nurturing an unhealthy addiction to MMOs and gacha games.