With a variety of matches to watch every single day, it is no surprise esports betting is on the rise. Here is how you can turn your passion as an esports fan into a fun way to make money, as we run through the types of bets.
In this guide, Esports.gg will be walking readers through the many ways users can place a bet on a match. This guide will get you up to speed on what different types of bets there are. We've used Midnite's simple-to-use betting page to illustrate our examples.
What is an outright bet?
An outright bet is one of the simplest bets you can make as bettors are given the opportunity to back a team or player to win a specific tournament or event. Most outright bets can only be placed prior to the tournament/ event taking place. Although some betting sites offer special outright bets during the event. In an outright bet, every participant will be available for this bet with odds representing the likelihood of them winning.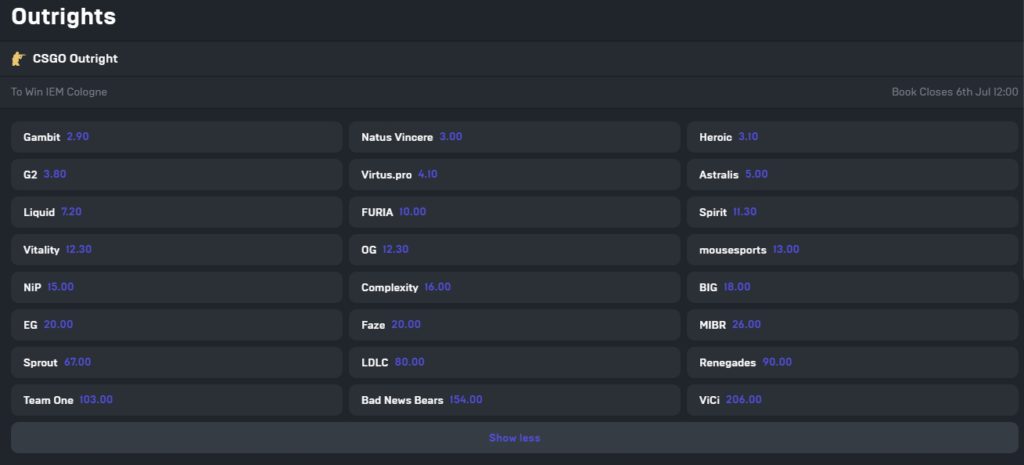 For example if we look at the outright bets available for IEM Cologne, we can see that ahead of the tournament Gambit have the best odds to win the event. Six teams have odds of 5 to 1 or better for IEM Cologne; Gambit, Natus VIncere, Heroci, G2, Virtus.Pro and Astralis. Meanwhile Team One, Bad News Bears and ViCi all have very odds given their unlikelihood to win the event.
Game format can determine what bets are on, for example Dota 2 betting and League of Legends betting have a very different format and more variables people can place bets on.
What is a multibet?
A multibet is a wager that allows bettors to back more than one outcome for an accumulated profit. For example, bettors have the opportunity to bet on both Cloud9 and Team Liquid to win their respective opening matches in the LCS this week.
Multibets are not secluded from simply picking multiple teams to win. Using the same example, a bettor can select Cloud9 to earn a pentakill in their match while also selecting Team Liquid to win their match. Midnite's betting page allows users to easily make a multibet:
What is an exotic bet?
An exotic bet is a type of wager that allows bettors to make bets on in-game scenarios that are unique to each title. While exotic bets are often tailored for experienced bettors, there is ways newer bettors can take advantage of the exotic market. Here is an example of an "easy" exotic bet to make.
The game being showcased is from a C:SGO Blast Premier match between BIG and Natus Vincere. If you are confident this series is going to go the distance, Midnite offers a solid payout, for a £1 bet you will receive a 1.96 return. If you wanted to double down on this bet and make it £10, you would receive a solid £19.60 return
How to find longshot odds
While it can be intimidating for bettors to place their money on the underdogs winning, there is some simple tricks all bettors can use if they are struggling to make a decision. In this example, TSM is taking on Dignitas in week three of the LCS. While TSM is clearly the favorites to win this best-of-one, Dignitas does have a chance to win this match and the payout justifies taking the risk on them.
The odds for Dignitas winning this game is 2.64, if you are to put the winnings into an odds converter, it would tell you Dignitas has a 37.9% chance of winning this game which means the odds are great. Not only that, even if you do not that much experience watching the LCS, Midnite's betting page shows off the team's stats in comparison as well as their head-to-head record, which showcases Dignitas has beaten TSM both times this season.
By running the numbers and using Midnite's built-in features, new bettors will now have an easier time betting on the underdogs.

We'll be sharing more beginner's tips in the future on esports betting so stay tuned. If you'd like to learn more about Midnite then check out their website.