Best April Fools jokes from around the esports world (2023)
Join us as we break down all the hilarious esports April Fools from around the gaming world for the year of 2023.
April Fools is both the bane of gamers' lives and the great opportunity for memorable moments. While some esports and gaming April Fools are just frustrating (Yes, we get it, you're lying about a roster you've signed. Genius!), some can be very entertaining. Overall, its the most creative and game-changing ones that are worth remembering. Here's the best April Fools jokes from around the esports world in 2023.
Hearthstone reveals fake patch notes
Hearthstone's April Fools' Day patch notes feature Nemsy everywhere and more (Image via Blizzard Entertainment)
Hearthstone kicked off April Fools with a completely bogus set of bizarre patch notes to confuse its player base, replacing the majority of the games cards with Gnome Warlock Nemsy Necrofizzle. We've given the full patch notes a breakdown in the article here. And don't worry, it's not legit (we think).
Rocket League Rickrolls Quick-Chatters
Rocket League decided to troll its players for April Fools with a classic Rickrolling courtesy of the Quick Chat feature. Players could use this feature to spout lyrics from Rick Astley's now infamous song, replacing many of the classic Quick Chat options.
The following Quick Chat options were replaced:
OMG! – Never gonna give you up
Noooo! – Never gonna let you down
Wow! – Never gonna run around and desert you
Close One! – Never gonna make you cry
Whoops… – Never gonna say goodbye
Great Pass! – Never gonna tell a lie and hurt you
So feel free to Rickroll your friends!
Beyond this, the game also added The Eggstra Special Mode, a Limited Time Mode (LTM) where the ball is replaced with a bouncy Easter egg. Seasonal and funny!
League of Legends adds useful portals, hat collection
First teased the night before April 1, the League of Legends April Fools game mode armed the Scuttle Crab, put collectable hats on minions, and littered a bunch of useless portals around Summoner's Rift.
The event will likely continue for a few days, although Riot Games has been known to keep its April Fools mods ongoing for several weeks. Or even bring them back as regular occurrences, as was the case with Ultra Rapid Fire (URF) mode. Still, get this comedy game mode while you can!
Overwatch 2 adds googly eyes, new voice lines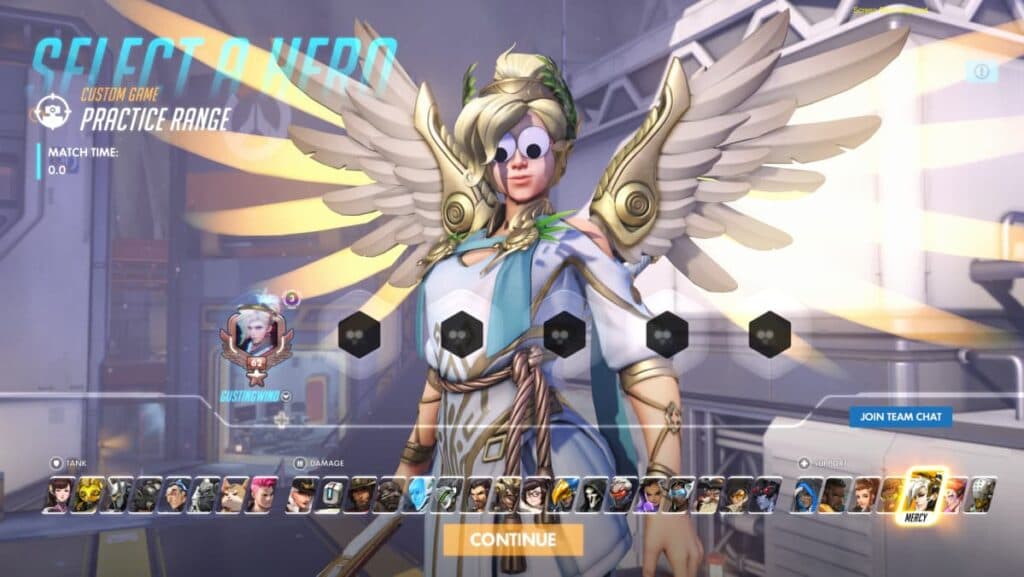 A completely normal-looking Mercy skin (Image via Blizzard Entertainment)
Overwatch 2 players today were surprised to find every single hero was sporting a big goofy set of googly eyes. This is an annual prank by Blizzard, who will often add the feature to lighten the mood in early April.
In addition, this update added a new set of voice lines which will play. From Reaper enjoying spinning around, to heroes forgetting lines, there's a bunch of out-of-character shenanigans this April Fools.
VALORANT's Cypher gets revenge in new game mode?
There's a joke in VALORANT that Cypher has died in every single cinematic release since the game's inception. Now Cypher is taking things into his own hands and getting revenge on each and every other Agent in a "new game mode." 
Sadly, they didn't end up actually adding this game mode, instead settling on some fake patch notes, such as adding an Age Filter, or e-dating Ranked mode which mutes voice comms for other players. These notes were funny, but we would have loved Cypher to get some love instead.
April Fools on esports.gg?
---
For more esports jokes, japes, and seasonal shenanigans, stay tuned to esports.gg.