Esports.gg sat down with the carry player of Entity, watson, to get to know his background and talk about his Dota 2 journey.
Alimzhan Islambekov, also known as 'watson', was born on April 30, 2002. He is a professional Dota 2 carry player and he is quickly becoming one of the best in the scene. The 20-year-old is currently the carry player of Entity, one of the renowned forces in Western Europe. He recently became the first Kazakhstani to reach top 6 at a Dota 2 Major, a feat he reached at the 2023 Lima Major.
Esports.gg sat down with watson to get to know his background and his journey up until his successful run at the Lima Major.
"Before my first salary was a disaster.." watson on his start in pro Dota 2
Gaming was always accessible to watson in his childhood. At only three years old, his older brother introduced him to Warcraft III - the very seed of Dota 2. He then ventured into the Warcraft custom games which allowed him to discover Dota 1.
My older brother showed me Warcraft III and I also played custom maps in Warcraft when I was three or four years old. I had two computers in my childhood. Dota 1, I didn't feel very good. I just played a lot. I started to play with my friends in Garena, play play play and then I started Dota 2 in 2014.
Watson first calibrated at 3K MMR, an average rating in Dota 2. He felt like he wasn't particularly great at the game when he played Dota 1, but he slowly improved over the years. Watson climbed from 3K MMR to now standing at 13K MMR, the third person to ever reach this milestone. "My very first MMR was 3K and every year I improve my MMR, next year 4K, next year 5K, and so on."
I watched Free To Play and Dendi and I was like 'Oh I can play this. It's my hobby and I can earn money from this'
Watson described himself as a smart student, crediting his mother who was also his teacher in high school. But during his teen years, he also started immersing himself more in gaming. And when he saw the famous TI1 documentary, Free To Play, his inspiration to become a professional Dota 2 player grew within.
When I studied in school, it was so boring for me. I didn't like school, but I was very smart. Because my mom was my maths teacher. But when I play (Dota 2) I felt so good. And then I watched Free To Play and Dendi and I was like 'Oh I can play this. It's my hobby and I can earn money from this'.
But growing up in a household that prioritizes academics, watson's passion was hardly encouraged and he called the lack of support from his family "a disaster". When he was 14 years old, his family allowed him only two hours of gaming time per day - this equals to two pub games a day. But watson utilized what he got to the max and his family was finally supportive of his career when he received his first salary.
Before my first salary, it was a disaster. When I was 14, I only played two hours a day and (my family) just didn't let me play. But every single pub I won.
Changing roles
watson's in-game name is a reference to Dr. Watson from the Sherlock Holmes universe.
After setting his eyes on the Free To Play documentary, watson became a fan of Danil "Dendi" Ishutin. The legendary midlaner for NAVI was the center of the documentary, alongside other notable pioneers like Clinton "Fear" Loomis and Benedict "hyhy" Lim.
The 2014 documentary and Dendi's story inspired watson to play as a midlaner. But after reaching the 10K MMR milestone, he felt like he couldn't compete with other midlaners and swapped to the carry role.
I was a mid player when I first started in Dota 2 because I was inspired by Dendi. After I reached 10K MMR, everyone was so good at mid and I swapped to carry in 2016. Then I fully decided to play carry and it's also because (I was inspired) of Arteezy.
B8, HellRaisers, and his competitive experience
Watson joined his first official team at 19 years old, wearing the colors of a Kazakhstani org called KHAN. But his time with the team lasted a flash, as he claimed he was kicked after a month because he was only a "pub player".
When I was 19 years old, I got my first salary in my first professional team, KHAN. I got lesser than 1000 USD. But after a month they kicked me. Because I was just a pub player and I had zero experience in competing. And they didn't even teach me (anything).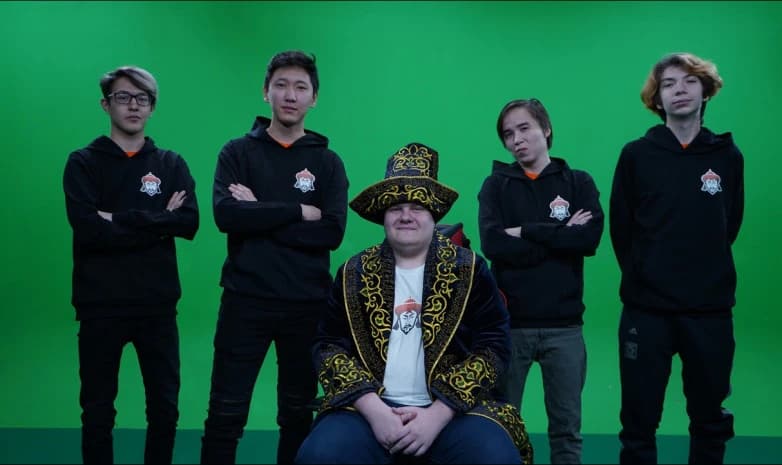 watson's first professional team is KHAN.
But he got his foot in the door of the professional scene and it was only upward since then. In 2021, watson earned an invitation to join B8 - whose owner and player is Dendi himself. His experience in the team was pleasant but their competitive results weren't very satisfactory. B8 barely survived the EEU Lower Division and bombed out early from TI10 EEU qualifiers. Their highest achievement together was a 3rd place finish at the Dota 2 Champions League S3. Watson disclosed that he left the organization as he felt he couldn't grow.
My first good competitive experience was with B8. Leaving B8 was a very hard decision but I just thought that I cannot grow more.
In 2022, watson's next venture was with another notable CIS organization, HellRaisers, and this marks his first appearance in Division I of EEU. The very first tournament he played with HellRaisers saw a dominant victory at the D2CL S5, where they defeated Team Entity. The team then put up an impressive performance in Division I of Tour 1, placing third at the Regional Finals.
But watson would then find himself stuck on a rocky road. In the next Tour, HellRaisers suffered relegation and in Tour 3, climbed back to the Upper Division. By that time, his only chance to make it to TI11 was through the EEU qualifier once again, but HR failed to make it. A few months after the disappointing run, he mutually parted ways with the Serbian organization.
With HellRaisers there were very good players, manager, bootcamp. We ended up a bit tilted and everyone understood that we are not playing together.
Joining Entity and journey at the Lima Major
During the post-TI roster shuffle season, watson received a few team invites and one was even from a South American team. But entering 2023, he settled with Entity, a rising team in Europe that was already making a name in the scene. This was watson's first official move to the competitive Western European region.
After HellRaisers, I was waiting for invites. I got one from a Division I team in CIS and one from a Division I team in South America. But I decide to go with Entity. I decided to go to Europe because I want to fight stronger teams and I can become stronger. CIS is like, someone can tilt, it's hard to play. But in Europe, everything is good - no one tilts in game and tries to tilt another.
With Entity, watson found the first colossal achievement of his career. Together with teammates: Daniel "Stormstormer" Schoetzau, Tobias "Tobi" Buchner, Vladislav "Kataomi`" Semenov, and Dzmitry "Fishman" Palishchuk, Entity put up a strong fight in the intense region. They barely made it into the top 4 after grueling and draggy tiebreakers - and watson earned his first-ever Dota 2 Major invite. He arrived at the Lima Major as a dark horse but watson and his team made an impressive show.
Lima Major was an incredible experience for watson, both professionally and personally. Entity grabbed a top 6 placement and watson became the first Kazakhstani to reach that milestone. He not only took home thousands of dollars but also tons of fun experiences. He even highlighted an interaction with Arteezy, who was the person that inspired him to assume the carry role.
I like Lima Major a lot. The fans, the food, the atmosphere. I saw Arteezy, I talked to him and left. There was a hot jacuzzi and just best moments. After party was very funny. And when we won against Evil Geniuses, I felt soo good. I was so happy. But I was sad when we lost to Talon, because we lost 0-2 without fighting.
Entity in Tour 2 DPC
During the second Tour of 2023, players on Entity decided to play from the comfort of their homes. However, watson opted to stay at the bootcamp in Serbia, miles away from his own home, for the sake of a better internet connection.
(My team) are all chilling after the Major but I decided to go to bootcamp because my account (in Kazakhstan) is 100 ping. When I'm at home I play with this ping. I also reach rank #1 with 100 ping.
The Tour ended on a sour note for Entity, as they barely missed a Berlin Major invite. But on the bright side, Entity also barely escaped relegation and retained their position in Division I. The team will sit on the bench this upcoming month but they'll have plenty of opportunities to make it to the third Major in Bali and the grand TI12.
Find watson outside of Dota 2
To fans and supporters, fret not - even though we won't see watson in the upcoming Berlin Major, he has an active presence online. When he's not playing competitive Dota 2, he's probably streaming Dota 2 pubs to his 80K followers on Twitch. If you can't find him there, he's also active on Twitter, Telegram, Instagram, and TikTok.