The new supporter's Club is a way for Dota 2 fans to support their favorite teams in-game. There are three club tiers: Bronze, Silver and Gold, each with different perks.
Valve has introduced the Supporter's Club, a new way for fans to support Dota 2 teams for The International 10. The Supporter's Clubs come in three different tiers: Bronze, Silver and Gold. Each tier has different rewards and in-game content submitted by the teams themselves.
What is the Supporters Club?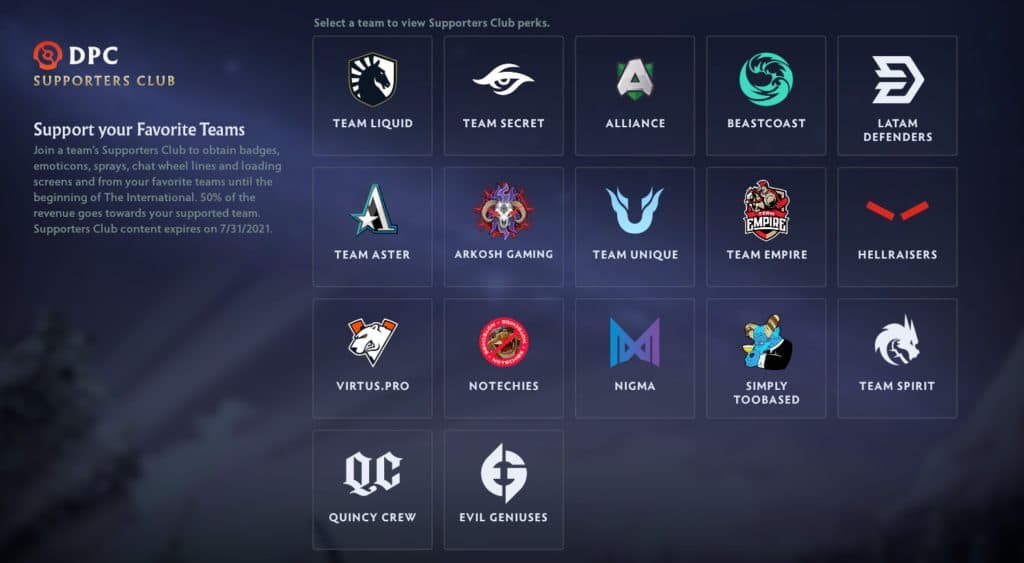 Seventeen teams have in-game content in the Supporters Club at launch. Valve will add more teams to this list.
Earlier this year, Valve had announced Team Bundles, a way for fans to support their favorite teams within the game. After several months of delay, the game developer has announced 'The Supporter's Club.' Fans can purchase bundles of badges and seasonal equippables for showing their allegiance in and out of the lanes.
Dota 2 teams provide their content to Valve and after an approval process, the team's Supporter's Club goes live in-game. 50% of all sales go directly to the team. The current Supporters Club will last until the start of The International 2021. Valve says future seasons will see the Supporters Club last through the Dota 2 majors. This should allow teams to get a revenue stream throughout the year and not rely heavily on their performance leading up to The International.
What's in the Supporters Club?
Each team has three different bundles: Bronze, Silver and Gold. The Bronze Club ($5) includes a team badge that displays next to the player's name. The Silver Club ($10) includes Sprays and Emoticons. Finally, the Gold tier ($20) includes a special in-game HP-bar badge, loading screens, and voice lines. Badges will appear in multiple places throughout the game. These include the friends list, player profiles, the Versus Screen and the in-game scoreboard.
At launch, Valve has added content for seventeen Dota 2 teams. More teams will join this list as their content is submitted and approved. Teams that are unable to submit high-tier content will also be added without Silver or Gold Club enabled, says Valve.
Dota 2 players can visit the team profiles to join their favorite Supporter's Club.