Despite their early exit, attending TI is an achievement and the players should hold their heads high.
Thunder Predator is the first team to be eliminated from TI10 after failing to win a single game after three days. The team was unable to win a single game after seven matches across three days. With a 0-14 start, it is impossible for Thunder Predator to qualify to the playoffs now.
Thunder Predator finishes in 17-18th place
Thunder Predator was one of the three representatives from the South American region. The team started its TI10 journey with a 0-2 loss to OG on Day 1. The 0-2 loss to OG was expected, but Thunder Predator also lost 0-2 to Alliance, much to the dismay of its fans.
The momentum seemed lost for Thunder Predator as they seemed outclassed in drafts as well as playstyle. Day 2 resulted in 0-2 losses to Invictus Gaming and Team Undying. With a 0-4 start to the TI journey, things looked bleak for Thunder Predator, who were now fighting to stay alive in Bucharest.
Unfortunately, the final day also featured some of the strongest opponents yet, with Team Undying, Aster and Evil Geniuses as opponents. Thunder Predator ended with a 0-14 score at the end of Day 3, guaranteeing their elimination from TI10. The team will take home $100,000 in prize money.
Strong Start to the DPC, Weak Finish at TI10
Thunder Predator was one of the top teams from South America. After Beastcoast withdrew from the Singapore Major due to COVID concerns, Thunder Predator stepped up big time. The team finished 5-6th at the first Major of the season, much to the surprise of Dota 2 fans. However, after a strong appearance at the Singapore Major, the team's results were anything but dominant. Failing to qualify for the Animajor, it came down to Thunder Predator accruing enough points in the regional DPC qualifiers. TP finished 3rd in OGA DotaPIT Season 2 to add 200 points and qualify for TI10.
Attending TI10 is an achievement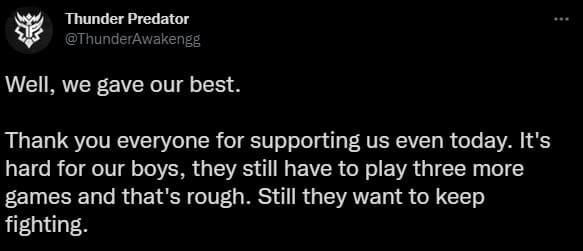 Despite the early elimination, the Thunder Predator players should keep their heads high. Qualifying for TI10 is no mean task and the team has been consistent enough through the DPC seasons to secure their spot at TI10. The team qualified for the mega-event over several other big names such as Nigma.Galaxy, Team Liquid and TNC Predator. Thunder Predator still have to play a few games on the last day of the Group stage.
Tomorrow we have to, evicted, play one more series against T1 and there we will be watching our guys compete, because they need us right now.
And just as tomorrow is the end of this stage for us, beastcoast and SG esports continue, so we will be cheering as always, because we are friends when we are not competing within Dota and we get excited about their victories, as well as we suffer with their defeats.
The org released a statement and the players will be supporting beastcoast and SG esports as they continue their TI journey. SG esports and Quincy Crew are tied for the last place in Group B with a 2-10 score at the end of Day 3.
Thunder Predator will go home with $100,000 in prize money and the determination to come back stronger next year.