Talon Esports has made the mutual decision to part ways with Fly and Gabbi due to COVID-19 complications.
As we approach the offseason of the Winter Tour Dota Pro Circuit (DPC), Talon Esports has announced the departure of members, Tal "Fly" Aizik and Kim "Gabbi" Villafuerte. This decision was made as a result of the 'ever-changing circumstances' of COVID-19 and its complications. Both players are now free agents while Talon Esports will reform its roster for the next season.
Fly and Gabbi depart Talon Esports
Countless teams and events have fallen victim to the tough pandemic and Talon isn't an exception. In the final DPC week, Talon revealed that the organization has parted ways with team captain, Fly and position 1 player, Gabbi. COVID-19 travel restrictions have been a challenge for the team and "to navigate through the remainder of this year" both parties have mutually agreed to part ways. Fly and Gabbi are now free agents and both will be allowed to seek new teams.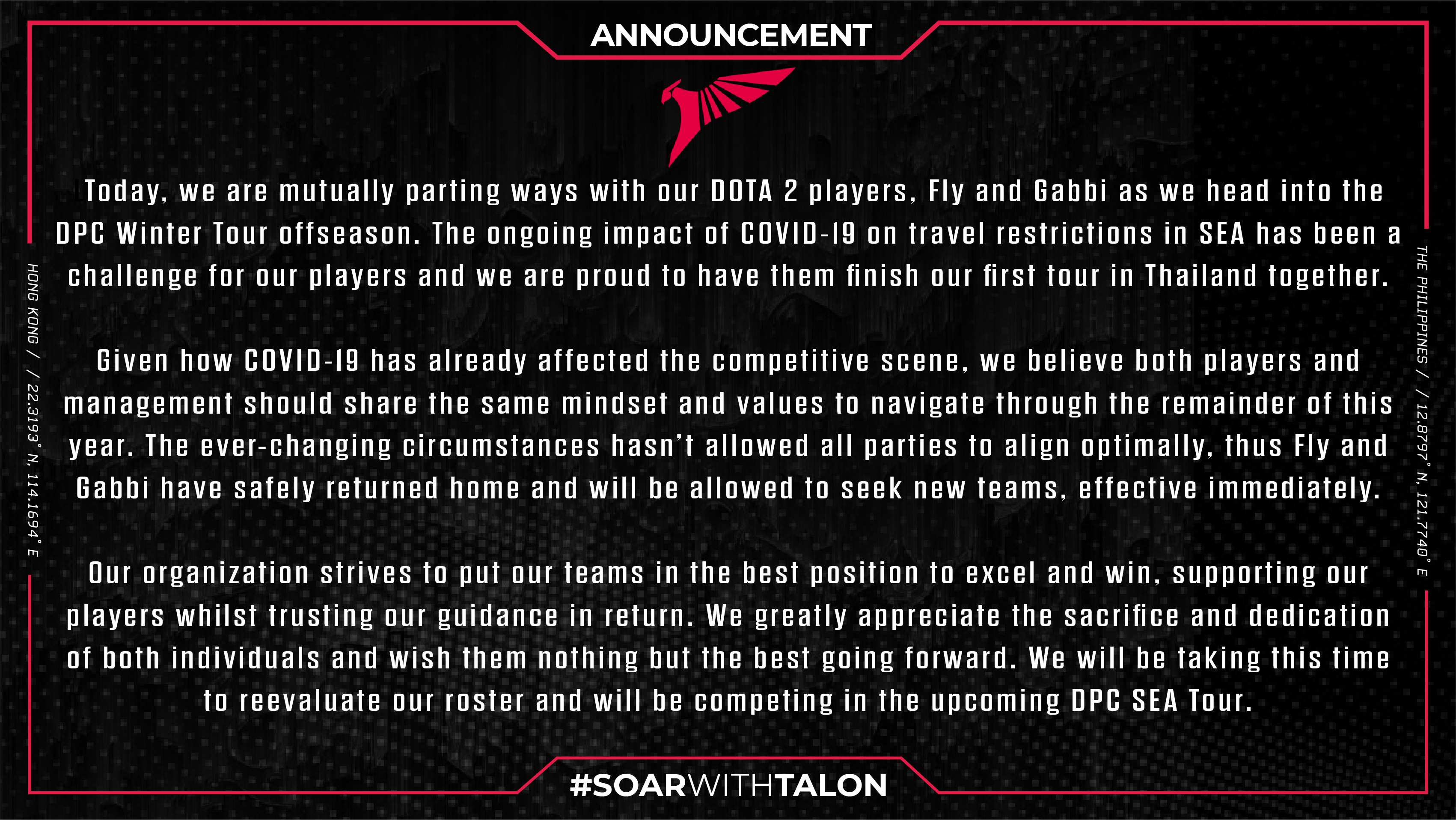 The organization confirmed that they will continue competing in the upcoming DPC SEA Tour and will reevaluate their roster. Following Fly and Gabbi's departure, Talon Esports' roster is now:
Rafli Fathur "Mikoto" Rahman | Pos 2
Damien "kpii" Chok | Pos 3
Brizio Adi "Hyde" Putra Budiana | Pos 4
On the other hand, we can expect Fly and Gabbi to find a team in their respective regions.
Talon's rough journey in SEA DPC
Talon Esports is relatively new in the Dota scene, only introducing their lineup before the beginning of the Winter Tour. The all-star roster brought high expectations on the team, but they fell short, ultimately missing the Division I promotion.
SEA DPC is still ongoing with a couple of series left to conclude, but here's a look at the current standings of Division II:
So far, Talon has only participated in the SEA DPC. But as we go into the offseason, we might be able to see Talon in any upcoming third-party tournaments!
Stay tuned to esports.gg for the latest Dota 2 news and updates.