Alliance has today said goodbye to team captain S4, as the TI-winning player departs the organization.
Storied Dota 2 organization Alliance has announced the departure of Gustav "S4" Magnusson. The news was released by Alliance on their official website and social media on the evening of October 24th.
The news of the TI3-winning players comes just a few days after the organization said goodbye to Linus "Limmp" Blomdin and Artsiom "fng" Barshak. With now three of the roster released, it's highly likely that Alliance are looking towards a complete rebuild of their team.
In the announcement post, former teammate and Alliance CEO Jonathan "Loda" Berg praised the legendary player in heartfelt fashion: "It's always sad to say goodbye to a friend. Especially a friend as special and important to Alliance's history as the son of Magnus himself, S4."
He closed his comments with a touching sentiment: "Thank you for coming back. Again."
S4's History with Alliance
S4 has now had three stints with Alliance during his career. The former Heroes of Newerth player started his Dota 2 journey with teams No Tidehunter and A Fistful of Tangoes. The latter squad would eventually become the Alliance organization in 2013. The team heade to TI3 in a victorious run that would see them raise the Aegis.
He left Alliance in late 2014 for a run with the then newly founded Team Secret. However, he would return to Alliance in 2015. The team attempted to claim a second aegis with an identical roster to their TI3 run. But S4 and company were not able to replicate their success. S4 left the team the following TI6, and spent several years on OG and then Evil Geniuses.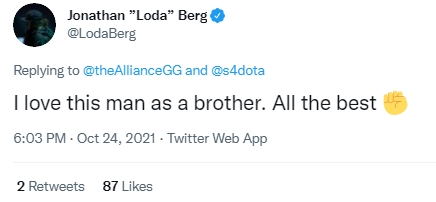 S4 returned to Alliance in April 2020, bringing his experience as a shotcaller and captain to the roster. During this near two-year period, his leadership resulted in an impressive number of achievements, including:
2nd Place at ESL One Birmingham 2020 Online: Europe & CIS
2nd Place at OGA Dota PIT Season 2
1st Place EPIC League Season 2: Division 2
2nd Place DreamLeague Season 14 DPC EU Upper Division
1st Place DreamLeague Season 15 DPC EU Upper Division
3rd Place ESL One Summer 2021
However, these victories, especially in the 2021 DPC, did not convert into Major or TI success. At TI10 Alliance were seeded into the lower bracket after the group stage, and won just a single game in the Main Event.
S4's departure leaves just Simon "Handsken" Haag and Nikolay "Nikobaby" Nikolov left on the Alliance roster. The organization will be looking to fill the solo mid, hard support, and offlane roles—as well as a new captain for the team.