PSG.LGD recently released an interview vlog with their players to talk about their feelings and journey to The International 10. Here are the translations for it.
PSG.LGD is one of the favorites to win TI10 and the organization is taking all precautions to ensure the players' safety. Ahead of TI10's long awaited (and delayed start), the Chinese organization is stepping up its media game with a vlog featuring inputs from several players. Esports.gg's Arthur has translated some of the excerpts from the vlog for non-Chinese fans to connect with PSG.LGD.
Y' is one of the few players that has already won the International. He was a part of the infamous Wings Gaming roster that won TI6. He believes the player mentality depends on each player's personal preference. PSG.LGD has several members from the former Wings Gaming roster. The players will be giving their all this tournament and will not resting on past laurels.
Faith_bian on PSG.LGD's status during 1st DPC
Faith_bian: We didn't have amazing results in the first DPC season. When we went for our first major, we have done many adjustments, as well as having many team meetings to discuss on how to improve. We don't just look at the surface, our players are capable of making in-depth discussions and thinking.
Q : This year is indeed a roller-coaster year, we've got good times and bad times, is it normal for you?
XinQ: It is normal to make mistakes. It's normal to not know what's best for a new draft, it is also usual when the experiments go wrong at the beginning.

Y`: I'd say so far we have not encountered obstacles that are really tough and unsolvable for us in our team's progress. I think whenever issues arise along the way, as long as we solve them, it will grow us all. Fortunately, I'd say we've been able to successfully solve the issues throughout the way. Most importantly, it encourages us to open up ourselves to talk about our feelings and work on how to keep the team going whenever we face difficulties.
Q : Let's talk about the team's situation. What do you think of the environment right now?
Faith_bian : It feels good right now. We are feeling pretty relaxed and in harmony during our holiday now, I'm looking forward to our bootcamp. I hope we will be in good form during our bootcamp.
Y`: Team environment is pretty good, might be a little bit childish to me. We have two kids that like to bicker with each other (AME & XinQ), and there's another kiddo that couldn't join us (NothingToSay), he could only listen to them from so far away. I think in a way, we're lacking some joy. Y spoke about this with a kind smile.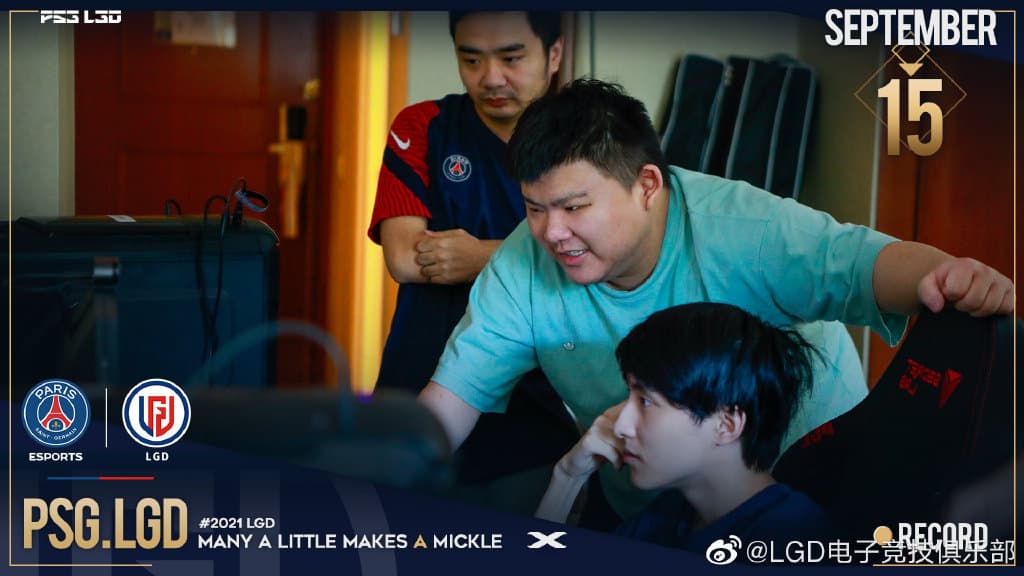 Photo credits: PSG.LGD's Weibo
PSG.LGD.XinQ shares his thoughts on his teammates
On AME: I think most people don't have an accurate valuation on him, but as his teammates, I understand him more. He's good, especially on the understanding of this game. He is not very good at itemization, I'm the one that teaches him that normally. I will tell him what to buy, and he'll say, yeah it's very good indeed.
On Faithbian: Disciplined. On Y : He's the know-man. He knows stuff.
---
Q : Who talks and resonates with you the most?

Ame: Fairly much with everyone, maybe a little bit more with XinQ.
Q : You're sitting closest to xiao8 in bootcamp, what do you think about him?
Ame: He's really good, no matter inside of the game or outside of the game.
Q : What is his standard when it comes to outside of the game?
AME: However high you could imagine.
Photo credits: PSG.LGD's Weibo
Q : So do you think that he's a perfect man?
Ame answers in laughter: Yeah you can if you wanna say so. (laughs)
XinQ: Do we still need to boast about Captain China? He's perfect in every aspect, maybe that's a little too much, but if you insist on saying so, you could.
Faith_bian: Xiao8 is very capable of his work. In terms of drafting, managing the team's atmosphere, anything that is related to the team regardless in or out of the game, he is always able to find ways to directly solve the issues. This is the decisiveness of a leader and he is very experienced and very capable of it.
"A lot of people always said, after winning TI 4, I don't have to compete in TI or whatever, but to me, I enjoy the feeling of competition, so no matter what the result is, I enjoy it a lot."
xiao8
PSG.LGD Talks about Romania
Q : Is this your first time going to Romania?
Y`: My first thought of Romania is that the place feels a lot like a mini-Shaoyang. (Shaoyang is a city in southwestern Hunan province that has 2500 years of history and is an important commercial and transportation city in Hunan)
Q : Will you feel more pressure competing in foreign country?
Ame: Not really, but if we're competing locally, we'll eat more conveniently.
XinQ: Not really, I'm pretty nerdy.

Q : If TI is not in Romania, but is an online tournament, will you have the same mentality for it?
XinQ: More or less the same.
---
PSG.LGD Talks about TI10
Q: Who are the strongest teams in your opinion and who have the best capability to be crowned champion in TI10?
Y`: The great teams from China are the ones I immediately think of. Elephant and Team Aster, they are both very strong teams. For foreign teams, some of the strong teams are still very explosive, and we can't underestimate any of them.
Ame: Feels like everyone is strong, especially Chinese teams.
Faith_bian: I feel like Elephant is very explosive, they could be very good if they are serious about it. They didn't look that strong before, probably because they were not very serious. VG, IG, Team Aster, I think everyone is pretty much the same, it really depends on the form at the moment.
Q : What are the aspects of PSG.LGD that you think are not as good as them? (the other CN teams)
Faith_bian: I think the biggest aspect is our consistency to perform at our highest level. We're pretty gel-ed in communication now. From the previous 2 Majors, I can't say we solved everything, but speaking from the results I think we're on the right track. I think our in-game is still the worst, including our read and understanding on the new patch, mechanics and stuff.
---
Q : What is the ideal blueprint in your mind?
XinQ: Basically for us to work as a team and take down games easily. For example, for everyone to be on the same page. Like when we're playing position 1 Pudge, we will be farming less and fighting more.

---

Age is an Advantage
Q : What are our advantages compared to other teams?
Y`: I think our advantage is our age, we're very capable of turtling our enemies to death. Because I think for all the teams from different countries, the capability of problem solving should be pretty much the same.
---
Q : Are you guys aiming for the 2nd TI championship this time?
Y`: I think all TI participants are aiming to win it all. I don't think winning it before will mean that you'll lose the passion and drive for the championship.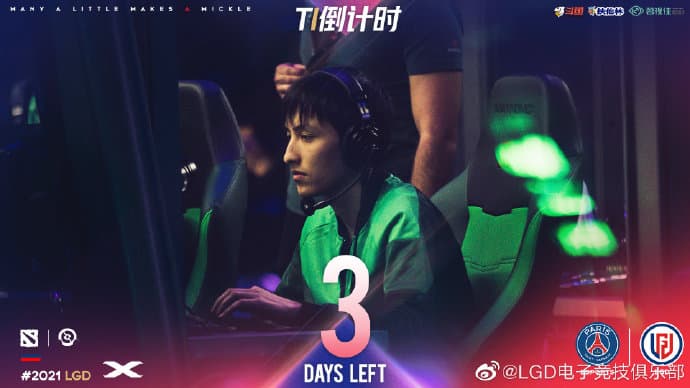 Photo Credits: PSG.LGD's Weibo
---
Ame, XinQ and Faith_bian on their expectations for TI 10
Ame: I think all participating teams are for sure aiming to be the champion.
XinQ: Of course everyone's target will be to become a TI champion.
Faith_bian: Even though all of us are aiming to win TI, but personally I don't like to say this out loud.
Needless to say the players are very confident that PSG.LGD will emerge victorious. Even though PSG.LGD has not won the last two Internationals, its 3rd and 2nd place finish have elevated the team on the international stage. Maybe this year, PSG.LGD will win TI and bring back the Aegis to China.

Q : Do you think PSG.LGD have what it takes to win the International?
Faith_bian: Yes. (inserts the slogan of PSG.LGD - we are invincible!)
Faith_Bian's "yes" seems to have resonated with the Chinese community. The veteran player seems confident in his team's ability to win TI.
Photo credits: PSG.LGD's Weibo
CN Community Reactions of this Interview VLOG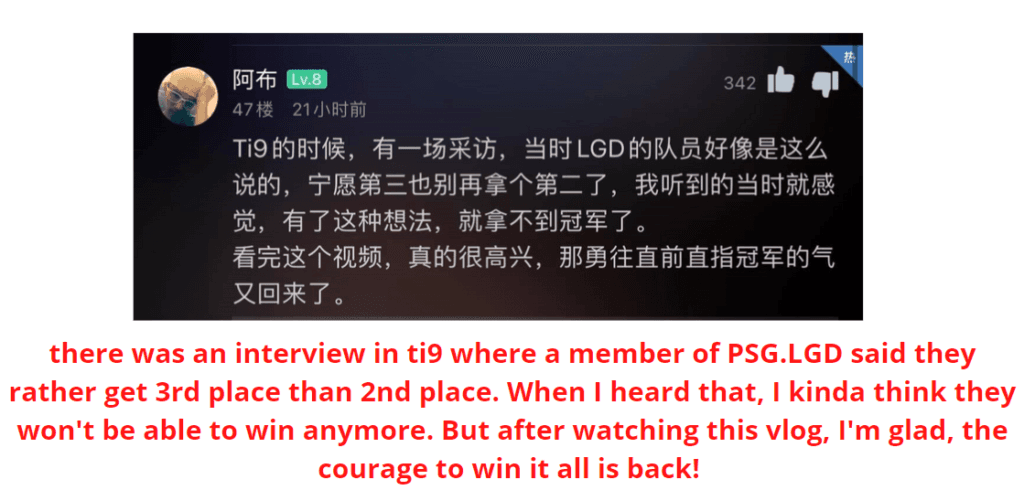 Top comment on CN forum

Top comment on CN forum
Top comment on CN forum
Top comment on CN forum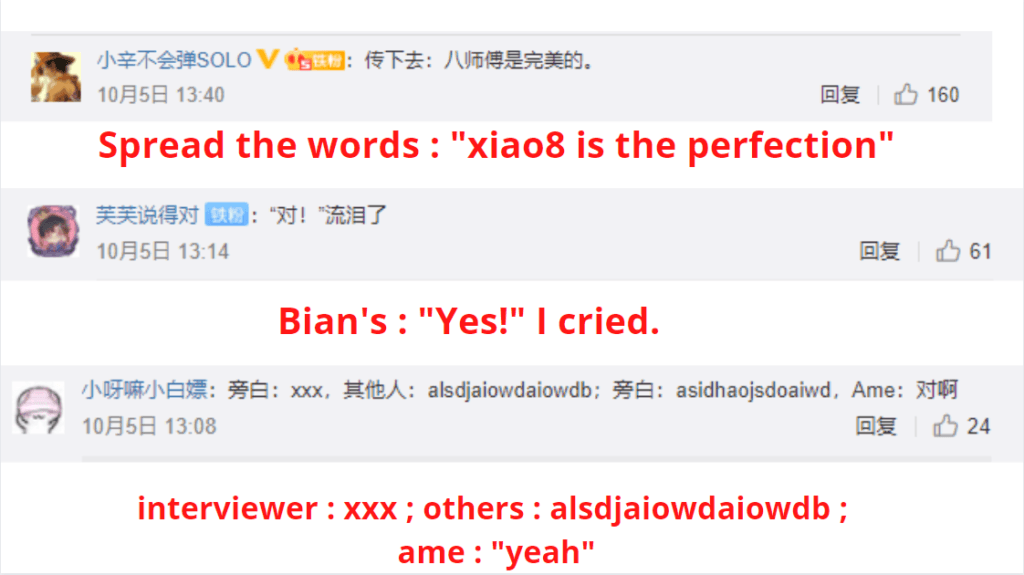 Top comments on PSG.LGD's Weibo
Top Comment on CN forum
Cautious Preparation from the favorite to win TI10
As we are getting closer to the International 10, we have learned some unfortunate news of Chinese players tested positive for COVID. But non of these, are affecting PSG.LGD. While all Team Aster's members are tested positive, PSG.LGD are fortunately that non of their players are infected by COVID. There was even saying that they stopped using air-conditioner so prevent COVID. With all information, you could tell that they are dead serious of this tournament.
PSG.LGD are the fans favorite to win it all, and it definitely seems like they are mentally and physically ready for it. Let's look forward to their performance in the International 10, god speed, PSG.LGD !
Featured Image Credit: PSG.LGD.