Netflix publish official lore content with talent ahead of anime launch
In a bid to generate interest in the upcoming Dota 2 anime Dragon's Blood, Netflix enlisted the services of three well-known talent.
Netflix have begun their mission to educate the masses to the lore of the Dota 2 universe ahead of the relase of Dragon's Blood release. The new Netflix's anime launch date is March 25th, a date that Valve advertises the moment you open the Dota 2 client.
With the lore of Valve's MOBA an amalgamation of the ideas of multiple developers and writers, players of the game would be forgiven for not knowing how it all started. Enter broadcast talent Jake "SirActionSlacks" Kanner, Owen " ODPixel" Davies and Jorien "Sheever" Van der Heijden. As part of a new series called "The World of DOTA" the trio lay down the
laws of the land
.
SirActionSlacks: "Many more of these to come"
SirActionSlacks headlines the new series, which makes total sense given the immense success of his Loregasm videos on YouTube. The renowned content creator launched his Loregasm series back in 2017 and it has
racked up millions of views
since.
"YES, I can finally talk about this!" said SirActionSlacks on Twitter. "So honored and EXCITED to announce for the last few months I have been working with Netflix to bring you some LORE! OUR TIME IS NOW DOTA2 FANS! Don't miss the anime in a few weeks, many more of these to come!"
Meanwhile professional commentator ODPIxel said it was "super awesome to be a part of the first of many upcoming exciting dives into the Lore with Netflix and Slacks!"
Despite it's appeal to existing fans, The World of Dota lore series is seemingly targeting the potential pool of new players. It is no secret that the concurrent player base of Dota 2 has stagnated over the last few years. Dragon's Blood could be a catalyst for a surge in players, and The World of Dota a tool to increase the chance of that happening.
Dragon's Blood trailer surpasses 1.5 million views
The
trailer
for Dragon's Blood sparked excitement in the Dota 2 community and has surpassed 1.5 million views. A hidden QR code inside also revealed the identity of the so-called "REDACTED" character, Terrorblade. This means that the Dota 2 characters confirmed to be part of the Dragon's Blood anime are; Dragon Knight, Mirana, Luna, Invoker and Terrorblade.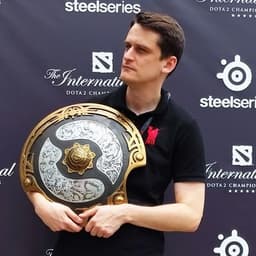 Lawrence "Malystryx" Phillips
Malystryx is Editor-in-Chief/Managing Editor at Esports.gg. and a veteran esports journalist, content creator and personality. He has been involved in the esports scene since 2004 and has worked with many different organizers and portals, including SK Gaming, ESL, Dexerto, GINXTV, Razer and Monster Energy. Malystryx was also a broadcast talent on Valve's Dota 2 Pro Circuit over the last few years, creating on-site video content for PGL and Starladder. In his spare time he streams on Twitch as MalyPlays.