The International 2023 moves into the third and final phase. Here are the remaining eight teams at TI12.
The second week of The International 2023 (TI12), also called the Road to the International, has concluded. The gruesome Lower Bracket sent home eight teams including the defending champions, Tundra Esports. Other eliminated teams are Shopify Rebellion, TSM, Evil Geniuses, 9Pandas, Keyd Stars, Talon Esports, and Entity. And with that, only eight teams remain at TI12 -- and some of them are tournament underdogs!
All remaining teams of TI12
1. Team Spirit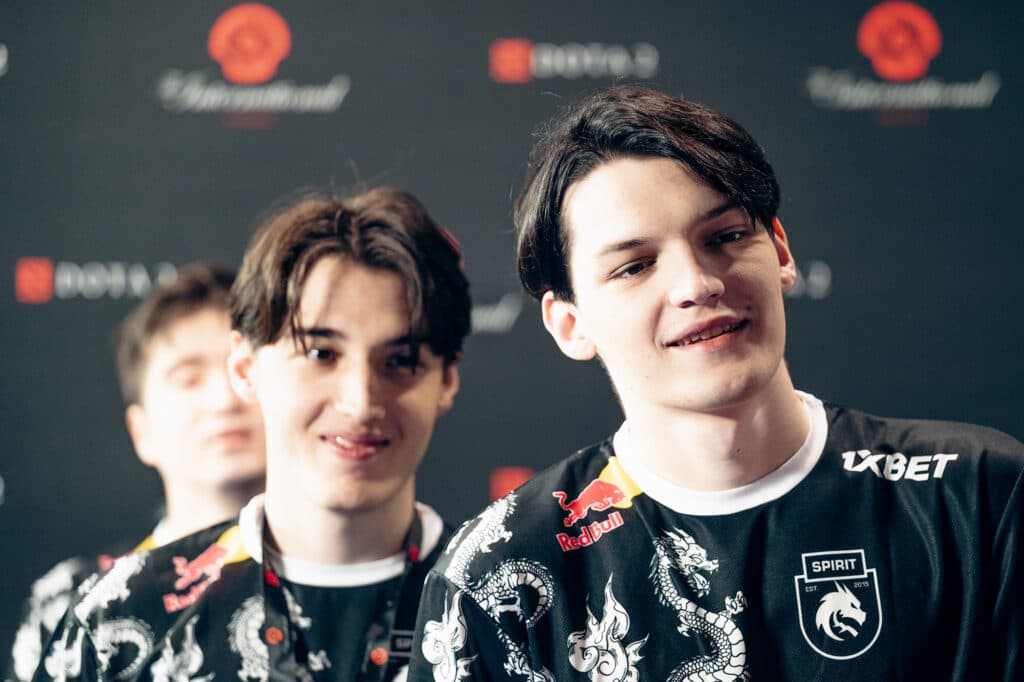 Team Spirit at TI12.
(Image via Valve)
TI10 champions (with the addition of Larl) is currently speedrunning toward another TI title. Team Spirit came to TI with high expectations on their shoulders. They recently bagged the biggest slice of the $15 million Riyadh Masters championship and a recent DreamLeague Season 21 victory. And they're currently not showing any signs of slowing down.
Spirit has been undefeated throughout TI12 so far, except for a one game hiccup against Virtus.pro in the Upper Bracket. They haven't lost a single series and they are in solid shape to lift the Aegis for the second time.
2. Team Liquid
Team Liquid at TI12.
(Image via Valve)
One of the tournament favorites, Team Liquid, is among the top 8 TI12 finalists. They only suffered a one-game defeat during the Group Stage and that was against a stacked Azure Ray. They then defeated Evil Geniuses 2-0 to secure a spot in the Upper Bracket. Their next victory was also a convincing 2-0 against a prominent Talon Esports.
Team Liquid is arguably the most consistent Dota 2 team this season. But their biggest question mark at TI12 is whether they can make it through until the end. For consecutive tournaments, Liquid constantly fell short in the Grand Finals, finishing second in five tier one tournaments. But could TI12 finally be when things take a different turn?
3. LGD Gaming
As per usual, LGD Gaming are performing incredibly well on the stage of TI. The organization is the most consistent TI team, flexing a number of great achievements during previous TIs. The team is likely one of the most overlooked contenders at this TI - overshadowed by names like Spirit and Gaimin Gladiators.
So far, LGD holds a 9-1 win-loss record. The Chinese powerhouse is the top dog of Group C - only losing one match against an eager Virtus.pro. They had an even better run in the Playoffs - defeating Eastern European (EEU) giant 9Pandas to advance to the top 6 of TI12.
4. Azure Ray
Azure Ray at TI12.
(Image via Valve)
Azure Ray is an interesting team to look at in this championship. The team fields notable Chinese veterans who were once close at lifting the Aegis. And now they return for redemption following a long break.
Azure Ray had a shaky start in the Group Stage - only winning a series against Thunder Awaken. However, they managed to book their ticket to the Upper Bracket after a win against Entity in the Play-in. Riding the momentum, Azure Ray defeated nouns to march further at TI12. Despite being formed last-minute this season, Azure Ray emerge powerful this TI12. And many are expecting Azure Ray to finally bring China a win after six years of despair.
5. Nouns
Nouns at TI12.
(Image via Nouns)
Nouns of North America is the biggest underdog in the final eight teams at TI12. This team fields a lineup of NA stars including two South American players. They showcase great chemistry to not only qualify for TI12 but also survive ahead of their NA counterparts - TSM and Shopify Rebellion. This happened after a gruesome NA bloodbath in the Lower Bracket, where TSM eliminated SR and nouns proceed to eliminate TSM.
"It's Gunnar's year," the Dota 2 community parroted. Nouns is quickly taking the spotlight at TI12 following insane upsets. This includes kicking Tundra Esports to the Lower Bracke and taking a game off of Gaimin Gladiators during the Group Stage.
Nouns will play against Gaimin Gladiators next in a Lower Bracket elimination match.
6. Gaimin Gladiators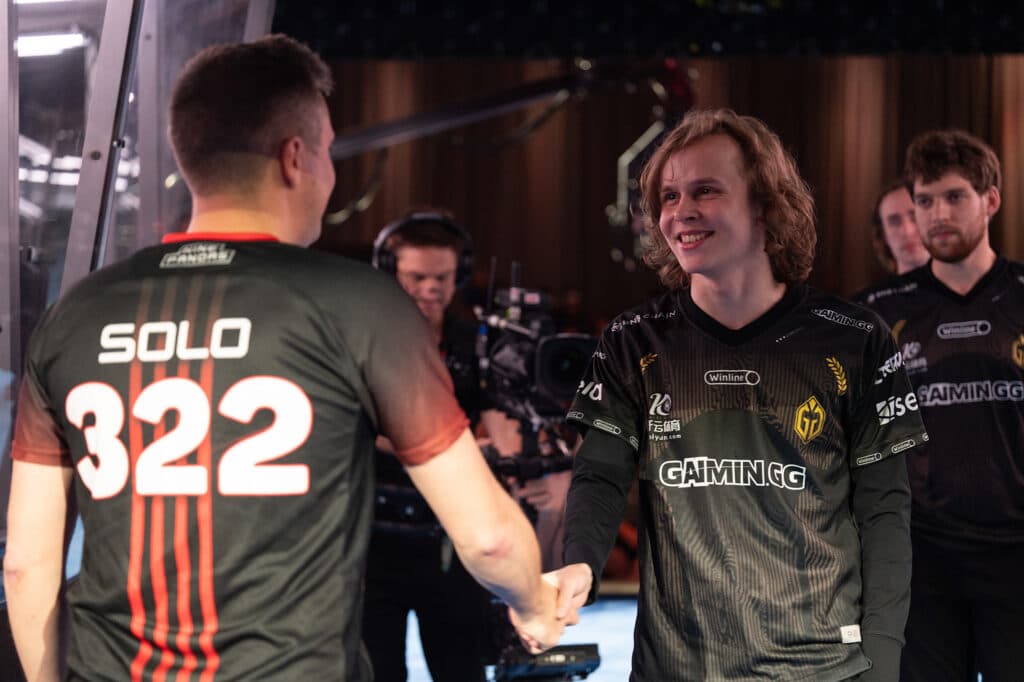 Gaimin Gladiators at TI12.
(Image via Valve)
While it is no surprise that Gaimin Gladiators made it this far, their performance hasn't been very promising. GG arrived at TI12 with the shiniest belt, having won five tier one tournaments in 2023. They have cemented themselves as one of the most successful teams of all time. But a strong year often sees a dim ending.. at least in Dota 2.
GG had a shaky start in the Group Stage, not only losing a series to LGD but also dropping a game against nouns. Their unpromising Group Stage run is followed by another disappointing loss in the Play-in, where GG fell to the Lower Bracket. Despite a rough start, GG seems to be regaining their balance. The team has eliminated Evil Geniuses and 9Pandas to enter the final eight teams at TI12.
GG will play against nouns next in a Lower Bracket elimination match.
7. BetBoom Team
BetBoom Team at TI12.
(Image via Valve)
BetBoom Team had a slow start to the year, but they've rapidly gained momentum to become one of the biggest threats at TI12. The team fields an all-star lineup - the best individual players of Eastern Europe - in one team. And they have been explosive as of late.
At TI12, BetBoom had a great Group Stage run, only losing a series to Team Liquid. However, they would meet their EEU counterpart, 9Pandas, in the Play-in and dropped to the Lower Bracket. Although they lost to 9Pandas, BetBoom would end up surviving longer in the championship. They have defeated both Keyd Stars and Talon Esports to make it into the final eight teams of TI12.
8. Virtus.pro
Virtus.pro at TI12.
(Image via Valve)
EEU has proven again and again that its region is not to be underestimated. And the region's fourth team, Virtus.pro, which made its way through the qualifier, is showing up massively at TI12.
Initially, Virtus.pro had a scary start at TI12. They barely survived in the Group Stage with no wins, three draws, and a loss. But they stepped up during the Play-in which sees the EEU team winning against TSM. They arrived in the Upper Bracket and clashed against Team Spirit.
While many expected them to falter quickly, Virtus.pro ended up giving Spirit a difficult series. They were close to victory but ultimately, Virtus.pro falls to the Lower Bracket. They managed to advance to the top 8 after eliminating Entity.
All 8 TI12 teams will head to final weekend on October 27
We are reaching the pinnacle of TI12 as the remaining eight teams gear up for TI12's final weekend. This event will take place in the Climate Pledge Arena in Seattle, USA. Buckle up as we await the most intense Dota 2 action of the year and most importantly, the crowning of the new world champions.