The grueling Group Stage and Play-ins witnessed a couple of eliminations from the Gamers Galaxy Invitational.
The Gamers Galaxy Invitational Series Dubai 2022 is rolling into the Playoffs but before we get there, let's bid our bittersweet farewells to the eliminated teams, TSM, Nigma Galaxy (NGX) Southeast Asia (SEA), and Fnatic. The brutal Group Stage which witnessed high-staked BO1s were definitely some grueling set of matches one could imagine. After the action-packed Group Stage and Play-ins, we finally saw the first few eliminations.
Fnatic who lost a tiebreaker series against TSM placed 9th in the tournament. Meanwhile, NGX SEA and TSM had another opportunity to fend for their lives at the Play-ins. Nevertheless, both teams found the same fate, facing elimination and placing 7th-8th.
Fnatic
Despite placing last, Fnatic did not disappoint. The fresh lineup from Southeast Asia had a lot of close, nail-biting games.
In Group A, Fnatic went head-to-head against NGX, Tundra Esports, TSM, and Team Spirit. In most of their encounters, Fnatic seemed to have a good shot at securing victory but they were always a step behind. However, one triumphant game was against the TI10 champions themselves, Team Spirit. With a powerful draft and coordinated fights, Fnatic snowballed to victory against the CIS powerhouse.
Fnatic was in fact so close to making it to the Play-ins but a tiebreaker match against the North American giants, TSM marked their elimination. The team finished at 9th place, bringing home total prize money of USD $5,450.
TSM
The new kings of North America couldn't quite find their balance during the Group Stage, and despite a spectacular performance, they make an early exit.
The team played amongst NGX, Tundra Esports, and Team Spirit in Group A. They had a couple of good back-and-forths throughout the BO1s but ultimately, they were placed on the brink of elimination. The NA squad played out a tiebreaker series against Fnatic and they managed to escape elimination.
But up next in the Play-ins are the star-studded lineup of Western Europe, Team Secret. TSM delivered an outstanding fight against Secret bringing the series to the third game. But following a series of unfortunate events, TSM found themselves wiped out without buybacks and that was when they finally waved the white flag.
TSM finished at the 7th-8th place, bringing home total prize money of USD $8,174.
Nigma Galaxy SEA
NGX SEA was definitely the underdogs of the tournament and they even had to play with Aliwi "w33" Omar as a stand-in. Despite making an early exit, their performance was nothing short of high-quality Dota.
The squad was sorted into Group B amongst BOOM Esports, OG, and Team Secret. They certainly brought some amusing plays on the table – winning odd fights, randomly stealing Aegises, and showing a couple of cheesy tricks under their sleeves.
But all the cheese couldn't quite bring them a victory. They finished with 0 wins throughout the Group Stage and NGX SEA dropped to the bottom of Group B.
In the Play-ins, their next opponent is one with a stand-in themselves, Team Spirit. Once again, NGX SEA pulled out a bunch of impressive plays but it wasn't enough to trample down Spirit. They lost the Play-ins 0-2 and were eliminated.
NGX SEA settled at the 7th-8th place, bringing home prize money of USD $8,174.
Gamers Galaxy Invitational Playoffs to begin soon
The Group Stage is done and the Play-ins are over. It is finally time for the exciting Playoffs to take off! The Upper Bracket will begin first, and we'll witness BOOM Esports vs Tundra Esports and NGX vs OG.
Check out the schedule here.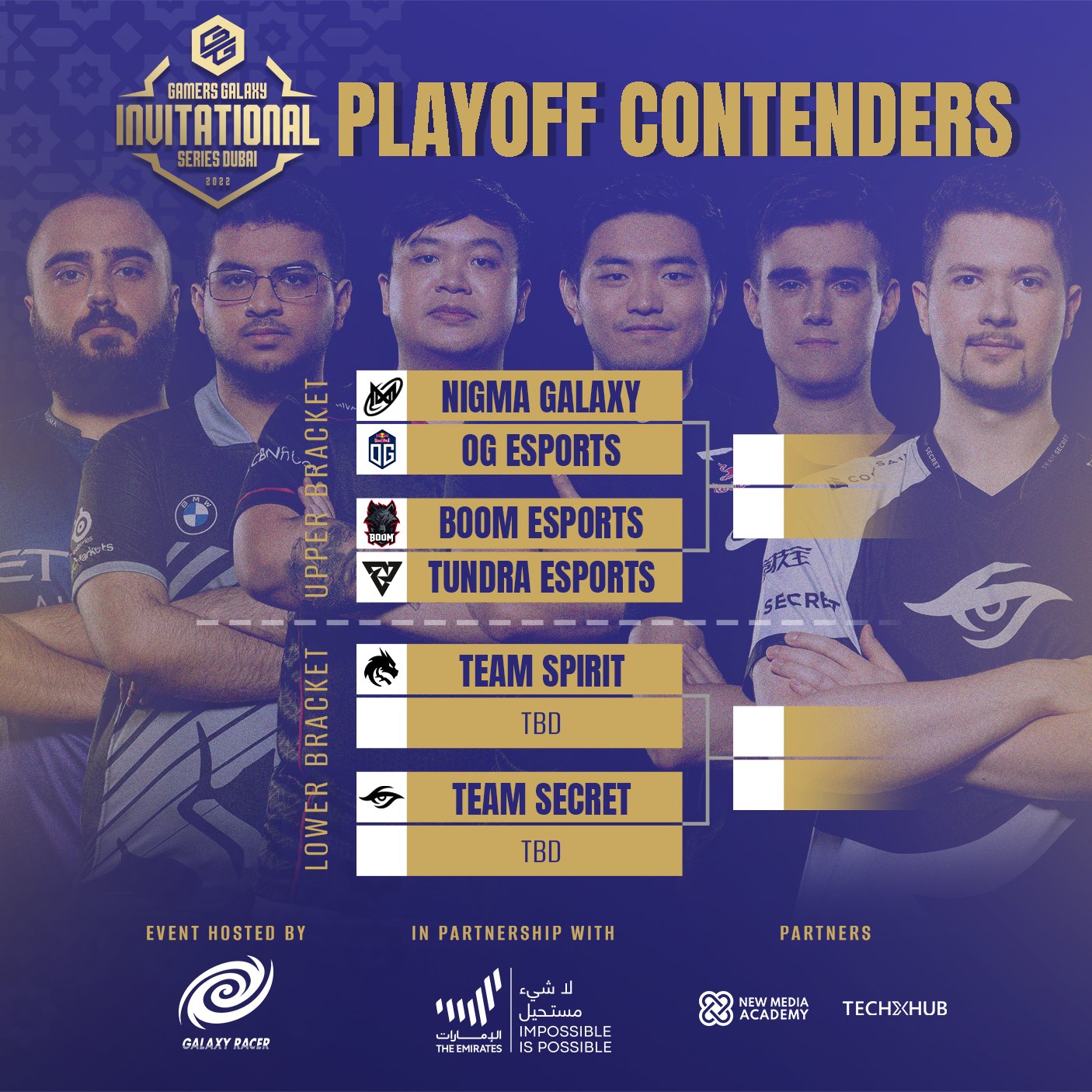 Stay tuned to Esports.gg for more Dota 2 news and updates!