Finally! The 7.32 Patch has dropped. Join us as we break down some of the biggest item changes that are here in the new Dota 2 patch
Its been 3 months since 7.31d and the community has been starved for a new gameplay update. Valve has delivered with patch 7.32. A whole new number patch means big changes for Dota. From XP distribution, Gold distribution, map, item and hero changes. And man there are some big changes in 7.23. With a whole bunch of new neutral items and changes to heavily used items, 7.32 has a lot to offer. So without further ado, here are the biggest item changes of the new patch!
Major Item updates in 7.32
Dragon Lance
The classic stat item for ranged carries (and Meepo) has a new recipe overhaul in 7.32. Now to build dragon lance, you'll need a Blade of Alacrity, Belt of Strength and a 450 gold recipe. However the total price is the same at 1900 gold, so you won't need to worry so much. Additionally, the agility gain has decreased to 15 rather than 16 but at the benefit of increased attack range to 150.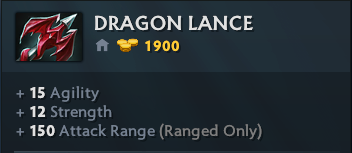 Glimmer cape
Glimmer Cape has seen some improvements as well. With an improved cast range to 600 units, increased magic resistance to 20% and a reduced fade time to 0.5 seconds. This change is great for support players who are buying glimmer all the time to protect their carries. To add a bit more stats to the item and range to cast can go a long way.
All Lifesteal Items updated in 7.32
All the lifesteal items got a change in patch 7.32. The items all got a buff to the amount of lifesteal percentage on heroes and creeps alike. The creep percentage is half the total hero percentage value. So for example, Morbid Mask now does 18% lifesteal on heroes and 9% on creeps. The stats for the rest of the items are below:
Helm of the Overlord – 20% on heroes, 10% on creeps
Mask of Madness – 24% on heroes, 12% on creeps
Satanic – 30% on heroes, 15% on creeps
Vladamir's Offering – 21% on heroes, 10.5% on creeps
Wraith Pact – 24% on heroes, 12% on creeps
Paladin Sword – 16% on heroes, 8% on creeps
Nullifier
The brother to Orchid Malevolence, Nullifier still isn't a popular pick up. However, it has been on the incline, and with the buffs its received, it's only going to increase. Now with a 10 second cooldown and an additional 10 armor, we might be seeing a lot more Nullifier in pubs.
Neutral Items
Removed Items
With 7.32, we've had to say goodbye to some neutral items in place of new ones. In the new patch we've lost:
Chipped Vest
Keen Optic
Ocean Heart
Essence Ring
Fae Grenade
Quicksilver Amulet
Spider Legs
The Leveller
New Items in 7.32
Although we have lost a ton of neutral items that players loved, in their place there are a ton of new ones. We are only highlighting the notable ones, but to see the full list you can check out the full patch notes here.
In Tier 1 we have Seeds of Serenity, which provides 100 health and an active that targets the ground with a 350 radius. In the radius it provides +8 health regeneration to all allied units while they're in the area of effect for 14 seconds. There's also the Occult bracelet that gives +5 to all stats and each time the wearer is attacked, they gain a stack of 0.5 Mana Regen, up to 5 stacks. These stacks last for 10 seconds and provide up to 2.5 total mana regen at max.
In tier 2 the most interesting item is the specialist's array. This item gives +8 to all stats and 10 damage. The neutral item also provides a unique passive that allows you to fire 2 projectiles at 2 additional targets within attack range. This passive only works for range heroes, doesn't proc attack modifiers and is on a 12 second cooldown.
Tier 3 and 4 features the return of the Aghanim's Labyrinth fan favorite item the Ogre Seal Totem and the older neutral item the Havoc Hammer. The Ogre Seal Totem has already made quite the flop into the scene with OG's ATF using it against TSM. While on the other hand, Havoc Hammer return won't be as meme worthy as the item itself was never the most popular of neutral items.
---
And those are the big item changes of patch 7.32! If you are more curious about the hero changes, check out our 7.32 Hero changes breakdown! For more Dota 2 content, stick around on Esports.gg.