All 5 Chinese Participating teams in TI10 released public statements regarding to the team's health status.
Team Aster released a statement today on Weibo stating that multiple members are tested positive for COVID. With less than a week to go for The International 10, COVID has hit one of the Chinese participating teams. Team Aster alongside every Chinese team have made public statements regarding the health status of the team.
Unfortunately, there are at least 6 people from Team Aster that have tested positive, hence they are already practicing self-quarantine :
The Team Leader
Du "Monet" Peng
Lin "Xxs" Jing
Ye "Borax" Zhibiao
Cheng "Mad" Han, the team's assistant coach and analyst
Team Videographer
TI10 will take place in Romania and kicks off on October 7. There are five teams representing China at one of the biggest events in esports. Valve had originally planned to host TI in Stockholm, but had to shift the event to Romania following government regulations that would pose restrictions in traveling to Sweden.
Immediate response from Team Aster
Aster mentioned that the team's leader has not left the hotel except for grocery runs. Since all 5 Chinese teams are staying in the same hotel, the team has immediately reported their situation while practicing self-quarantine as well as taking COVID tests, During the process, Team Aster did not report any false information nor did they hold back any.
In the meantime, PGL, the tournament organizer, are already notified and are actively communicating with Team Aster to resolve this issue, Team Aster will be looking to make an update as soon as possible whenever they could.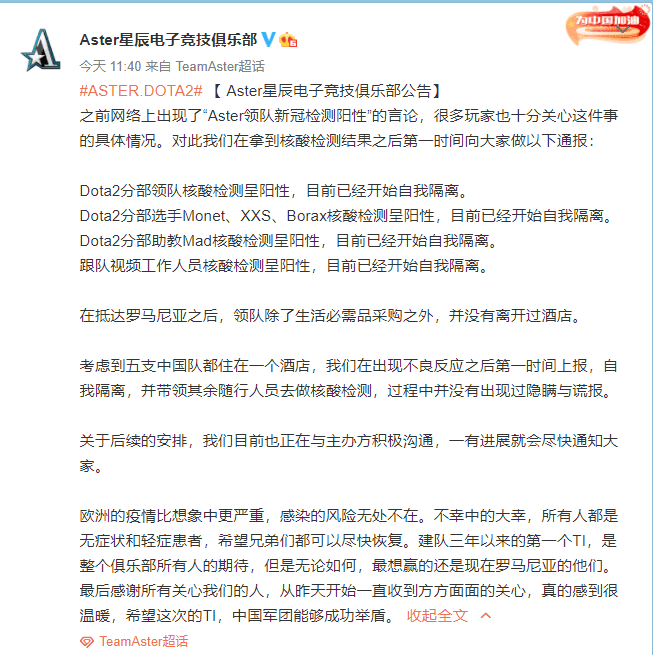 Team Aster's Weibo statement on the team's health status.
Statements from the other Chinese participating teams on their COVID Situation
No Symptoms in Vici Gaming yet
Vici Gaming's leader, Lil_hk, stated that as of now, there is no symptoms from anyone in the team. He and the videographer have taken COVID tests since they have the highest risk as they are the ones who do the grocery run.
"We have been taking the protective measure from COVID very seriously and no one in the team has shown symptoms of COVID yet", Vici Gaming quoted on top of the post.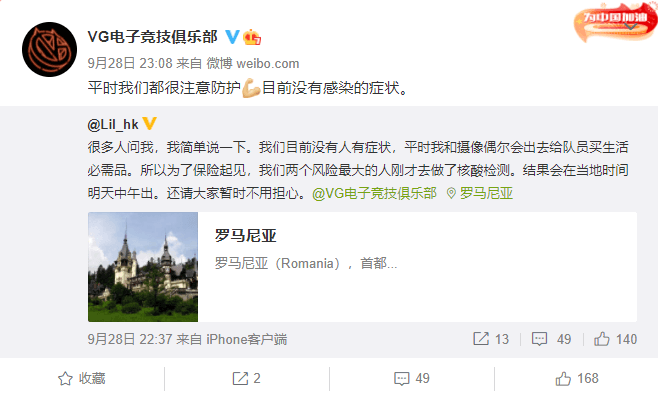 Vici Gaming's Weibo statement on the team's health status.
Elephant's social media updated the team's situation as well. All members in the teams are feeling great and do not experience any symptoms from COVID. They mostly order food delivery and will always sanitize everything. Three of their staffs who go for grocery run have already taken COVID tests and will be receiving result soon.

Elephant's Weibo statement on the team's health status.
Invictus Gaming players take COVID test
iG's team leader, YaKu1T_, stated that all members of the team have taken COVID test and are waiting for results, no one is feeling any symptoms so far.


Invictus Gaming's Team Leader statement on the team's health status.
PSG.LGD mentioned that all members in the team are safe while the team is practicing accordingly to the schedule.
PSG.LGD's Weibo statement on the team's current health status.
The COVID cases in Romania have been surging everyday, hitting more than 10,000 daily cases as of 28 September 2021. This is the event that all the participating teams and Dota 2 fans have been looking forward to, especially Team Aster. Like they mentioned, this is the first TI for the organization, and it is everything to all of them. With nearly a week away from The International 10, we wish all participants and staffs in The International safe and best of health.