With the International coming up, we interview expert Avo+ to get his top insight on the South American teams competing in the world's biggest Dota tournament!
The International just keeps getting closer and closer! As part of our coverage, we're bringing you interviews of top Dota experts in each region. For South America, we reached out to Alvaro "AvoPlus" Sanchez Velasco, a talented Dota caster, analyst and lover of South American Dota. Avo+ has been doing both Spanish language and English casts for a number of events including most recently, the ESL One Fall tournament. He is also one of the hosts at TI10 and one of the most loved community figures.
While chatting with us, he talks about the three South American TI10 teams, their strengths and what they need to improve on. He feels the community needs to stop disrespecting South American Dota because it hurts the players' self-esteem and them as people.
Two of these teams have had a rough past couple of tournaments. How do you gauge their ability to bounce back for TI?
Avo+: I am afraid for TP. I think they are a very talented team, but they are going through a very rough patch. People are quick to point fingers at Fear but their performance before he was on the team was also starting to look shaky. They had good games in the DPC, but the patch has not been too kind to them. My hope is that TP is struggling to find themselves as they are getting used to their new coach and that, with enough time, they will bounce back ready for TI.
On the other hand, I have a fair amount of faith in SG. I think they clearly love each other and have great team chemistry with their coach already. They have been together for a while and are long past their worst period (which was the DPC). I have high hopes for them, as I think they are as talented as TP but already have the mechanisms and the trust in place to solve these shortcomings.
"SA has had, for a long time, the best farmers."
Avo+
What do you think SA Dota's biggest strength going into this tournament?
Avo+: Each team is different, so it's hard to say. SA has had, for a long time, the best farmers. SG and BC are also pretty willing to think outside the box. I believe that SG and TP are coming in as underdogs which might mean they fly under the radar for some teams.
---
Any standout players that you think could make the difference for the teams?
Avo+: Leostyle for TP. On a good day this guy is still one of the best midlaners out there. He's been having a tough time recently but if he has freedom to reign, I think he will show people why he is considered so highly. I think Wisper is Beastcoast's mechanical genius but Stinger, Hector and Papita are probably one of the scariest drafters to draft against. I think SG has no standout players and I think that's what makes them so strong. They sink or swim as a team and that is their biggest strength.
---
---
Avo+: I think Thunder Predator has had the hardest time to adapt to new patches
Do you think any of the teams are better and/or worse at adapting to the new patches?
Avo+: I think TP has had the hardest time historically. During the Minor/Major system they failed to qualify to two Minor/Majors qualifiers because of a difficulty to adapt. It is showing once more. I think BC and SG are both fairly adaptable.
---
What team needs to improve the most to do well?
Avo+: Thunder. Maybe not improve but… they need to find themselves again. When I watch them, I am watching 5 talented guys playing Dota, not a team and most certainly not a team with as much charisma as Thunder.
If the system is broken, blame the system, not the people because words have power and people can get hurt.
Avo+ on SA disrespect
---
SA gets a lot of disrespect in Twitch chat, do you think that fuels these teams or makes them more nervous?
Avo+: People need to stop this. The players are people too. Leostyle does not check social media after a tournament and usually logs off it for a week. Hector has his notifications turned off. Chris hates when people assume things of him, even if he disregards hate messages. People selling this narrative that SA is worse aren't fueling or making the teams more nervous, they actively hurt their self-esteem and them as people. It is OK to make fun of a team for playing badly, it is another thing to send them hate mail or use them to justify whatever narrative you want to sell. If the system is broken, blame the system, not the people because words have power and people can get hurt.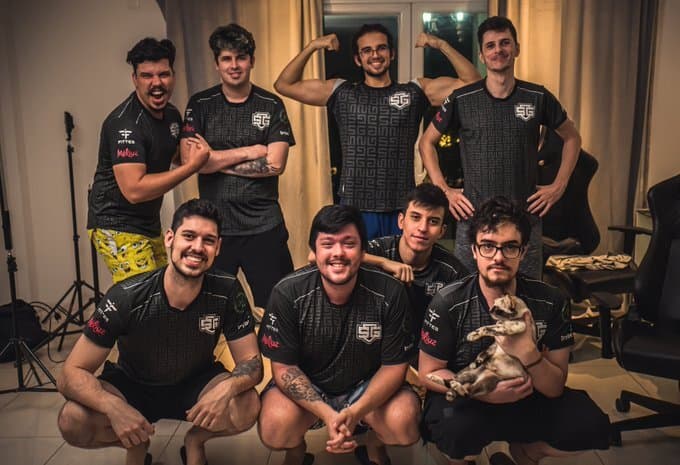 AVO+: "SG has no standout players and I think that's what makes them so strong." Image Credit: SG Esports.
---
What are some things the teams should be doing to improve their chances of placing well?
Avo+: Practice, watching replays, thinking of strategies. The usual. For Beastcoast I hope they practice drafting consistency. They are too smart and they sometimes outdraft themselves. TP needs to work on team unity and finding an identity, especially now when they need to figure out how to work with their new coach. For SG, I think they need to find their courage. They went from the most aggressive Dota to a relatively passive one to fix their consistency issues in the DPC. This was a very good change. Now they need to regain that lost aggression and that courage to make the risky plays at the right times. I think their path is the hardest but also the most promising.
We'd like to thank Avo+ for his time and insight on these teams! Who do you think will perform the best? More interviews and previews to come right here at esports.gg!
Featured image credit goes to Avo+'s Twitch.