Did you miss the first day of the Arlington Major Group Stage? Fret not, we have laid out a full day one recap for the Arlington Major.
Howdy! The final Dota 2 Major of the year, the PGL Arlington Major finally kickstarted yesterday with a continuous bloodbath in the Group Stage. As it usually goes during tournaments of high stakes, there are bound to be upsets and impressive runs. But we are only at the beginning of the tournament and teams are barely testing the waters. As we approach the 2nd day of the Arlington Major, let's take a look at our recap of Day one.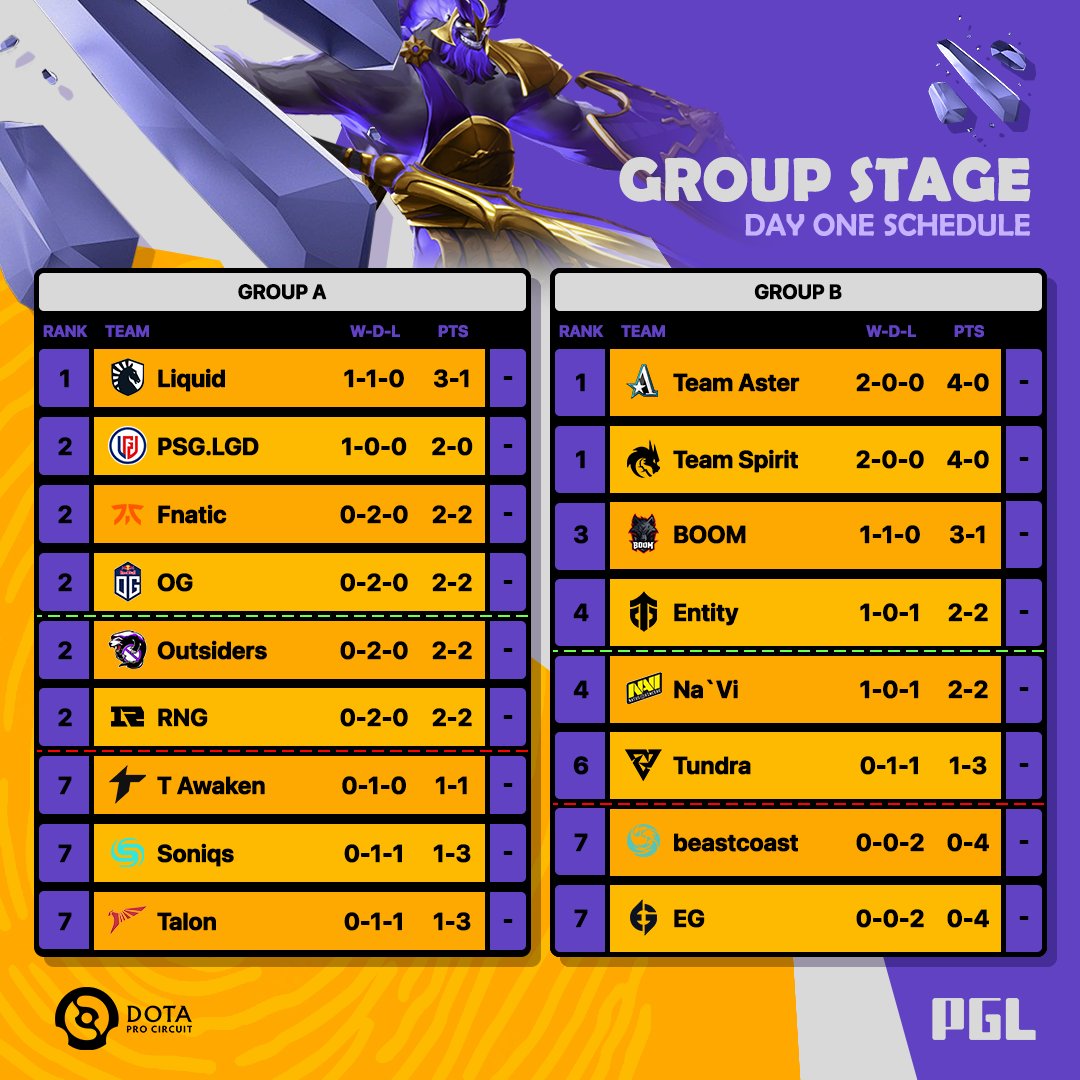 Evil Geniuses and Soniqs' rocky start
Quincy Crew, who had just been signed by Soniqs, suffered a 0-2 loss against Team Liquid in the opening series. The European team completely outplayed Soniqs to deliver a quick 20+ minutes defeat in both matches. But Soniqs managed to slightly recover with a 1-1 draw against Royal Never Give Up (RNG). The team now sits at the bottom of Group A with Talon Esports and Thunder Awaken.
But what makes it dampening for North American (NA) Dota 2 is the state of Evil Geniuses in day one of the Arlington Major. The squad looked like it had everything back in pieces after a disappointing season with the return of captain Fly. They even bagged the top-seed in NA DPC and hope rekindled for the organization. However, they are not looking well so far. EG lost a series to Team Aster despite putting up a good fight in the second game. It was quite a back-and-forth affair but EG eventually took the lead and they started bulldozing through Aster's base. However, after dropping one big fight, they lost all the advantage they had. This led to the biggest comeback in day one of the Arlington Major so far.
But one subtle NA representative remains. Impressively, the TSM-Fnatic hybrid performed incredibly well. Fnatic had a massive roster disruption with 3 of its members unable to secure their VISAs. But TSM, who did not qualify for the Arlington Major was ready to lend a hand. Three of TSM's members, Enzo "Timado" O'Connor, Jonathan "Bryle" Guia, and Kim "DuBu" Doo-young are currently standing in for Fnatic. Despite not winning any series, they look really solid and we can close one eye to say that NA does look solid in a way.
Team Spirit and Team Aster secure back-to-back wins
When Team Spirit's position 4, Miroslaw "Mira" Kolpakov said that he felt the TI magic coming back, he wasn't kidding. Team Spirit looks to be in its TI10 form as they secure the top of Group B with a 4-0 scoreline, defeating both beastcoast and Tundra Esports. The matchup against beastcoast was a smooth-sailing, as they delivered two quick 20+ minutes games. They also dominated Tundra Esports in style, flexing their versatility with fully different drafts.
Interestingly, Team Aster is also on top with a 4-0 score in Group B. Aster has a reputation of completely dominating the Chinese region and yet flunking international events. This could be seen last year when they secured back-to-back top-seed in the China Region, but bowed out of Dota 2 Majors at near bottom place.
With a great start in the tournament so far, it seems like Team Aster might just break out of that international restrain. The team defeated both EG and Entity convincingly and they look to be a powerful force when it comes to enganging fights. Is the Chinese powerhouse finally breaking its curse?
A close contest with tons of draws
The Arlington Major proves that it's no one-sided affair. Day one of the Arlington Major saw many draws coming from mostly Group A. Fnatic, OG, Outsiders, RNG all secured only draws in Group A. Team Liquid had one draw, alongside Thunder Awaken, Soniqs, and Talon Esports. The only team in Group A which hasn't lost a single match is PSG.LGD, however, it's fair to say that they have only played one series.
Meanwhile in Group B, BOOM Esports and Tundra Esports also secured one draw, and the series was when they played each other.
Clip of the day: MATUMBAMAN vs OG
We would like to include the clip of the day with this funny interaction between OG members and Lasse "MATUMBAMAN" Urpalainen. In Game 2 between OG and Team Liquid, MATUMBAMAN's Bristleback was knocked onto a cliff by bzm Batrider's Flamebreak. With no way to escape, OG members clowned around the carry hero, planting flags and giving high fives. MATUMBAMAN cried out "help" in the all chat and Sébastien "Ceb" Debs, with no hesitation, typed out "n".
Take a look at the hilarious clip below!
The show goes on
The PGL Arlington Major continues today with more exciting matchups for fans. The results are taking shape and by the end of the Group Stage, we will bid goodbye to 5 teams as they face elimination. Stick around Esports.gg to find out anything Dota 2 including the PGL Arlington Major.
You can also click here for a full schedule and updated results of the Arlington Major.