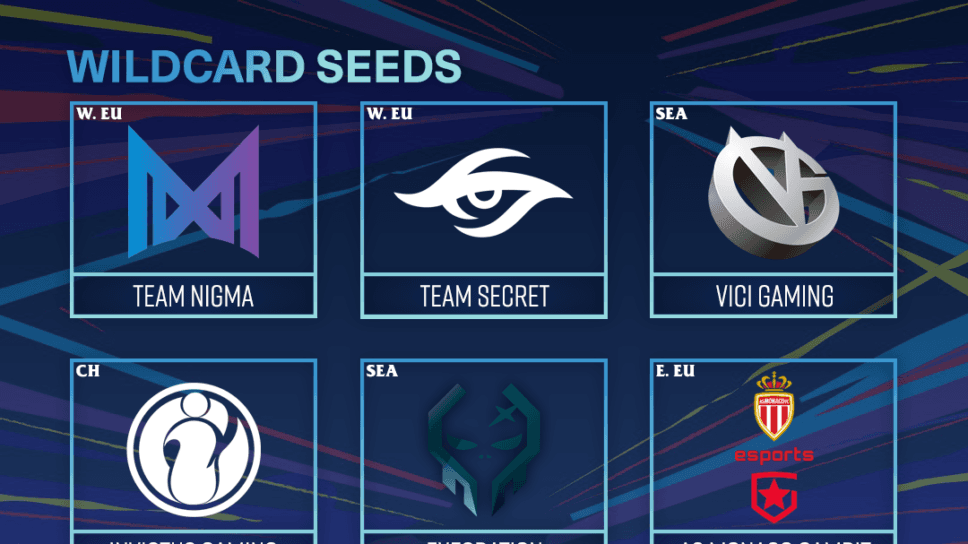 The Animajor Wild Card: The story of six teams competing for glory
The Animajor Wild Card stage promises top tier Dota 2 action in Kyiv. There are six teams competing for two coveted spots into the group stage. Team Secret, Nigma, VIci, Invictus Gaming, Execration and AS Monaco Gambit are your Wild Card participants at the Animajor.
The WePlay Ani-Major will be upon us and it might entail some of the craziest matches we'll ever see. The upcoming Animajor Wild card stage is no different. Each of these teams has a long road and are trying to build their storylines to reach this point. Some are just trying to get enough points to get invited to TI while others have already secured their invitations. The Wild card stage has many big names teams but only two can move ahead to the group stage. No matter which teams qualify to the next stage, some of the biggest names in Dota 2 will be heading home soon. In this article, we'll go over each team and how they've gotten to this point after second DPC season 2.
Team Nigma
Team Nigma had a rough time at the Singapore Major. Having scraped through the first DPC season, trying some new tactics by swapping Amer "Miracle-" Al-Barkawi  back and forth between mid and carry, they were able to make it through to the Major Wildccard. Unfortunately, Ivan Borislavov "MinD_ContRoL" Ivanov caught COVID and Nigma were forced to have their coach, Roman "rmN-" Paley, stand in for him. Despite their best efforts, Nigma bombed out of the Wild card and had to go back to the drawing board.
Trying something new the next DPC, Nigma benched midlaner Aliwi "w33" Omar and picked up Russian prodigy Igor "iLTW" Filatov to be their new position 1 player. The team moved Miracle back to mid role in a more permanent position. Nigma had ostensibly better results but season 2 of the WEU DPC was extremely competitive. The team finished 4-3 in the DPC, losing only to Alliance, Liquid, and Tundra.
Nigma have a good shot at reaching the group stage based on their previous performance during the season. Everyone on the team has been performing, and with a full roster, they should be at their peak potential.
Team Secret
Team Secret have had one of the most surprising results in the Dota Pro Circuit. Finishing top of the group in WEU and 4th at the Major, Secret was poised to dominate the second season of the DPC . Secret ended up finishing 4th right behind Nigma with a 4-3 record. The team did not look as dominant as before. For many other teams, this record would be really good, but not for a team with the caliber and dominance of Secret.
Although the competition in Europe was incredibly close, it seemed like a lot of the team's issues stemmed the players being out of form. Michał "Nisha" Jankowski hasn't looked nearly as dominant as usual, and some drafts and strategies have not been working out. Despite these setbacks, Secret is still a force to be reckoned with and the team has a lot of potential in this tournament.
With a new patch, it's likely that Secret will have to make some adjustments and change some strategies. With Europe being outpaced by China last major, it's likely that they will have studied their opponents and are prepared to get through the Wild card stage.
Vici Gaming
Like Nigma, Vici Gaming are back where they started at the last major. Finishing third in China with a record of 5-2 and only because of a tiebreaker with PSG.LGD, this team is looking to prove a point. They were knocked out in the second round of the lower bracket last Major by SEA stand outs OB.Neon esports in a close 2-1 series. Vici is a team that has constantly been on the precipice of victory, a testimony to the team's consistency and skill level.
Vici is likely to have challenges with their other regional rival, Invictus Gaming (IG), who beat them during the DPC season 2. As with most regional competition it's unclear how they will stack up against the other regions in the Wild card stage. But if their past results are anything to go by, the team will be prepared for anything that is thrown at them.
Invictus Gaming
IG are in a similar spot to Secret. IG came back from a 0-2 deficit against EG last major and reverse swept the series to take the event. It all started from the now famous "?" that Emo threw out at the end of the game. The competition in China might be even better than in Europe, as IG almost didn't make the major.
The team has some work to do before the Major starts as one of its players, the position 5 and captain Chan "Oli~" Chon Kien, will be unable to attend. Oli will be replaced by the team's coach, Su "super" Peng, for the event. There's something to be said about an easier transition from coaching to playing pos 5. But it still isn't great to be down a player going into a Major. Still with the other players still in fighting shape they still have a good chance of going through to the group stage as the team is fully capable of putting up a competitive fight.
Execration
Execration are one of our underdog teams for the Wild card stage. They had a rough season 1, finishing 2-5 and barely staving off relegation. This season, however, something has clearly clicked for the players. Despite a rough start losing to TNC Predator and Boom Esports, Execration rallied to a 4-3 season finish. They defeated SEA powerhouses Fnatic, in a tiebreaker for a spot at the Major. They also pulled out a 2-1 victory over OB.Neon, the surprise package of the Singapore Major.
Execration is new to tier one international competition, having competed in regional leagues before. If they play with the consistency that they showed during the regular season, it's quite possible that they could upset one of the big teams from EU or China.
AS Monaco Gambit
Perhaps the strangest team and underdog we have in the Wild card is AS Monaco Gambit. At the major, the team fell short of getting out of the Wild card stage despite some strong showings. However, it was the team's second season that raised some controversy.
After a bad season start, Vladimir "No[o]ne" Minenko and Akbar "SoNNeikO" Butaev both decided that they were unhappy with the team and wanted to leave. They agreed to finish out the season and then leave after. Though the team qualified for the Animajor Wild card stage, both of the players left to join Natus Vincere. Na'Vi had an abysmal season and decided to kick Andrii "ALWAYSWANNAFLY" Bondarenko and Bogdan "Iceberg" Vasilenko.
Accordingly, they will be replaced by two stand-ins, Artem "Lorenof" Melnick for the midlane, and Stanislav "633" Glushan as the 5 position. With these changes, it is incredibly unlikely that they will qualify for the group stage. The new roster has had only seven days together and at a very short notice. It is highly unlikely that they will be able to pull off a competitive run through the Animajor.
These are the teams that will be competing for those coveted two spots in the group stage for the AniMajor. The Wild card stage is stacked with some of the best Dota 2 teams, especially from Europe and China. Several teams have an excellent shot at making it so strap and get ready for some exciting matches ahead!